The Climate Change Commission (CCC) is seeking increased public-private cooperation on strengthening environmental and climate change awareness and education nationwide.
Secretary Emmanuel de Guzman, CCC vice chairperson and executive director, said such cooperation is necessary to better help the country pursue sustainable development and build resilience to threats like climate change and the coronavirus disease 2019 (Covid-19) pandemic.
"Now, more than ever, we must heed science and invest more in public awareness and education on greener, more environment-friendly and more sustainable ways of living," he said in his message for the 2020 National Environmental Awareness Month (NEAM) this November.
He said the continuing onslaught of Covid-19 pandemic raised urgency for the public and private sectors to increasingly undertake the matter.
The Covid-19, he said, is so far the strongest warning "we must reform the ways we live and ways we regard our environment."
"We simply cannot afford a return to business as usual," he said.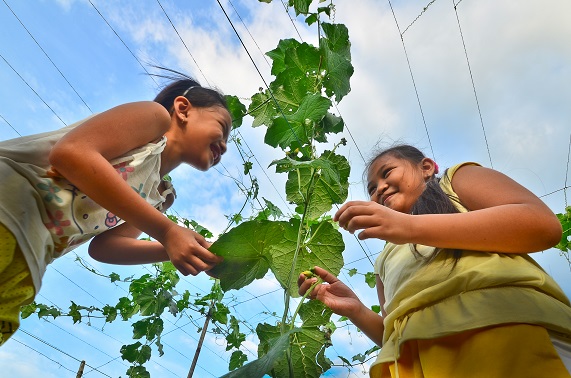 Photo Credit: SEARCA
First reported in China in December last year, the Covid-19 evolved into a pandemic affecting the Philippines and many countries worldwide.
The World Health Organization (WHO) said available evidence so far indicate the virus causing Covid-19 has a zoonotic source or natural animal origin.
Republic Act 9512 or known as National Environmental Awareness and Education Act of 2008 set November of every year as NEAM.
"Consistent with the policy of the State to protect and advance the right of the people to a balanced and healthful ecology in accord with the rhythm and harmony of nature, and in recognition of the vital role of the youth in nation-building and the role of education to foster patriotism and nationalism, accelerate social progress and promote total human liberation and development, the State shall promote national awareness on the role of natural resources in economic growth and the importance of environmental conservation and ecological balance towards sustained national development," RA 9512 read.
De Guzman called for full implementation of RA 9512 and RA 9729 (Climate Change Act of 2009), as educating people is necessary in inspiring public action for the environment and climate.
He noted RA 9512 provides the framework for inter-agency and multi-sectoral cooperation on integrating environmental education school curricula in all levels.
RA 9729, on the other hand, requires inclusion of basic climate change concepts in the country's primary and secondary education curricula, he continued.
He said full implementation of both laws "has never been this critical" given extent of environmental degradation nationwide, climate change's threats and danger of Covid-19.
Earlier, de Guzman warned the risks of climate change and pandemics escalate among the country's most vulnerable and marginalized sectors.
Such risks are particularly high in crowded urban informal settlements, he added.