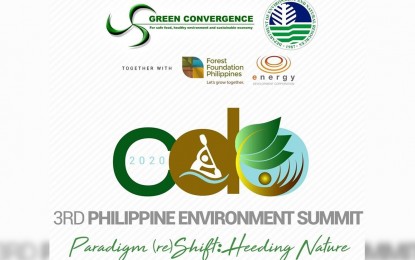 CAGAYAN DE ORO CITY -- This city will host the third Philippine Environment Summit on February 26-28 this year, which will focus on discussions about climate change.
Dr. Angelina Galang, president of Green Convergence that organizes the event, said Friday the summit will showcase programs and projects that contribute to the country's social and economic advancement while protecting the environment.
"Global warming and its flip side, climate change, has starkly revealed that our current paradigm for thinking and doing is unsustainable, and it is now undeniable that we must respect and return to nature's principles if we are to continue the gains of cultural evolution and to save the environment on which our lives depend," Galang said.
Galang also described the three-day biennial summit as "unique" as it presents "the dire state of our planet" while recognizing the efforts of many Filipinos who are taking positive steps to counteract climate change.
"We celebrate the Philippine environmental movement, and call for the Filipino people to unite in accelerating the drive towards sustainable development," Galang said.
The plenary speakers include Federico Lopez, chief executive officer of the Energy Development Corporation, and Mitos Uriel of the World Fair Trade Alliance Asia. Also invited are Hollywood star and environmental activist Leonardo DiCaprio and Manila Mayor "Isko Moreno" Domagoso.
Environment and Natural Resources Secretary Roy Cimatu is expected to deliver the keynote address.
Galang said the hosting of the summit is rotated among the three major island groups of the country.
The summit was first held in 2016 in Luzon, while the 2018 event was held in Cebu City.
The 2020 summit will be the first time for Mindanao to host the event. Around 1,000 participants from all over the country are expected to attend.
The third Philippine Environment Summit is supported by the Energy Development Corporation and the Forest Foundation Philippines.