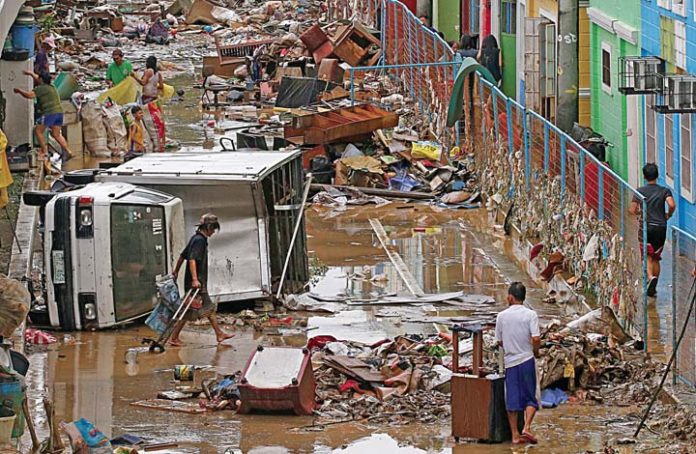 In Photo: A delivery van lies on its side after it was swept by heavy rains and strong winds brought about by a tropical storm that flooded Marikina City on August 12, 2018.
Local communities are essential to managing risks and building resilience in the era of climate change, according to the National Economic and Development Authority (NEDA).
In a statement delivered at the Asia-Pacific Disaster Report 2019: A High-Level Roundtable Discussion in New York, Socioeconomic Planning Secretary Ernesto M. Pernia said the community-driven disaster-risk reduction is the country's "best hope" when disasters strike.
"Let me emphasize that super typhoons, droughts, floods, and earthquakes are inevitable. There will always be perfect storms, of one kind or another, coming our way. Nevertheless, an effective and community-driven disaster- risk reduction seems to be our best hope," Pernia said.
Based on the experience of the Philippines, after Supertyphoon Yolanda laid waste to various provinces in the Visayas, the NEDA chief said communities were crucial in the post-disaster recovery and rehabilitation efforts.
He added that the poorest and vulnerable communities also participated in identifying disaster risks and prioritizing efforts to manage these risks.
The communities, Pernia said, organized themselves, assessed their situation, crafted project proposals, and implemented and maintained their community projects.
"While the devastation was truly shocking, some lessons are also worth mentioning. One of these is the community-driven development strategy that has proven to be effective in strengthening community disaster resilience," Pernia said.
The NEDA chief said results from the Asia-Pacific Disaster Report 2019 disclosed that if drought is accounted for, the region's economic loss due to disasters in a year quadruples to $675 billion.
Pernia said the value is already equivalent to the combined economic output of two countries in Southeast Asia. The amount, he said, should be enough to convince governments in the region to close ranks and cooperate in finding solutions and ways to adapt.
"The losses resulting from disasters and calamities may even outpace the region's economic growth and reverse the gains that have been achieved," Pernia said.
In June, the World Bank said the Philippines is one of the economies that have the highest exposed generation capacity to multiple hazards, second only to China. These hazards are landslides, tsunamis, earthquakes, cyclones, extreme heat, water scarcity, floods, and volcanic eruptions.
The exposed capacity of the Philippines to various hazards is over 300 percent because some facilities like power plants can be exposed to more than one hazard. China's exposure, meanwhile, is just above 500 percent.
The report also stated that without coral reefs the annual damage from coastal flooding would double worldwide. For countries like Cuba, Indonesia, Malaysia, Mexico, and the Philippines, having coral reefs leads to annual savings of more than $400 million each.
To prevent these losses, the World Bank said there is a need to combine "green and gray infrastructure that can provide lower-cost, more resilient and more sustainable infrastructure solutions."
The Washington-based lender said contingency plans should be put in place. Transport operators could focus on restoring connections to critical nodes, such as hospitals and ports.
In the Philippines, as part of its contingency plans in the water sector, water tankers were contracted after a typhoon to ensure that services will continue despite infrastructure damage.