Local activist Gerry Arances, from the Philippines movement for climate justice, says the number could be as high as 59, a figure based on permit applications lodged with the energy department.
"It's ironic given we are at ground zero of climate change the government has approved over 50 coal power plants," he told RTCC.
In an article for RTCC, Philippines climate commissioner Heherson Alvarez said he feared the energy department was already planning for a high carbon energy future.
"One tell-tale sign is that Philippine emissions per capita, according to the DOE, is projected to rise by over 31% over a 20-year period, from 1.6 tons in 2010 to 2.1 tons in 2030," he wrote.
"At the moment, a major difficulty is that many of our policymakers appear to be swayed by conventional macroeconomic goals dependent on coal and fossil fuels."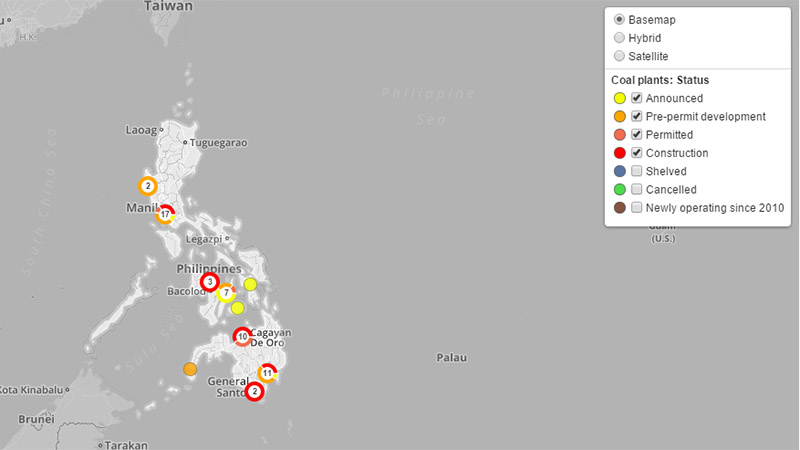 Planned new coal plants across the Philippines' three main islands (Pic: Coal Swarm)
The Philippines is among the most vulnerable countries in the world to extreme weather events. In 2013, Typhoon Haiyan killed over 6000 and left an estimated 4 million homeless.
Severe tropical storms have long hit the country's sprawling network of islands.
Scientists do not think climate change is making these events more frequent, but there is research suggesting warming oceans could make hurricanes and typhoons more intense.
Accordingly, Manila has led calls for the international climate target to be tightened, from the agreed 2C warming limit to 1.5C. The stricter goal is seen as technically possible but politically implausible.
And the country's impending UN submission outlining how it will contribute to this year's planned global climate deal is likely to focus heavily on plans to adapt to these extremes.
Emissions data from 2010 – when it contributed 0.31% of the world total – suggests that will not be a deal breaker.
But for Alvarez, the fact the country is so vulnerable to storms, rising sea levels and flooding means it should be an "exemplar" in leading on poverty and emissions reduction.
"The official attitude seems to be that, since the Philippines is not a significant emitter, the crucial pledges should be made by the industrial nations," he said.
Yeb Sano, until 2014 the country's top climate negotiator and now a campaigner for global climate justice, takes the same view as Alvarez.
"[The Philippines] must galvanize global public opinion towards the right side of this issue," he told the InterAksyon website.
"It must also be a leader for strong domestic climate action that protects its communities, builds resilience, and fosters inclusive and sustainable development."

Access to energy
Still, the government faces a considerable dilemma, with an estimated 30 million citizens, around 30% of the population, lacking grid access to electricity.
Even those with good connections face erratic supplies, some relying on diesel generators to fill the gaps, while others are paid by the government to reduce peak demand.
In 2014, President Benigno Aquino used emergency powers from Congress to channel more capacity to the Luzon – the country's largest island – which was suffering from regular blackouts.
Mindanao and Visayas, the two other major islands, are blessed with high levels of hydro and geothermal energy, but still rely on coal for 17% and 42% of their supplies respectively.
Recently Aquino said he wanted a "reliable, preferably clean and reasonably-priced" power supply, but a July strategy document from the energy department seen by RTCC suggests coal will dominate.
It says coal and gas will be weighted "more heavily in the mix" in future plans, which stress the need for "ultra-supercritical" (efficient) coal technology to be used.
And what may swing the department's thinking is the relative ease of accessing funding from the likes of the World Bank, Asian Development Bank, Japan's JBIC and the China Development Bank.
The Philippines is the fifth largest recipient of export credit agency finance for coal power plants, receiving just under $35 billion from 2007-2014.
Only Vietnam, India and South Africa receive more, according to a report from the US-based NDRC.

Mixed messages
The government does have a policy to triple renewables deployment by 2030 on 2010 levels, along with a share of 40% of electricity production from clean energy.
If implemented these could help the country slash emissions 11% on a business as usual scenario by 2020, and 25% by 2030, according to the Climate Action Tracker.
Arances says recent discussions leave him unconvinced officials see clean energy sources as an answer to the country's requirements.
"The government have not even factored in policy changes to encourage more renewable projects… these are critical issues in terms of our [UN climate agreement] commitments," he says.
Officials RTCC contacted did not respond, but the government's top UN climate negotiator Mary Ann Lucille Sering mounted a stiff defense of its planning in a July 29 article.
President Aquino's omission of climate change during his annual two-hour state of the nation speech on July 27 did not mean "nothing has been done" she argued.
She made no mention of future energy plans, but stressed planning related to flood controls, adaptation and greening programs were advanced.
"As his Climate Change Secretary, I should feel disappointed, but being in the know of the plans and programs of government, there is no reason to be," she said.
"Climate change is considered the biggest development challenge of our times due its cross-sectoral impacts."
Source: Responding to Climate Change | 17 August 2015