Senator Loren Legarda, chairperson of the Senate committee on Climate Change, said climate change is now one of the most significant factors affecting the sustainable program for World Heritage Sites, including the Ifugao Rice Terraces.
"I have constantly warned about the effects of climate change on food, water, settlement, jobs, livelihood, human welfare, safety and security, poverty reduction, and economic growth. Now, we have another reason to push for urgent climate action — the protection of our heritage sites," said Legarda.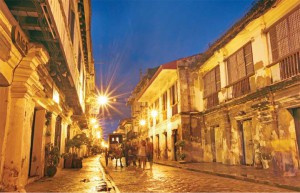 Calle Crisologo, Vigan, Ilocos Sur (Image by Ronald Jayme/mb.com.ph)
"We were successful in improving the management of the Ifugao Rice Terraces which is why it was removed in the UNESCO List of World Heritage Sites in Danger. But now, climate change has posed greater threats to our world-renowned cultural treasure," she added.
According to the report, the Ifugao Rice Terraces is already suffering from the negative effects of climate change such as warmer temperatures and extreme rainfall, which also increase the instability of the terraces that often causes landslides and erosion.
Moreover, local rice varieties are less adaptable to climate change since these are developed under stable climatic conditions.
The UN report provided suggestions for the management of world heritage sites amid climate change impacts. Among the recommended actions are the creation of detailed climate change action strategies for tourism management and development at vulnerable sites; development of strategies and polices that lead to greenhouse gas emission reductions from the tourism sector that are in line with the goals of the Paris Agreement; integration of climate change impacts and preparedness into national and site-level tourism planning, policies and strategies; and implementation of policies and action on climate change and tourism that are gender-responsive and participatory.
"Resilience and sustainability are two important factors that must be incorporated in the management of our heritage and tourist sites. The tourism industry must also engage in and promote environmental stewardship to ensure the protection and sustainability of our protected areas and other natural wonders. We have to address climate change. We have to adapt to it and minimize the risks brought by its impacts; but at the same time we also have to mitigate," she added.
Source: Manila Bulletin | 17 August 2016