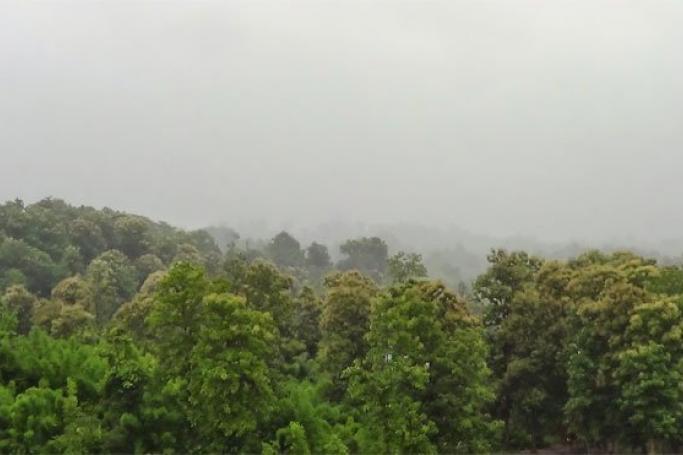 Forest in Yedashe Township, Taungoo District, Myanmar. Photo: Myanmar REDD+ Programme
Myanmar is the second country in the world most affected by climate change since the beginning of the 21st century. Deforestation rate was the third-highest in the world after Brazil and Indonesia in 2015. Between 1990 and 2015, 10 million hectares of forest area were lost (FAO 2015). Rangoon is one of those world cities that could disappear under rising sea levels. Irrawaddy river is receiving close to 90 tons of plastic a day affecting fish population and irrigation systems. The Dry-Zone regrouping Magwe, Sagaing, and Mandalay are being emptied of its farmers' population affected by the disturbed monsoon climate, floods, and droughts, causing massive agricultural losses and migrations.
Climate change is a major issue in Myanmar. However, climate change is rarely related to another pressing issue: the peace process. Myanmar has been in the headlines of international press since the explosion of violence in Rakhine State in 2016. The International Court of Justice in 2020 has just called for provisional measures aimed at preventing genocide and the destruction of evidence that can prove its existence. After the exodus of more than 700 000 Rohingya people, Arakan State is today bloodied by an active conflict between the nationalist Arakan Buddhist group Arakan Army and the Burmese army. The Arakan Army is only one of many armed ethnic groups active in Burma. Less in the spotlight of international press but still actively fighting are for instance the TNLA, NSCA, MNDAA, RCSS, and others. In 2011 President Thein Sein initiated cease-fire signatures and drafted national cease-fire agreement (NCA) towards peace and federalism. Aung San Suu Kyi labeled peace as her priority in 2016, though the results at the dawn of her mandate are mixed. The Wa, Kachins, Arakan Army and others have not signed the NCA. The two largest signatory groups, the RCSS, and the KNU suspended their participation in the peace process in 2018. Myanmar is still a territory where many authorities coexist, without working together to resolve one of its most pressing challenges according to historian Thant Myint U in his latest book: climate change.
Central government and climate change
Myanmar has adopted official texts supposed to recognize climate change as a major issue, these documents are however imprecise and do not formulate clear objectives to deal with the effects of global warming. Myanmar is not a major contributor to greenhouse gas. 60% of the country's electricity production comes from dams. But since the suspension of the Myitsone project in 2011 by President Thein Sein, large dams have been criticized everywhere and represent a real political risk for the authorities in place. Polluting LNG and gas-fired power plant are now considered for future development, despite a growing interest in solar energy. Air pollution is becoming obvious and problematic in Yangon still attracting little reaction from the government. Recently some awareness campaigns to fight against plastic pollution are relayed by authorities. And an organic food certification has even been launched last year. But the Burmese government is not the only one concerned with climate and environmental issues.
EAOs facing climate change
Ethnic armed organizations (EAOs) are directly affected by environmental degradation and climate change. Mostly located in forest reliefs, EAOs are accused of having used exports of precious woods including teak as main means of financing, in addition to drugs. According to the World Bank in 2019 "around two-thirds of remaining forests are in ethnic areas, and in most of these areas there are strong grievances over past and even ongoing abuses". Today, according to the director of the MIPS research center Dr Min Zaw Oo, most of the main armed ethnic groups have set up forestry department. However, despite their stated goal of environmental protection, they are often the organizers of timber trafficking. Yet one of the major armed ethnic groups, the KNU supported the creation of an ecological park in its territory. The Salween Peace Park is a sanctuary of biodiversity supporting traditional land management and ecological farms over 550 000 hectares. And this while no international agreement forces it to do so.
While armed groups are under international pressure over their drug and precious wood trafficking, some are trying to develop their territories by attracting Chinese investors. One of the common investments is in tissue-banana plantations, (a practice recently banned by Lao PDR government). These crops, mostly destined for the Chinese market, make heavy use of chemical fertilizers and pesticides as well as plastic products. Visit of these plantations offers the view of an ecological disaster, lands most often rented from local populations, becomes unsuitable for any cultivation after a few years, surrounding groundwater sources having in the process been contaminated by chemicals. The Kachin armed ethnic group, the KIO and its armed wing, the KIA, face more than others this major problem.
The question of agriculture is a major one for many of these groups, which control mostly peasants' populations. Visiting the headquarters of the RCSS group on the Thai-Burma border, the vice-director of foreign affairs for the rebel group tells us that massive imports of fertilizers from Thailand are weighing on the finances of its group, which must also import a large part of its consumption, the steep and wooded hills being unable for the moment to meet demand. During the visit to Loi Tai Leng high school, the director of educational services proudly explained the recent launch of an organic farming program for RCSS schools. The food production of these schools would first aim to satisfy the consumption of interns and teachers who are scarcely paid. But the director says he secured the support of President Yawd Zerk to develop and generalize these ecological practices. Schools will also launch awareness and information courses around renewable energies. Electricity supplying Loi Tai Leng now comes from exorbitantly expensive diesel generators. Some solar panels have recently been installed and are set to develop building the group's energy self-reliance. Here, as with the agricultural question, two issues are intertwined. That of environmental risk and that more obvious of autonomy. Indeed safeguarding land and achieving resilience is critical for EAOs sustainability.
Peace building and sustainable development
It is striking that in 2020 even ethnic armed groups, authorities not constrained by international law, choose to commit to climate issues and sustainable development. They do so both because of their will to secure economic autonomy but also because they share the global burden of upcoming climate change impact. However, if they are left behind in national negotiation, there is a risk to threaten both the environment and the peace process. According to the NGO Eco Dev, current negotiations in 2020 around National Determined Contribution to meet targets on greenhouse gas emission reductions are threatening ethnic land rights as the central government is planning to extend its protected forest areas. If not addressed collectively climate change mitigation measures and environmental policies could threaten the peace process.
Placing ecological issues at the heart of the peace process could perhaps revitalize the efforts of mediation and dialogue between communities that have faced each other for more than 70 years today. Suggesting an ecological focus to analyze not only the roots but also the future of EAOs territories could make it possible to go beyond ethnic discourses too often grounded on a vision of static identities. Just as ecosystems, identities are always dynamic. EAOs have developed nationalist narratives around ethnic identities but their existence and future rely as much on the territories they control and resources they can use. Groups of the population have taken arms to defend what they saw as their land, protect natural resources that were exploited by the Burmese government. To attract the support they built speeches, re-invented traditions, wrote new history and drew borders separating "them" from "us". Those groups and the Tatmadaw are today left with the challenge to ensure sustainability as their territories are hit hard by the same climate change. Talking together to protect shared rivers, manage the shared forest, breathe the same air, could help to realize that there is no such thing as a natural border. Nature thrives in its diversity and doesn't stop unless it becomes desert. Pollution ignores the walls that nationalist erects between each other's, climate change will hit us all. It could benefit all to focus on the land and nature we share, rather than on our different languages. When it comes to climate change there is no special zone, "we must unite now or perish" . For sustainable peace, one could discuss ecological peace.