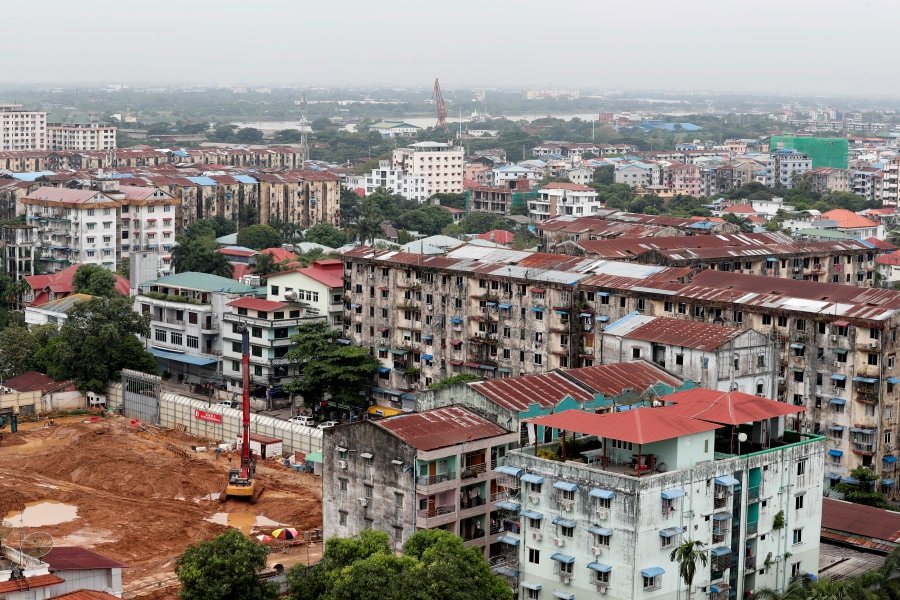 An aerial view of Yangon city in the morning, seen from the Novotel hotel in Yangon, Myanmar, 14 November 2019.-EPA
Up to 152 km of rural roads will be upgraded at a cost of US$51.2 million (RM212 million) by the Asia Development Bank (ADB) in Myanmar.
The all-weather and climate-resilient roads will be built to benefit communities of some 150 villages in the Ayeyarwady and Magwe regions, according to The Myanmar Times.
In a statement by the financial institution that is dedicated to reducing poverty in Asia and the Pacific, the funding consists of a US$45.4 million loan from ADB and a US$5.8 million grant from the Asian Development Fund.
On top of that, the Myanmar government will contribute US$1.2 million.
The ADB said the project aims to enable people in the region to connect better and cut down traveling time once completed by 2025.
The project will also see road surfaces elevated in areas prone to floods and materials to be used will be durable, such as concrete.
ADB senior transport specialist for Southeast Asia, Shihiru Date, said the improved roads can help address climate change challenges which can cause damage to deteriorating rural links.
"The project will provide rural residents in four townships of Ayeyarwady and Magwe with reliable, climate-proof roads, so they can better access markets and job opportunities," he added.
Myanmar has one of the lowest rates of rural road access in Asia, with more than 40 percent of the country's rural population having no access to all-season roads, according to the Rural Access Index database.
The country's total population is estimated at around 53 million.
ADB studies revealed that over four million people in Myanmar are not connected by road, and 10 million more are connected by roads that are not passable during the rainy season.
About 6 percent of the country's 95,000km rural road network is considered paved, while 28 percent have gravel or stone surfaces.
The new project seeks to improve the capacity of the Department of Rural Road Development to operate and maintain the country's rural road networks.