A Green New Deal (GND) to tackle climate change and economic inequality has captured the imagination of many. In the United States, a non-binding resolution calls on the federal government to wean the country from fossil fuels and curb planet-warming greenhouse gas emissions across the economy while aiming to guarantee new high-paying jobs in clean energy industries.
Inspired by President Franklin D. Roosevelt's response to the Great Depression of the 1930s, the GND combines his economic approach with modern ideas such as renewable energy and resource efficiency. The GND was first introduced long ago. New York Times journalist, Thomas Friedman, had been writing about it as early as 2007.
It was embraced the next year by the United Nations Environment Programme and its then-executive director Achim Steiner, who unveiled a Global GND initiative in 2008 aiming to create jobs in "green" industries, boosting the world economy and curbing climate change.
The European Commission (EC) launched the European Green Deal (EGD) in December 2019 with the aim of transforming into a modern, resource-efficient and competitive economy, where there are no net emissions of greenhouse gases by 2050.
The EGD plan to boost the efficient use of resources by moving to a clean, circular economy, restore biodiversity and cut pollution. Last May, the world was impressed by the EC's commitment to protect 30 per cent of European Union (EU) lands and oceans by 2030, part of the EGD.
Welcoming the European initiative, former US senator Russ Feingold, ambassador for the Campaign for Nature, called the 30 per cent commitment "timelier than ever". The EU aims to be climate neutral in 2050 and proposes to turn this political commitment into a legal obligation.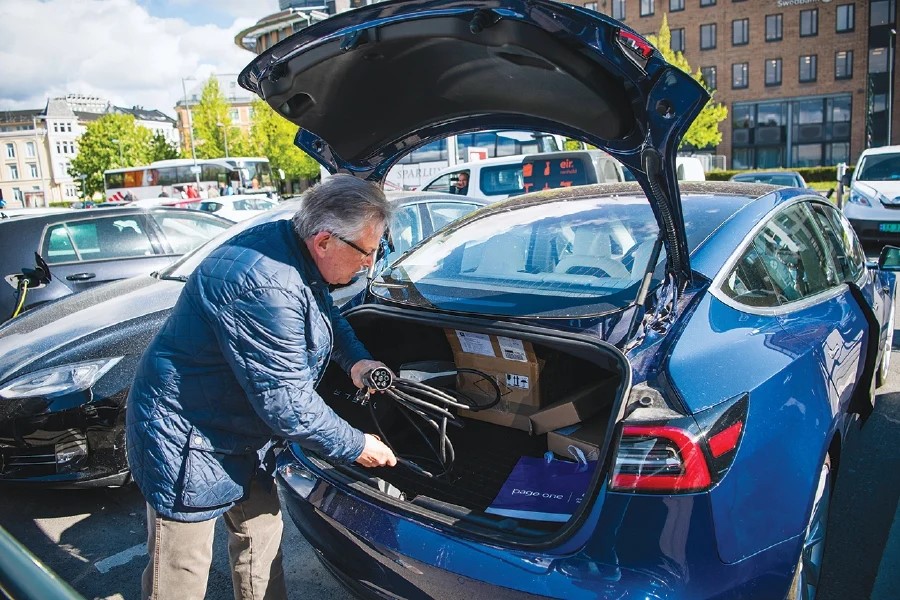 A man placing a charging cable in his car at an electric car parking lot in Oslo, Norway.
Reaching this target will require action by all sectors, including investing in environment-friendly technologies; supporting industry to innovate; rolling out cleaner, cheaper and healthier forms of private and public transport; decarbonising the energy sector; ensuring buildings are more energy efficient; and working with international partners to improve the global environmental standard.
Will the rest of the world also follow? China produces more than a quarter of global greenhouse gases. Beijing's buy-in was central to the 2015 Paris Agreement to reduce CO2 emissions, promising that they would peak by 2030.
The country appears on track to keep its commitment though emissions again increased in recent years. President Xi Jinping has pushed several initiatives, including efforts to transition from coal to renewable energy, investments in new technologies, and mechanisms to put a price on carbon.
In 2018, India was third biggest among national emitters, producing seven per cent of the world total after China and the US. New Delhi set a renewable energy target for 2022 requiring investments four times the size of its defence budget. Latest forecasts predict India will fall well short of its 2022 goal.
Norway has been particularly aggressive on energy policy, aiming for all new cars to have zero emissions by 2025. It has exempted electric vehicles from many taxes, tolls and parking fees.
The result? With a population of about five million, Norway is the world's third-largest electric car market after China and the US. The Netherlands and several other countries have set similar targets.
Chile became the first South American country to implement a carbon tax in 2014. Mexico launched its own in 2018. Kazakhstan, New Zealand, Singapore and South Korea have followed, either taxing carbon or implementing their own emissions trading scheme. Costa Rica has launched a national programme to completely decarbonise its economy by 2050.
Malaysia has no immediate plan to impose carbon pricing on industry players as we pursue in the meantime the reduction of carbon emissions through improved energy efficiency, energy reform and emphasising renewable energy as part of our climate strategy.
The government has been working on other ways to go green. For example, the Government Green Procurement policy requires procurement of products or services by any ministry or government agency to meet strict environmental criteria.
It has also introduced alternative green financing schemes such as Green Sukuk and the Green Technology Financing Scheme, to finance and stimulate sustainable projects.
Given our standing as a major trading nation, it is only a matter of time before we consider launching our own GND to deal with the myriad sustainability challenges faced by all countries today, the most immediate being the Covid-19 pandemic.