Holistic, Structured
At Malaysia Airports, we are keenly observing the global trends. And we are translating many of them into action.
To begin with, Malaysia Airports' CSR is a subset of its corporate sustainability framework and is embedded within the community-friendly organization strategy (see diagram).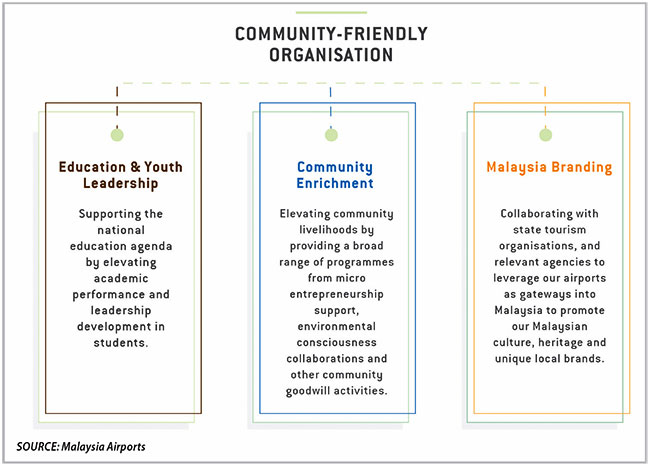 It covers all-touch points of the company. These include employees, community, environment and ethical business practices. Our community-friendly organization strategy is structured into three main pillars: Education and Youth Leadership; Community Enrichment and Malaysia Branding.
Education & Youth Leadership
At Malaysia Airports, we view education as a critical responsibility not only of the government but also of the corporate sector. Quality education churns out quality talents for the market place in the long run. With this in mind, we have committed our resources for the last 10 years in enhancing education at less privileged primary schools and has touched more than 30,000 students from 32 schools nationwide, including Sabah and Sarawak.
The flagship programme under the pillar of Education & Youth Leadership is a school adoption programme in collaboration with PINTAR (Promoting Intelligence, Nurturing Talent, Advocating Responsibility) Foundation established by Khazanah Nasional Bhd. The programme echoes the 11th Malaysia Plan (11RMK) whereby Pillar 2 calls for the enhancement of inclusive development and wellbeing; that includes improving the English proficiency to enhance the employability of Bumiputera students.
In taking ownership of the project, Malaysia Airports gave it a new identity under the theme Beyond Borders, with the tagline 'Give Them Wings, Let Them Fly'. This new identity illustrates Malaysia Airports' aspiration towards helping the underprivileged children in elevating their academic standards.
The programme was initiated in 2007. To date, Malaysia Airports has adopted 32 schools, impacting the lives of more than 30,000 people consisting of students, teachers, parents, and the community. The programme highlights the importance of education and improving academic standards, particularly the command of the English language, and inculcating fun learning and the love of reading with academic and non-academic approaches to complement the national curriculum.
The programme is not merely an investment in the students. We also work hand in hand with the teachers to make it more sustainable.
Malaysia Airports has a strong presence throughout Malaysia and we see our Beyond Borders programme as a key opportunity to play on our far-reaching span to do our part in building a better nation. Through this programme we have seen an improvement of the English passing rate at our adopted schools by an average of 20%.
Nevertheless, academic achievements alone are no longer enough to nurture the students towards a high performing mindset. In the effort to develop youth leadership, Malaysia Airports launched the High Fliers Programme in 2017 where 25 secondary school students were selected to participate for a period of five years from Form 1 to Form 5. These students are trained on active learning, critical thinking, character development, communication, and interpersonal skills to create a competitive advantage for them to excel in higher education.
Enriching Surrounding Community
The airport is inevitably part of the local ecosystem and we are in the position to create a positive impact on the surrounding community and environment where we operate. The wellbeing of the community and the environment is given priority as one of the core strategies in improving the organization's performance in terms of sustainability.
Under the Joyful Home programme, we engage with local communities to elevate the livelihood of the people including repairing homes, refurbishing school classrooms and upgrading children's hospital ward. Through these activities, our staff volunteers have the opportunity to contribute to society.
On the environmental aspect, energy, carbon emissions, water, and waste are the vital environmental areas that are looked into to improve efficiency and mitigate possible negative environmental impact produced by our operations. Malaysia Airports is part of the Airport Carbon Accreditation (ACA), a programme that began in Europe in 2009 motivating airports to approach the issue of carbon emissions and climate change in a collective way.
In Sepang, KLIA operation is central to the community and we strive to ensure that operations at KLIA and klia2 terminals are environmentally friendly. Under the ACA, KLIA Main Terminal has recently been upgraded to Level 3 Optimization in terms of carbon footprint reduction, whereby the implementation of initiatives involves engagement with third-party stakeholders. This puts KLIA among the 10 airports in Asia-Pacific to have reached that level. KLIA's second terminal klia2 was designed to be an icon among energy-efficient buildings in Malaysia with a wide range of innovative initiatives addressing the seven criteria of Leadership in Energy and Environmental Design (LEED).
In recognizing these initiatives, the klia2 Terminal Building was awarded the LEED Gold rating and klia2's Integrated Complex the LEED Silver rating in June 2017.
These achievements have led to KLIA being awarded the ACI Asia-Pacific Green Airports Recognition in 2017 a platinum winner in the category for airports with 25 million passengers per annum (mppa).
Showcasing Malaysia Brand
To celebrate and showcase Malaysia's local art, culture and heritage, Malaysia Airports has collaborated with various tourism agencies and state tourism departments. Such efforts are aimed at promoting tourism in line with the country's 'Visit Malaysia Year 2020' plan to increase national tourism and promote economic growth and trade.
The airport's Joyful Malaysia campaign leverages airports as gateways into Malaysia to promote the inbound tourism to the various local attractions for arriving tourists. Amongst the Joyful Malaysia campaigns at KLIA include Tourism Perak Folk Songs and Cultural Dance Performances and Visit Perak Year 2017 Tourism Exhibition, Visit Beautiful Terengganu 2017, Festival Nasi Ambeng Selangor, Melaka Tourism Fabulous Melaka campaign and traditional dance festivals.
Another aspect of the Malaysia branding initiative is showcasing products by local entrepreneurs at the airport. We collaborated with the Malaysia Design Development Centre (DDEC) toorganiseHIMPUN, a campaign at KLIA that showcased the best of Malaysian fashion, craft, delicacies, and beauty products to a global audience. HIMPUN's objective was to provide local and international travelers at KLIA a cultural perspective of what a beautiful country like Malaysia can offer through products and activities showcased in the campaign. The local brands that HIMPUN featured included Asian Potions, Eartheir, Frankitas, Fernthenewbatik, MySmink, ANNAY.H, Wan & Mary, Binqareem and Old Malaya Magic Spice.
In fact, the #HIMPUN campaign was a follow through from the #ProudlyMalaysian campaign that we successfully started in 2016. The #ProudlyMalaysian campaign was one of the first initiatives to show our support to local products and entrepreneurs. We strongly believe that as the gatekeeper of the country's key entry and exit points, our airports are definitely well positioned to champion all things Malaysian.
Forging Partnerships
In a nutshell, Malaysia Airports forges a partnership with the community and takes into account the impact we have on our surroundings. The framework is designed to bring positive and sustainable change. And while achieving all of the above, it is also a framework that employees can believe in.
Moving forward, we will continue to invest in the community that we operate in, as this is an investment in Malaysia Airports' future as well.
We are increasing our engagement and dialogue with the community to integrate their views and opinions to build stronger and more beneficial partnerships.
We are also looking at more robust communication and education as well as engagement with employees so that everyone understands their role towards being a responsible corporate citizen.
Source: Malaysian Reserve | 10 January 2019