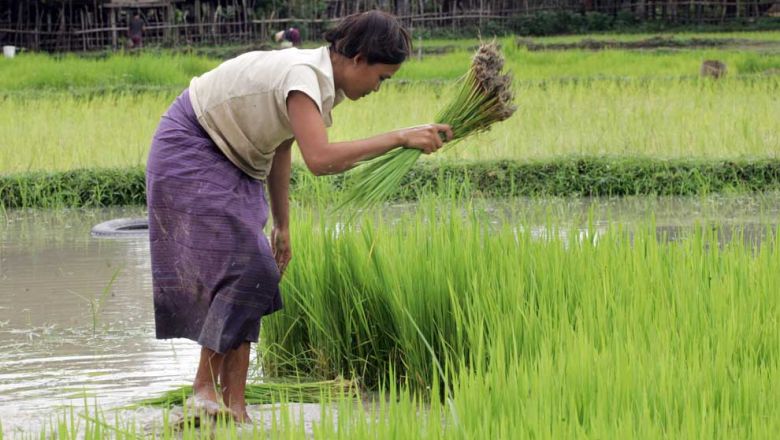 A Lao farmer transplants rice on a field in the southwestern province of Khammoune. Laos would help farmers improve commercial crop cultivation techniques such as using fast-growing and hardy grain varieties to suit local conditions. AFP
The Lao National Disaster Prevention and Control Committee is helping farmers across the country to improve their cultivation techniques so that crops can better withstand drought and dry season yields can be increased.
Committee officials said recently that the country is facing drought conditions as rivers in many provinces have continued to drop since last year.
In recent years, the direct impact of global warming can be seen in the changing weather patterns around the world, including the recent prolonged dry spells in Laos, according to senior experts from the Ministry of Natural Resources and Environment.
In the first six months of 2019, rainfall in the Nam Ou basin, the largest of the Mekong tributaries in Laos, decreased 41 percent compared to the same period in 2018 and dropped by 29 percent from July to September 2019.
These conditions are affecting farmers who face difficulties in sourcing water for their crops while challenging the government's targets in agriculture and forestry sector, with the dry season rice target set at 100,000ha from October to March.
The rainy season rice target for 2020 is 870,000ha, with the rice crop set at 4 million tonnes. Commercial crops are targeted to be grown on 384,300ha, while the per capita average meat, egg and fish supply for personal consumption has been set at 65kg this year.
Speaking during the committee's recent annual meeting, committee head Vilayphong Sisomvang said that preventing disasters and reducing risks was one of the government's priorities for the national socio-economic development plan (2016-2020).
In response to disaster risks, the government has set aside a budget for prevention, control, and preparedness each year, aiming to rehabilitate as well as reduce losses.
To increase crop yields, Vilayphong said the committee would help farmers improve commercial crop cultivation techniques such as using fast-growing and hardy bean varieties to suit local conditions.
In response to the country's extreme weather conditions, the National Agriculture and Forestry Research Institute has set up a rice breeding program aimed at developing new climate-resilient rice varieties. This program breeds rice varieties that have submergence and drought tolerance.
The program is also exploring grains that have different aerobic qualities, direct seeding processes, and species that are shatter-resistant when harvested using large mechanical equipment.
Environmental experts say climate change is expected to bring increasingly severe drought and flood conditions to Laos, with crop yields possibly falling 10 percent by 2020 and 30 percent by the year 2050.