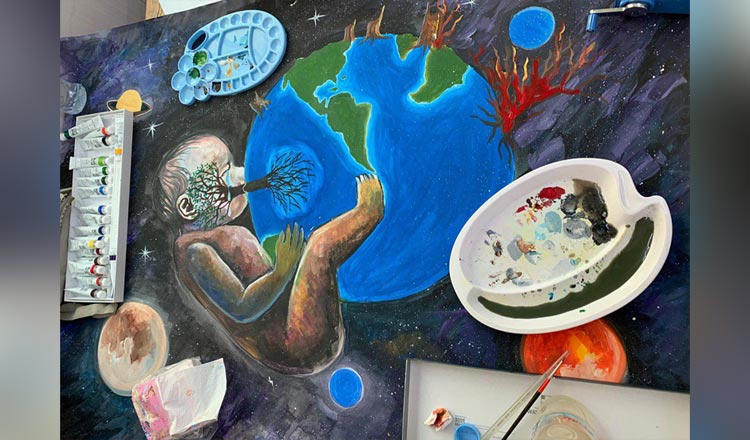 The painting that won him the ticket to Tokyo.
It was the paintbrush that held Chea Chunglong in awe while everybody else was transfixed with the blackboard during classes.
Starting from an early age, Mr Chunglong, who now turns 17, was sure that his perseverance to become an accomplished artist would pay off though he never thought he would become an emerging painter at this early stage of his career on canvas.
But with encouragement and instructions from his painting teacher at American Intercon School (AIS) where he spends two hours every Saturday to learn painting, he finally built enough confidence to reveal his concern on environmental issues in a painting contest during International High School Arts Festival 2019 last month.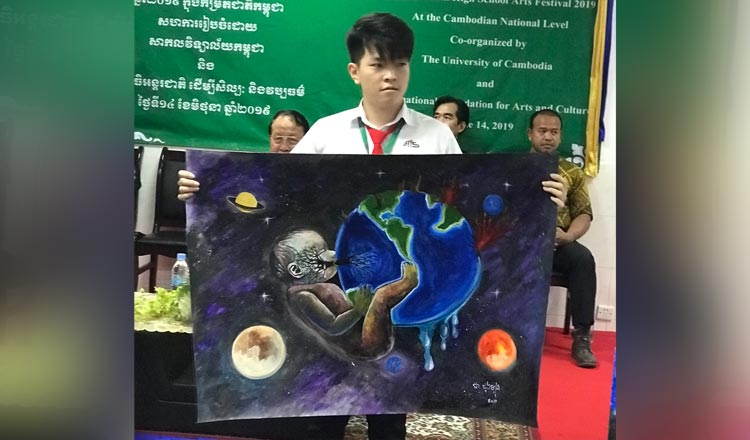 "As painting has always helped me to release stress, I have always crafted painting of landscapes so far. And one day, my painting teacher told me about and encouraged me to paint for the festival. I did not know then what my concept should be at the beginning, yet environmental issues always bugged me. So I finally chose it for my artwork," Mr Chunglong described.
Mr Chunglong's painting is thick with a portrayal of humans, forest, and the galaxy. He explained what lies beyond: "The action of humans now, even in our society, is destroying this planet by cutting down trees and polluting the air. So my idea is to bring awareness to people through my painting that we now destroy the planet and this planet is destroying us back by having storms, earthquake, climate change and global warming."
Without no high expectations to win the competition among 86 female contestants, 'New Vision for the World' by Mr Chunglong surprisingly won him the first placed winner.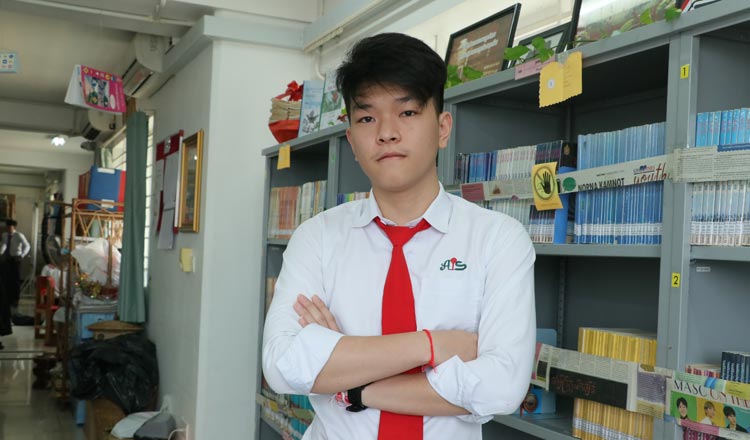 Chunglong's paintings are a showcase of his concern on environmental issues that would gradually destroy the planet.
And not only that but Mr Chunglong was also granted a visit to Japan from August 5- 9. Importantly, his artwork will be also put in one of Tokyo's museums.
"I feel very proud and special when my paintings were selected to showcase at one of Japan's museums. As I have a chance to visit there, I expect to get more inspiration to draw and paint, especially when I want to learn more about the Japanese on how they protect their environment and also the infrastructure of Japan."
Mr Chunglong concluded: "For young people like me, I want them to follow their passion since the art scene in Cambodia has become dynamic and is being supported by Cambodian people. Even if it is not a tool to build fame, art is an effective tool to express yourself and your true identity."