Kong Halimas, 53, washes her family's clothes outside. "With the new drainage system, our children go to school on time and their books are no longer wet," she said.
October marks the tail end of a long rainy season here and many neighborhoods, both urban and rural, are flooded. Children swim in trenches, and debris blocks the limited drainage. The moped taxi system, known as "Tuk-Tuks," forge through the streets, a full tire-deep or deeper with a muddy gruel splashing upwards.
Tuol Ta Aek, however, has a new, community-managed irrigation system and the infrastructure now keeps the neighborhood dry.
Chitembo Kawimba Chunga has come from Lusaka, Zambia, to see what climate resilience means in this part of northwestern Cambodia. She speaks with Kong Halimas and her 67-year-old husbandChnomSomat about the improvements in the village, communicating animatedly through an interpreter. "Families told me they have more customers for their shops, and it is easier for the kids to go to school. They even see fewer water-borne disease here now," she said.
A delegation of 17 Zambians traveled from Phnom Penh to Siem Reap and on to Battambang and Pursat in search of practical knowledge about climate resilience that they can take back home. They travelled about 9,000 kilometers from their landlocked country in southern Africa, many leaving the continent for the first time. The group includes community leaders, beneficiaries and government representatives who want to discover firsthand how Cambodia has pursued climate resilience, including adaptation and mitigation, within the Pilot Program for Climate Resilience (PPCR) that both countries joined in 2008. (PPCR is a funding window of the Climate Investment Funds, CIF).
Phan Diev has three children. She lives in Battambang, alongside the canal that runs through the center of her rural village. In recent years, the canal had risen over its banks, dragging storm debris in its wake. PPCR supported the rehabilitation of the canal, along with similar projects in Cambodia, Zambia, and other countries. The rice farmer says her community now "yields twice the rice than in recent years" due to improved irrigation from the canal.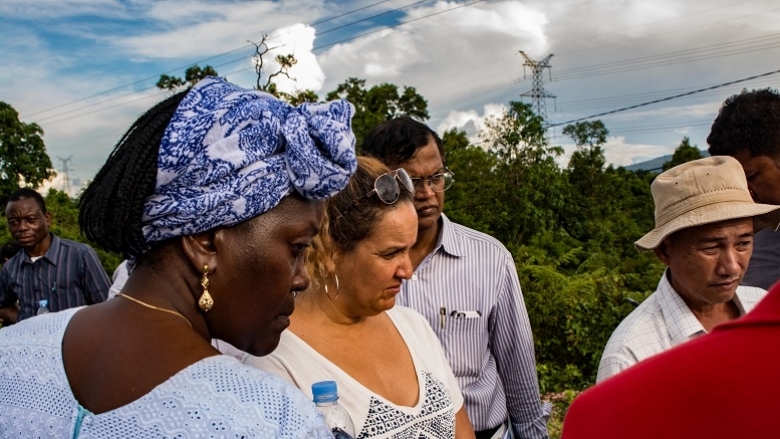 WORLDaDr. Auxilia Ponga, head of the Zambia delegation, studies new irrigation plans in Pursat. Photo credit: César López Balan-BANK-52
The Zambians and Cambodians walk up a long dirt road toward a flourishing agricultural cooperative at the other end of the village. Those who can't make the trip get rides on the back of local mopeds. "We are here because both our countries suffer from flooding and droughts, and any change in climate has a huge impact on us," said Kawimbe Kunga, who is a coordinator for PPCR in Lusaka.
Zambia and Cambodia are both highly dependent on agriculture. They also share an intricate system of canals built when both countries were under colonization. Once critical to transport and irrigation, many of these canals have fallen into disrepair, but are being transformed with the support of PPCR projects.
"Our problems are very similar and we can learn a lot from each other if we collaborate more," said Dr. Auxilia Ponga, Permanent Secretary within Zambia's Ministry of Development and Planning and leader of the Zambia delegation. PPCR countries are in the process of mainstreaming climate resilience into development plans.
This South-South Knowledge Exchange is the first of its kind for PPCR countries. PPCR is a $1.2 billion program dedicated to climate change adaptation and mitigation, operating 58 projects in 30 countries. It is one of four key CIF programs in 72 countries.
This trip is also the first of many conversations and study groups, members of the delegation said. Zambia's delegation said they are also hoping Cambodia can observe its successes with canal rehabilitation and irrigation in its southern and western provinces where 76,000 households, many women-led, have increased their maize and cassava yields because of better irrigation.
"We are here in Cambodia to exchange knowledge about how to better tend our farms in a more cooperative way. We see strength in numbers," said Baritone R. Kaambwa, Deputy Director of the Department of Maritime Ministry of Transport and Commerce in Zambia. "We have turned floods into farmland and now we want to turn our farms into businesses that can reach the market in a sustainable way."
Policy reforms can help rural communities out of poverty, even as more precarious weather conditions intensify the battle against climate change, added Carol Zulu, Zambia's Environment and Social Inclusion Officer for PPCR, "We were impressed with stakeholder involvement and the critical level of political will in Cambodia. "The feedback we received helps us move forward in a way that could trigger more policy reform."
"We are looking at the role of civil society in Cambodia, and this is one of our main takeaways," Ponga said." If we could identify a strong NGO that would be willing to go into rural communities, this would help immensely both for the life of the projects, and after.
This is Muchinga Nyambe's first trip outside of Zambia. She came to Cambodia from Kazangula District, where the Zambian farmer manages a PPCR grant project, including 22 goats (soon to be 44, she said) that can survive drought in a way that other livestock cannot. Kazangula also benefits from new community-managed boreholes that have eased water problems during longer spells of drought. If maintained, these will help women get to work and children go to school, rather than fetching water from long distances during the day. "I'm very happy to be on this trip, and to learn more about climate resilience," she said. "I think the PPCR countries can help each other more."
Source: The World Bank | 14 November 2017