It was a scene that perfectly encapsulated Phnom Penh's development dilemma: Hundreds of ramshackle houseboats that usually anchor in the river north of the Cambodian capital had pushed downstream in search of cleaner waters, mooring with a view of glittering high-rise buildings that are reshaping the city skyline.
Home to poor fish farmers who earn their living on the water, the boats had found refuge from a river sludge in the shadow of a city that's in the throes of rapid and continually accelerating development — with little regard for the negative consequences borne largely by the poorest residents. As they waited for the sludge to clear, local officials denied that sewage overflow had caused a fish die-off. They instead blamed, variously, climate change causing the water to become too hot and heavy rain, claims unconvincing to residents.
"The sewage water made the fish die," said 49-year-old Ming Tiv Bo, pointing to a blue container floating near her houseboat in May. "All the fish inside the barrels, all the fish died."
Bo and other fish farmers had experienced the sludge before. Ly Chhun Leng lives next to a blackened canal upriver from where the fish deaths occurred. She says the amount of sewage pumped into the slow-moving water led her community to give up fishing altogether. "It always happens, every year," she says.
But mass fish die-offs of the scale this past spring are unusual — and a frightening preview of the future to come if Phnom Penh continues to grow without remaking its 60-year-old water management system amid spiraling population growth.
"It's a very critical situation now," says Nishikawa Masashi, a project adviser at the Japan International Cooperation Agency (JICA), the Japanese government's international aid and development agency and the lead force behind a new $1 billion proposal to adapt Cambodia's wastewater management system to meet the dual challenges of rapid urbanization and climate change.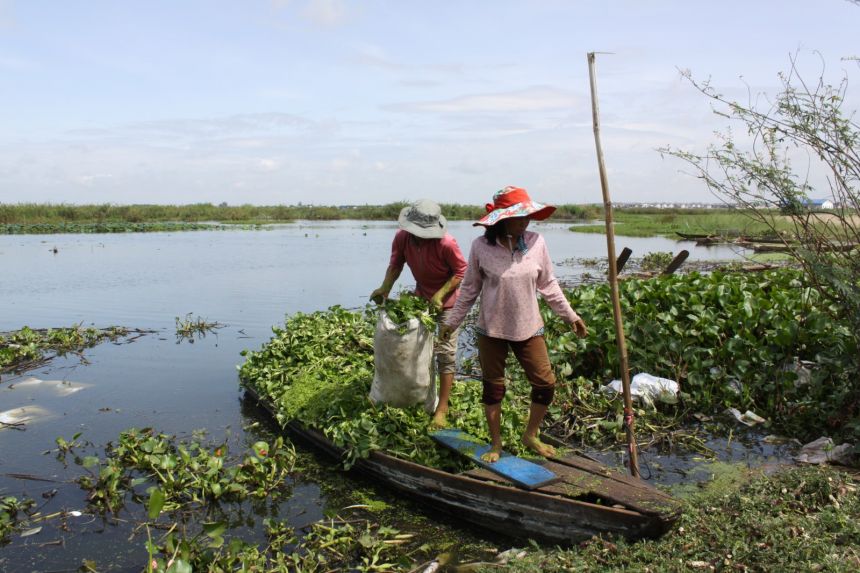 Urban farmers collect water vegetables that grow on the surface of Boeung Tompun lake, which is the dumping ground for Phnom Penh's sewage.
Phnom Penh, with an estimated 3 million residents, is a small town compared to megacities like Tokyo with its 38 million residents or Beijing with its 21 million. Yet the Cambodian capital is one of the fastest urbanizing East Asian cities outside of China, according to a 2015 World Bank study, and a rising star in the world of high-end real estate. In the first six months of 2017 alone, $5 billion in new development was approved in Cambodia, much of it residential, retail and office towers destined for the capital. A recent glossy report from real estate firm CBRE Cambodia describes a building bonanza that has land values in Phnom Penh soaring at historic highs of nearly $5,000 per square meter ($464.50 per square foot) in a country where one in 10 people still lives below the poverty line. Located at the intersection of three rivers in a part of the world where temperatures soar year-round, the low-lying city is among the world's most vulnerable to climate change. "While Phnom Penh has slightly more financial capacity to respond to climate change impacts, its relatively low elevation, proximity to the ocean and the Mekong River make it particularly vulnerable," noted a 2012 World Wildlife Fund report.
Cambodia's leaders promise a bright future, centered on Phnom Penh as the economic, cultural and administrative hub of the country, and fueled in large part by development. (The World Bank and other international agencies agree that construction has been a major driver of economic growth.) With so much riding on new building, the city in 2015 released a comprehensive master plan, the first since 1950, when the city was under French colonial rule. It had taken eight years for the document, titled "Phnom Penh Land Use for 2035," to win the approvals needed to become government policy and implementation has been sketchy. Still undecided is a forward-looking strategy for getting rid of all the waste that will eventually flow from all new homes, offices, shops and restaurants expected to rise.
Infrastructure ready for rapid urbanization
There is no requirement that developers include septic systems when planning new housing or commercial projects, and many do not. Cambodia's census agency found that of the 92.9 percent of Phnom Penh households that have a toilet, just 19.7 percent have a septic tank while the rest are connected to drainage facilities. Typically, larger developments such as planned communities or sprawling satellite cities on the urban outskirts are more likely to include septic systems than tower blocks in the inner city, where space is at a premium.
For developments that are connected to the city's drainage system, there are no guarantees that flooding will be avoided or wastewater will stay underground. The city built its drainage system in the early 1960s. Through the 1970s civil war and Khmer Rouge era, the system fell into disrepair. Today, it overloads in heavy rain, sending stormwater and untreated sewage into streets that many navigate without a closed vehicle. In a country where seasons are roughly divided into "wet" and "dry," floods are a frequent occurrence in many parts of the city, despite investments upward of $100 million in drainage improvements over the last two decades.
"Before, when heavy rains came, the flooding in Phnom Penh sometimes lasted more than two hours. Now most of the serious flooding areas have been improved," says Masashi. "The water remains for only 20 minutes or one hour."
And all that waste must go somewhere. The city does not have a sewage treatment plant, so the effluent mostly flows straight into large lakes in the south — Boeung Tompun and the adjoining Boeung Choeung Ek — where wild and cultivated aquatic plants growing on the surface act as a natural filtration system. Tiny organisms that live on the root of the floating plants feed on both organic matter and harmful pathogens found in sewage, turning the effluent into clean water. But this microbe-reliant method, which is both cheap and efficient, comes with a caveat.
"The capacity of the natural treatment process depends on it not being overburdened by too much sewage," says Taber Hand, director of Wetlands Work, which builds treatment systems. "When the wetlands area becomes too small, or the volume of sewage input increases due to a growing population, the microbial community does not have sufficient time … to make the water very clean."
Now that system is under attack as developers fill in wetlands so they can build on the landfill. A 2015 study by urban housing and sustainability NGO Sahmakum Teang Tnaut (STT) of 25 lakes in Phnom Penh found that 15 had been filled in, representing a loss of 60 percent of these wetlands, whilea further eight lakes had been partially filled.
The farmers who harvest water vegetables from Boeung Tompun and fishermen who cast nets there say the water is becoming increasingly unpleasant to work in — and many suspect that it is causing them health problems, though there is no comprehensive data available on the public health or economic cost of flooding.
Suong Chrai, 49, has been fishing on the lake for 13 years. The condition of his skin gets worse with every passing day. "First the water began eating away at my skin, and then it got more and more itchy," he says as he digs a trap out from the shore.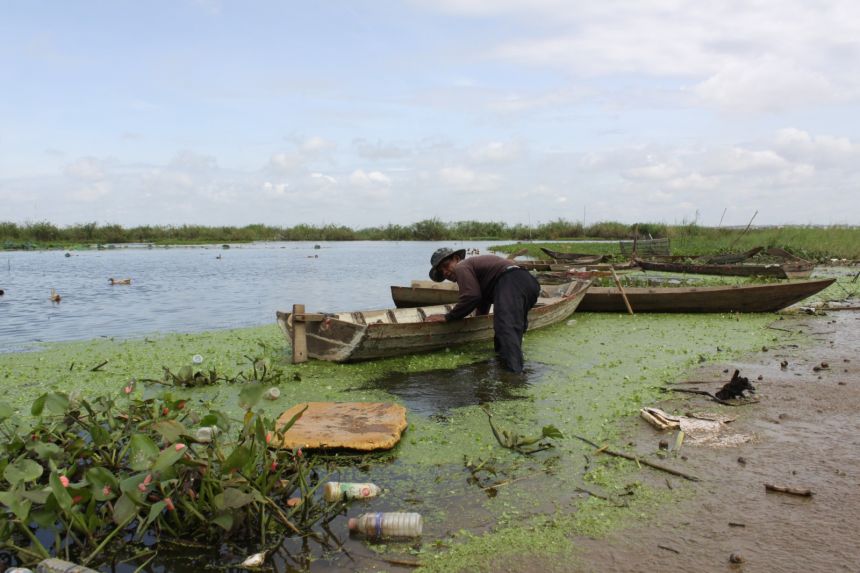 Fisherman Suong Chrai pulls his canoe into the shore of Phnom Penh's Boeung Tompun lake. He cannot afford to see a doctor about the skin problems he suffers as a result of prolonged contact with the contaminated water.
Sustainable Infrastructure for some?
Phnom Penh is a city that has taken on water quality before — and won. In 1993, JICA began working with the Phnom Penh Water Supply Authority to remake its drinking water supply. It took more than two decades of hard work and sustained funding to get the city's tap water to meet World Health Organization standards. Now the city wants a similar concentrated investment in a modernized urban drainage system.
"The Environment Ministry sees a real need for a proper sewage treatment plant for Phnom Penh, especially given that the city is fast-growing [in terms of] population and economic activity," says Sao Sopheap, ministry spokesman. "There's a real need for a proper system."
In December 2016, JICA presented the municipality with its waste management master plan. If all the proposals were implemented, it would cost more than $1 billion. The key recommendation is construction of a sewage treatment plant to handle waste from the most built-up areas of the city. With a capacity of 282,000 cubic meters (about 2 million cubic feet) a day, the plant would cost $450 million to build in four stages. In addition, a decentralized system of waste treatment, known as Johkasou, is recommended for a secondary area that has about half the population of central Phnom Penh. The plan recommends stand-alone septic tanks for households located in farther-flung areas.
With the JICA plan in hand, the Cambodian government has asked the Japanese government for international aid dollars to cover the first stage of the plant, Masashi says.
"Just [in August] we received an official request, and it is going to be for further consideration by the Japanese government in Tokyo. So we haven't made any commitment yet. But we also put high priority on this project," he says.
"Drinking water [came] first because it directly impacts human life. People need water to live, but wastewater comes later," he added.
Met Measpheakdey, a Phnom Penh City Hall spokesman, says the municipality can't confirm if the plant would go ahead without Japan's support. "We are not sure if they will provide the funds or not. We have to know where we will get the financing from," he says. Potential sites for the plants have not yet been made public.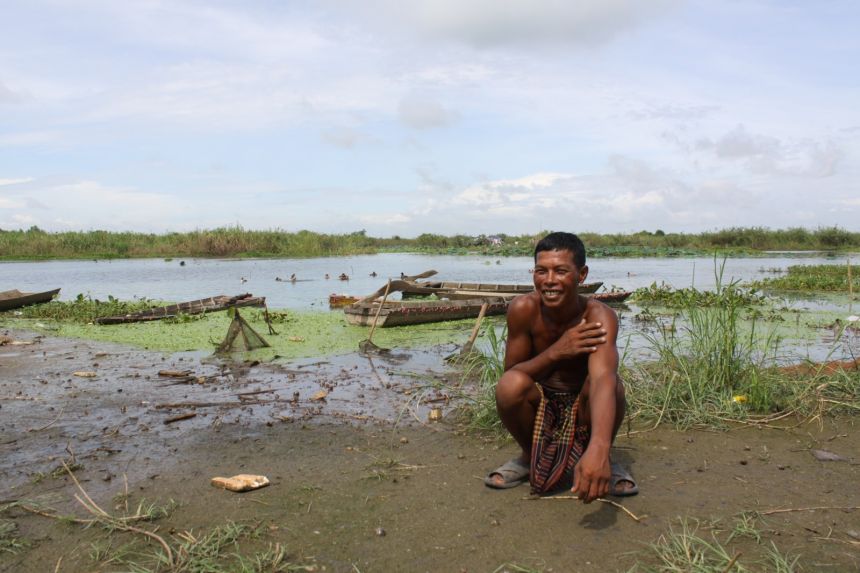 Duck farmer Yem Sarom has been living by Boeung Tompun lake for 20 years and says he and members of his family are plagued by skin ailments.
In any case, immediate alleviation of Phnom Penh's sewage issues is unlikely; not only does Japan first have to agree to fund the work, but the master plan recommends that construction on the plant should not begin until 2023. In its first stage, the plant would only have a capacity of 5,000 cubic meters per day — well short of the nearly 300,000 cubic meters JICA believes will need to be treated in the future. "This is very small with the size of this city, so we will have to gradually increase the capacity," Masashi says, adding that initial costs would be in the region of $50 million.
Whether or not the citywide wastewater management plan moves forward, the same developers who are filling in the region's lakes are moving ahead with their own plans for self-contained systems.
South of Phnom Penh's central core, the Cambodian conglomerate ING Holdings is building a sprawling new satellite city complete with high-ceilinged villas, luxe apartments topped with roof decks, a luxury car dealership and a new international school.
The 2,572-hectare development — the largest project in Cambodia — is slated to rise on the wetlands around Boeung Tompun, leaving the estimated 1,800 families who live in the areas surrounding the lake with nowhere to fish or farm morning glory and other water vegetables. ING Holdings has been pumping sand into the lake since 2011, and the company's website states that just 520 hectares of wetlands will be left untouched. The website for ING City promises "a startling contrast in desirability" to the rest of Phnom Penh by ensuring proper town planning and infrastructure that considers environmental factors, "reflecting the 'garden city movement.'" Included in that infrastructure: two new wastewater sites and three water treatment plants managed independent of the city.
STT Executive Director Soeung Saran says it would be "disastrous" for the city's residents if the lake is developed as planned. "The people living around there will be affected," he says. "And if the lake is filled partially or fully, it can impact the whole city since Boeung Tompun is the largest water reservoir where the water from Phnom Penh flows."
Source: Next City | 25 September 2017