The 51-year-old has another long day ahead of him. Six hectares of rice field takes him a month to cultivate and seed. He owns no farm machinery, only two oxen, and a wooden plough. But that is enough to get work done before the annual floods when water fills his land and rice begins to float.
A resident of Tnot Village in Kampong Thom province, Bunthorn is among a few remaining farmers in Cambodia who still grow floating rice in deep water. The technique is a traditional farming method that could offer a sustainable, eco-friendly alternative for the country's rice production in the face of climate change.
"Floating rice grows with floods," Bunthorn said. His rough, sunburnt skin hints at decades of toiling in harsh weather.
"No matter how deep it is, the rice can survive. It can float high above the ground and doesn't need much care until harvest time."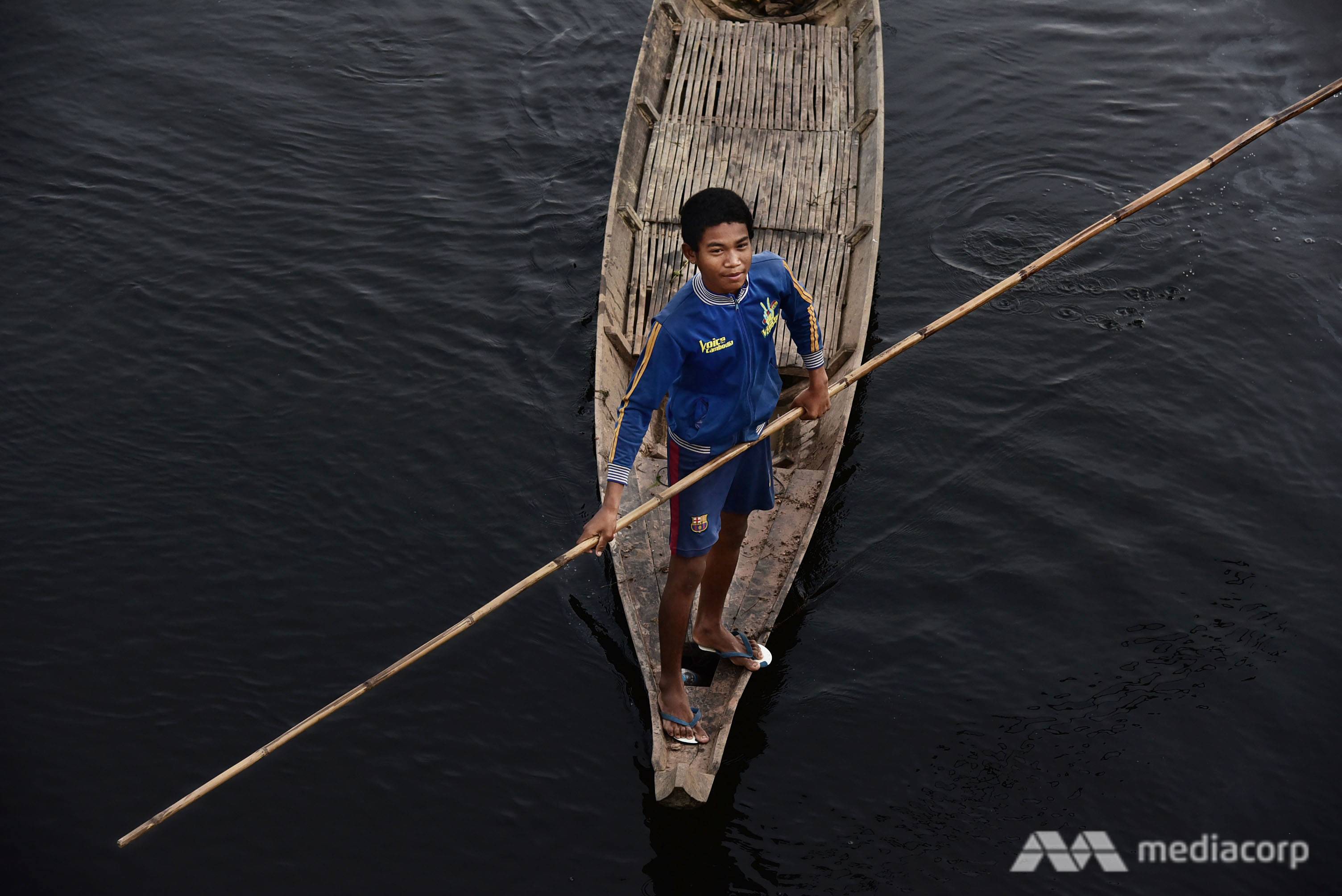 A boy rows his boat on submerged land, heading towards a floating rice field. Many farmers in Kampong Thom province still grow rice in deep water during flooding season, when water from Tonle Sap River inundates a vast area of land. (Photo: Pichayada Promchertchoo)
Grown in floods and thriving without pesticide, floating rice – sometimes known as deep water rice – has nourished generations of people in the Lower Mekong Region. In Cambodia, the traditional cultivation is still present around Tonle Sap Lake, in low-lying provinces such as Kampong Thom, Kampong Chhnang, Siem Reap, Pursat and Banteay Meanchey.
The unique characteristic of floating rice is its ability to elongate and adapt to floods. The stem lengthens as water rises, with heights ranging between 1 and 6 meters. For three months, usually from August to October, its foliage floats and ripens on the surface, while deep water keeps pests at bay.
During the submergence, Bunthorn says sediment from the floods turns into natural fertilizer and helps farmers like himself minimize the use of agrochemicals.
"We don't have to pay for chemical fertilizer or pesticides. We just need rainwater and floods. Our produce, as a result, is organic and healthy."
The crops' resilience to inundation and low reliance on agrochemicals has led researchers to believe there are many benefits of growing floating rice in the Lower Mekong Basin, particularly in Cambodia.
Based on a study by USAID and the Mekong Adaptation and Resilience to Climate Change, Cambodia is among the most vulnerable countries in Southeast Asia to climate change impact.
"Increased frequency of large storms will result in more flooding and related costs, especially in low-lying areas such as the extensive floodplains surrounding Tonle Sap Lake including southern and central parts of Kampong Thom province," the study said.
Among the most vulnerable crops, it adds, are dry-season and lowland rain-fed rice. Last year alone, Cambodia's National Committee for Disaster Management reported 3,456 hectares of rice crops were damaged by rain and the overflowing of rivers, not mentioning more than 300 hectares of other crops.
Floating Rice: A Fading Culture
In Tnot Village, the threat of flooding does not worry deepwater rice farmers so much.
"Floating rice can withstand floods; it grows well when the water rises. The farming itself is also easy and that's why it's still alive," Bunthorn said.
"If Mother Nature gives us good weather, the harvest can reach 3 tonnes a year."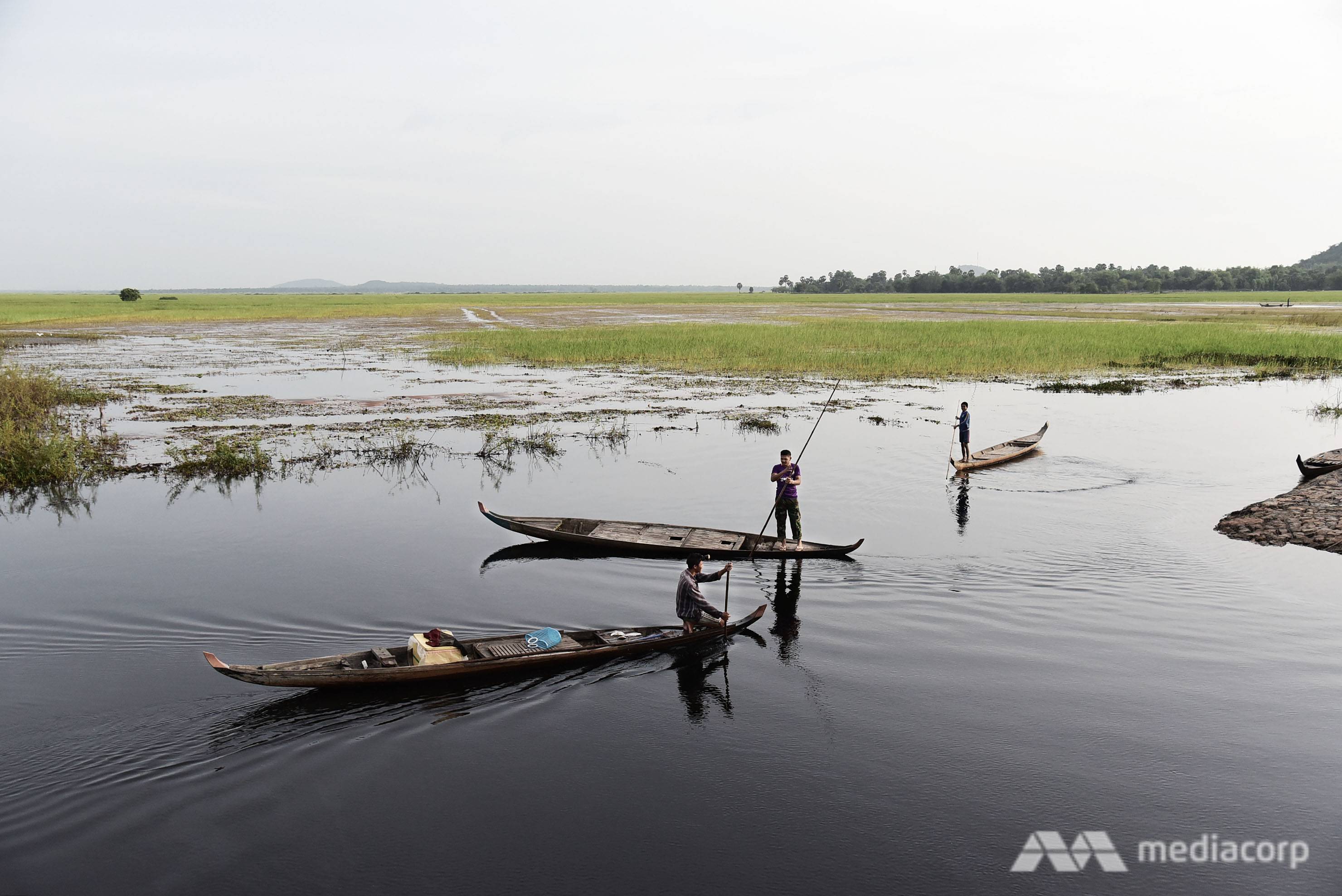 Floating rice grows with floods. The stem can elongate up to 6 metres while its foliage floats and ripens on the water surface. (Photo: Pichayada Promchertchoo)
Farming is the only career he has known since the age of 18. As a little boy, he used to follow his father to their rice field, where he learnt the art of farming rice in deep water. Like other families in the village, his has been growing floating rice for generations – a tradition he hopes will live on.
But data from the Agriculture Ministry shows floating rice continues to disappear from Cambodia's floodplains. Its major decline was recorded around 1975-1979 when the country witnessed one of the darkest chapters in its history.
During four years under the Khmer Rouge, Cambodia went through a mass genocide that is believed to have wiped out up to 2 million people or a quarter of its then population. Under the leadership of Pol Pot, millions of people were forced to farm in the countryside as the regime hoped to turn the society into an agrarian utopia.
As a result, single-cropped floating rice was deemed valueless and higher-yielding types were used to accelerate rice production. Much of its cultivation has been replaced by dry-season varieties, which allow farmers to harvest twice or thrice a year.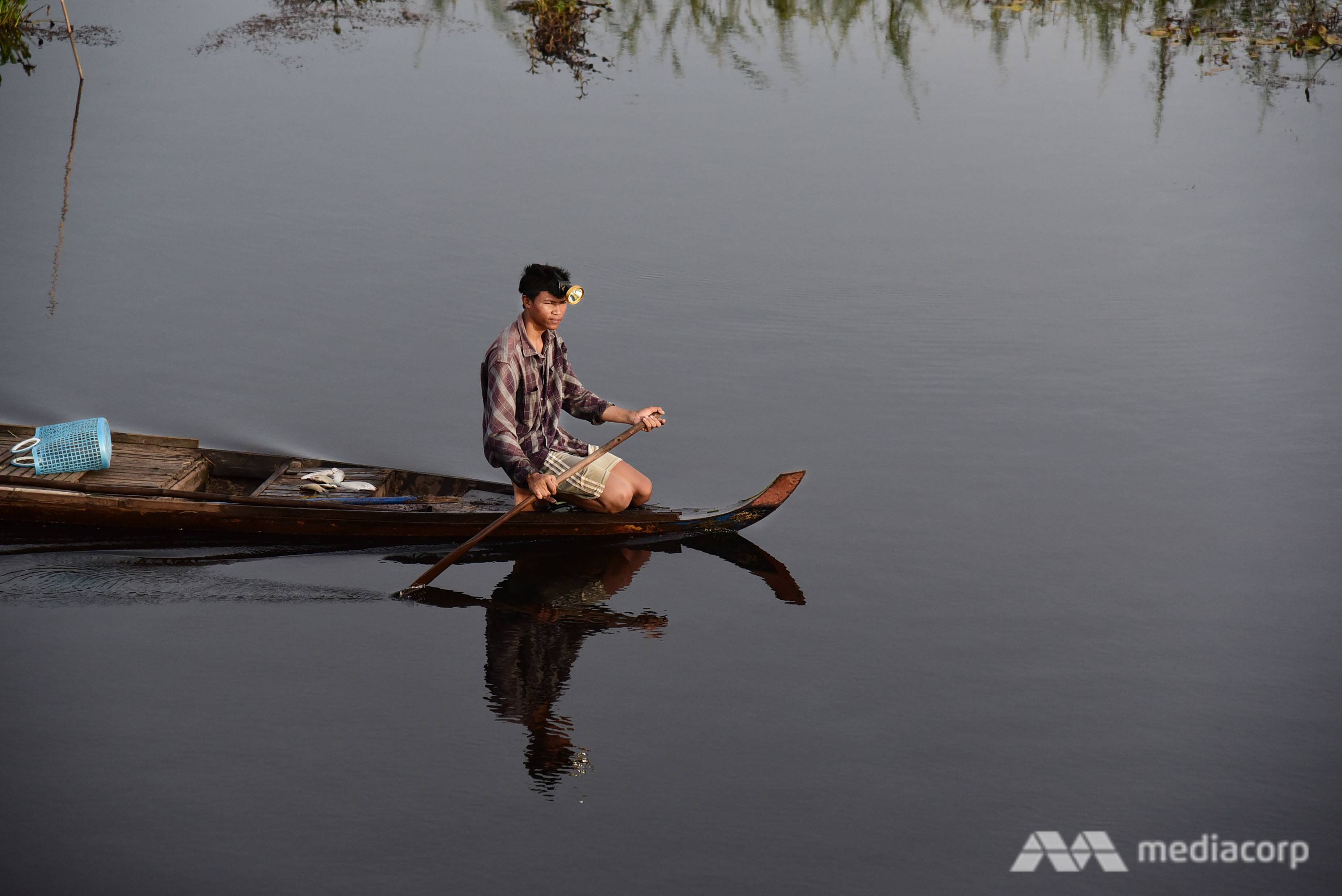 During flooding season, floating farmers catch wild fish in their inundated rice fields as they turn into a fertile fishing ground. (Photo: Pichayada Promchertchoo)
"The market for dry-season rice is expanding in Cambodia. The crops only take three months to grow and that's why farmers are switching to this type,' said Chim Choeung, member of the Kampong Svay Commune Council in Kampong Thom.
"They can earn more this way."
In Cambodia, rice is the staple food and primary commodity. In 2017, the country exported more than 635,000 tonnes of rice and recorded a 17.3per cent growth from the previous year, according to the Agriculture Ministry.
As the country develops, the government is determined to further increase rice production as it aims to transform Cambodia into the world's "rice basket".
Still, global rice market remains a competitive space dominated by India, Thailand, and Vietnam. Last year, Cambodia saw its two neighboring countries export more than 17 million tonnes of rice, 11.25 million tonnes from Thailand and 5.9 million tonnes from Vietnam.
More Chemical, More Yields
In a bid to up its game, the Cambodian government has been promoting short-term high-yield rice cultivation, which targets a continued expansion of dry-season rice farming area. What followed was a sharp decline of floating rice farming.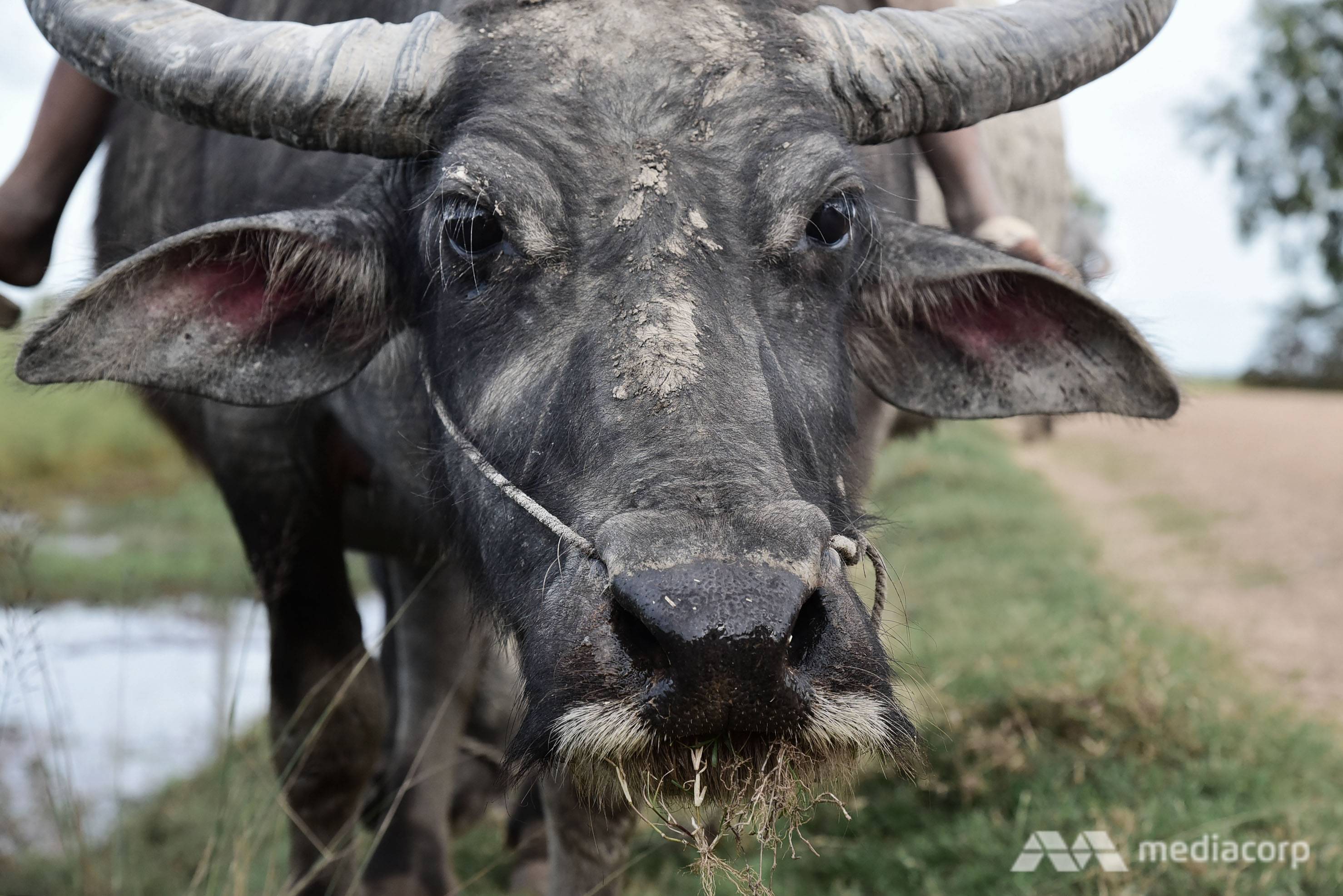 Many floating rice farmers in Cambodia do not own farming machinery and use oxen or water buffaloes and wooden ploughs to cultivate their land. (Photo: Pichayada Promchertchoo)
In 1975, there were 410,000 hectares of the crops in Cambodia, according to research by the Australian National University's Fenner School of Environment and Society. By 2015, the area had shrunk by 88.6per cent to 46,759 hectares.
"While high-yield variety rice has a clear domestic and international market acceptability, the same cannot be said for floating rice," saidDrVan Kien Nguyen and Assoc Prof Jamie Pittock in their research.
The crops, they added, are unpopular in urban markets and largely consumed by farmers, who believe in their health benefits.
In Tnot village, the sale of floating rice is falling gradually.
"In the past, everyone here was growing floating rice. But today many people have changed to dry-season rice because of higher yields. They grow it for export," said rice seller Thorn Thol.
But despite its shorter cultivation period, Thol said dry-season rice requires more care, more fertilizer, and pesticides.
"When farmers plough the land, they'll have to spray pesticide. When the rice starts to grow, they'll spray it again. Other chemicals are also used to stop weeds. And when the rice plants are tall, more pesticides are applied," she said.
"It's not great for your health. But many people prefer dry-season rice farming."
For the likes of Bunthorn however, whose land is submerged every year, a change in farming method is unlikely.
"We can't change the nature of our land," the farmer said.
In front of him, his floating rice field looks like a golden sea in the sun. Water is good this year and he is looking forward to the harvest.
Source: Channel News Asia | 6 March 2018