Scores of seven solar photovoltaic (PV) projects are in the pipeline for construction and ready to put into operation by 2023. The Cambodian government aims to generate 20 percent of energy from renewable energy.
The news was revealed by Permanent Secretary of States at the Ministry of Mines and Energy Ith Praing at the Singapore-IRENA High-Level Forum of the Singapore International Energy Week 2021, on Tuesday.
Cambodia's electricity is dominated by renewable energy, hydropower dams, accounting for 88 percent followed by solar power, Praing said, adding that Cambodia still has some coal-fired power plants in the mixture and imports to support the country's power stability.
Solar currently shares 9 percent of the Kingdom's installed capacity, he said.
"By 2023, seven additional solar power plants with a total capacity of 495 mW are expected to be put into operation, representing 20 percent of the total energy supply," Praing said.
Currently, several solar power plants are already generating energy and linked to the grids.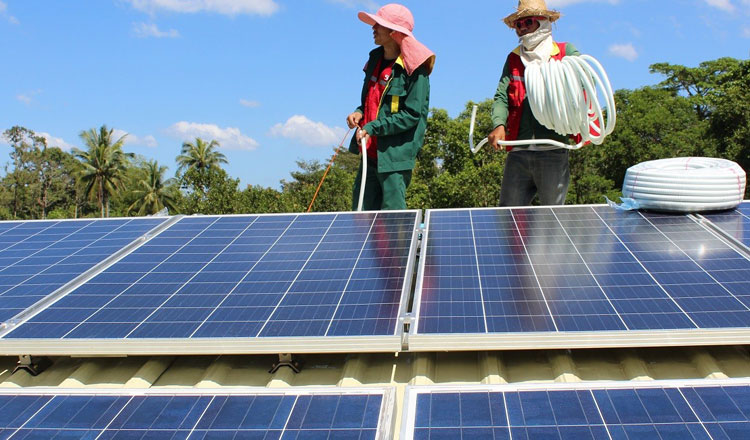 Cambodia's existing solar power stations cumulatively provide 160 mW, located in Bavet city, Svay Rieng province, Kampong Speu province and in Kampong Chhnang province.
Praing also addressed the country's most-up-to-date power development plan 2020-2040, saying it is setting key objectives including accessibility, reliability, affordability and security as well as a contribution to address climate change.
Cambodia remains committed to mitigating emissions in fighting against global warming by 2050 to 1.5 degree Celsius, he said.
Related to climate change, Cambodia is ready to participate in research on safe, sustainable and affordable energy sources to contribute to eliminating the climate change issue, Minister of the Environment Say Samal said in a Tuesday meeting to Tina Redshaw, British ambassador to Cambodia.
"The research for renewable energy sources is an important contribution to tackling climate change, and Cambodia is ready to engage with development partners, especially the UK, Australia and Russia to study safe, sustainable and affordable energy sources," Sam Al said.
Praing also encouraged regional and world energy companies to consider investment in Cambodia.
"I welcome top leaders and CEOs across the energy sector to discuss and realise the possibilities in the energy market in Cambodia and ASEAN as whole," Praing said.