The Brunei Climate Change Secretariat under the Brunei Darussalam National Council on Climate Change (BNCCC) is in the process of coming up with operation documents to set activities and initiatives, to achieve the 10 core strategic areas under the Brunei Darussalam National Climate Change Policy (BNCCP).
These key strategic areas, with objectives under the BNCCP to be implemented in the next 15 years, include industrial emissions, forest cover, electric vehicles, renewable energy, power management, carbon pricing, waste management, climate resilience and adaptation, carbon inventory, and awareness and education.
This was highlighted by Permanent Secretary (Energy) at the Ministry of Energy Haji Azhar bin Haji Yahya, during a recent tree-planting event held at the new Recreational Park in Jalan Pusat Persidangan, to celebrate World Ozone Day 2020.
Haji Azhar, who is also Chair of the Executive Committee on Climate Change, said, "We have gone through over this month on the 10 strategies objectives where each of the strategic policies needs around two days of workshop to come up with its operation document."
He added, "We have quite a good attendance and participations as well as commitment on coming up with the operation documents. We hope that by October, we will be able to complete the operation documents to be rolled out, as we move for the next 15 years until 2035. Climate change will be beyond 2035, but we have specific targets for every five years and the 2035 target is the link to Brunei Vision 2035."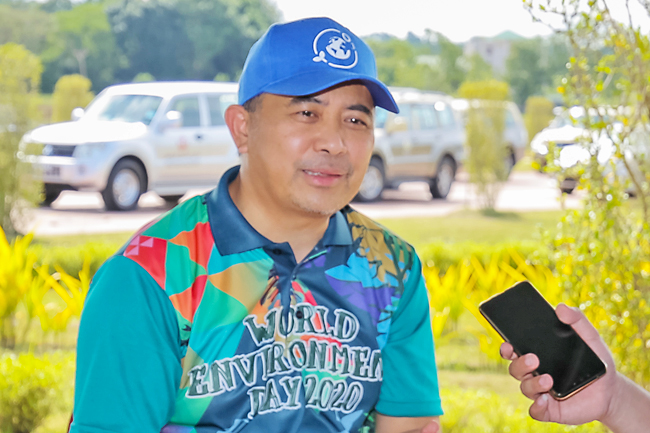 Permanent Secretary (Energy) at the Ministry of Energy and Chair of the Executive Committee on Climate Change Haji Azhar bin Haji Yahya. PHOTO: BAHYIAH BAKIR
"To achieve the strategies, it is important for everyone to be familiar with BNCCP, by logging on to the website www.climatechange.gov.bn. "On the website, people can see the targets and what we are trying to do. Once the operation documents are completed, it will be quite clear to everyone on the specific things they have to do and where to contribute."
He expressed, "I believe that everyone has a role to play, whether you are student, worker or a manager. You can play a role individually, or within a group or organisation because every strategy in the policy contributes to a number of things.
"Tree-planting, for instance, is part of Strategy number 2, which is forest cover. In the policy, the target for forest cover is to plant at least 500,000 new trees up to 2035.
"500,000 trees in over 15 years are about 2,800 trees per month. 500,000 can be quite daunting, while some feel that it isn't enough. We need to be realistic, based on our population. Therefore, meaning that each person can plant a tree over the next 15 years, it's not so much."
He added, "We encourage companies and government agencies to conduct their own tree-planting campaigns. We will register an inventory of tree-planting, so that we can track the progress that we are targetting. The Brunei Climate Change Secretariat, the Department of Environment, Parks and Recreation (JASTRe) and the Forestry Department will come up with an inventory system to count how many trees are being planted."
"Apart from the tree-planting at new Recreational Park, Jalan Pusat Persidangan, there are areas under JASTRe and the Forestry Department where people can plant trees.
"In the private sector, there are quite a number of active companies like Hengyi and Brunei Shell Petroleum, and I am also sure there are also other companies which are carrying out initiatives on their own. I would like to encourage more companies to come forward to participate in tree plantings.
"As part of the operation document, there will be quite a number of regulations or directives. In forestry for example, JASTRe has already devised that for every tree cut by developers, they will have to plant four new trees to replace it.
"In terms of regulation, the Government will introduce green protocols specifically for offices, where there are certain etiquette to be observed. But we would set it in a proper way such as no use of plastic or plastic bottles, no use of single-use plastics, and by reducing the usage of paper."
On the process of coming up with the BNCCP, which has also involved the participation of youths, Haji Azhar said, "The BNCCP was formulated by the Brunei Climate Change Secretariat, which began in 2019 under the purview of the BNCCC, which is led by Minister of Development and Minister of Energy.
"Meanwhile, members of the council comprised the Minister of Primary Resources and Tourism, the Minister of Transport and Infocommunications and the Deputy Minister of Energy.
"Under the council is the Brunei Climate Change Secretariat led by the Executive Committee, whereby the executive members' task is to develop the BNCCP. Beginning in 2019 and even before that, it took more than a year to formulate the climate change policy. "Around 45 organisations, including ministries, government agencies, the private sector, non-governmental organisations (NGOs), youth and others were involved in giving their feedback to craft the BNCCP. It went through a number deliberation and workshops, and one of the key steps was to involve youth.
"We had quite a number of engagements with youth leaders to make sure that the formulation of the policy included feedback from youth, because they are the future generation.
"Youth are very environmental-conscious, and they provided some reality checks and new ideas. It was a very important process. They would spend a couple of days brainstorming and voicing out their concerns, and to makes sure that the 10 strategies that we came up with are relevant.
"One of the important strategies is waste management. We thought that waste management was already being handled properly and hardly related to the environment.
"But the youth insisted that this was important, because when you think of environment, you think of plastics, recycling and others. It's part and parcel of the climate change mitigation.
"At the end, we managed to complete the BNCCP this year, and Alhamdulillah His Majesty Sultan Haji Hassanal Bolkiah Mu'izzaddin Waddaulah ibni Al-Marhum Sultan Haji Omar 'Ali Saifuddien Sa'adul Khairi Waddien, Sultan and Yang Di-Pertuan of Brunei Darussalam consented for it to become a national policy.
"The soft launch took place in July this year at the Prime Minister's Office building, where we also came up with the book, which is already well sought after. I think that the Climate Change group should be quite proud of the outcome. It provides Brunei a clear way forward, in terms of what the country has to do.
"We have received quite a number of good acknowledgments from diplomats and private institutions both within, as well as from outside the country, because the policy is so transparent and so clear."