Published on 06 December 2017
Dr Nguyen Ngoc Sinh, who received Nhan Tai Dat Viet (Vietnam Talent) Award for his general research on the biodiversity of Truong Son Mountains, affirmed that Vietnam needs to set up master plan on the mountain range area to ensure sustainability.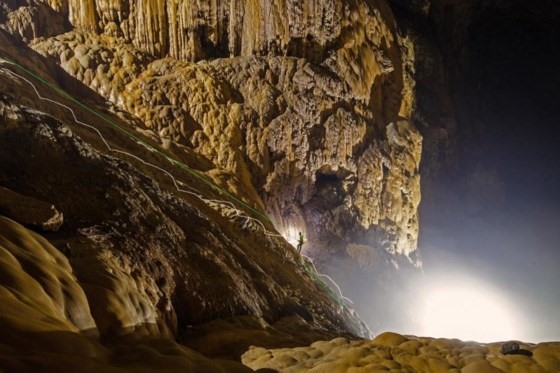 Truong Son is one of the richest biodiversity centers in the world
In 2010, when the first national workshop on protecting the biodiversity of Truong Son Mountains was organized, Sinh and scientists understood they were considering a very important issue.

At that time, international scientists pointed out that Truong Son is one of the richest biodiversity centers in the world. Some of them said Truong Son is in the top 10, while others say the top 15, but they all agreed that Truong Son is among the leading centers.

The discovery of sao la (Pseudoryx nghetinhensis), one of the world's rarest large mammals, a forest-dwelling bovine in the Truong Son Mountain Range, was a big surprise to international scientists. Later, Vietnam discovered other big species like mang lon (Muntiacus vuquangensis) and mang Truong Son (Muntiacus truongsonensis).

In Truong Son, there are also many varieties of plants, medicinal herbs and precious trees such as Ngoc Linh ginseng, and a kingdom of birds.


Regarding the natural landscape, Truong Son has beautiful caves such as Son Doong and Phong Nha – Ke Bang caves. Russia Today hailed its imposing beauty as 'a sanctuary, a lost world below the surface - a unique ecosystem'.

Localities exploit natural resources in Truong Son, and there is no overall plan on using the resources in the most reasonable way"We believe that Truong Son is a promising land for Vietnam to successfully adapt to the climate change," Sinh said.

Sinh said a master plan on the development of Truong Son could be turned into socio-economic development, history and especially climate change.

Vietnamese scientists have been cooperating with international scientific centers, including the Asian Biodiversity Center in the Philippines and the centers in Laos and Cambodia to learn more about Truong Son.

In the immediate time, national workshops about Truong Son will be organized for scientists and scholars to suggest the next steps for Vietnam to collect more materials about Truong Son.

The Vietnam Talent Awards 2017 were presented in Hanoi on November 16, honoring persons with practical inventions and initiatives.

The awards honored people in the fields of information technology, science-technology, healthcare – pharmacy, environment, and talent encouragement
Source: Vietnam.Net Bridge | 6 December 2017
.