Published on 12 November 2017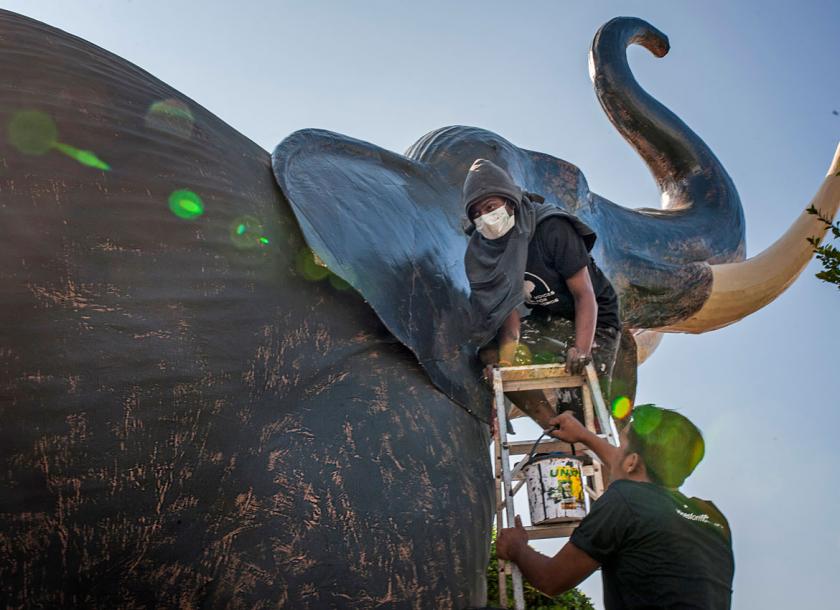 Sculptors put the finishing touches on one of seven paper mache elephant sculptures on display in exhibit 'We Love Our Momos' at Mahabandoola Park, Yangon. Nyan Zay Htet/ The Myanmar Times
COMMUTERS could be excused for thinking someone spiked their morning laphet yay with reports of a rather unusual site in downtown Yangon today; a herd of elephants out the front of city hall towering above the gridlock of cars and buses.
But these aren't hallucinations. This very real sculpture exhibition marks the beginning of a six-month campaign to draw attention to elephant poaching and confront the crisis which has seen Myanmar's wild elephant population reduced to alarming levels.
One of the seven giant paper mache elephants that make up the sculpture piece 'We Love Our Momos' was made with old newspaper clippings of environmental stories which includes coverage of the brutal killings of elephants for their skin to waste disposal problems in Yangon.
'We Love Our Momos', on display from November 4 to 6 at Mahabandoola Park in downtown Yangon, is part of the 'Voices for Momos' campaign organized by a coalition of conservation organizations including World Wide Fund for Nature (WWF), Wildlife Conservation Society (WCS) and Fauna and Flora International (FFI).
"I've always wanted to make giant elephant sculptures but they also reflect the current situation of elephant killings," said graffiti artist Arker Kyaw, who led a team of artists in the construction of the sculptures.
The team which included master bamboo sculptor U Myint have been building the seven giant elephants since September.
The largest of the paper mache elephants is 21 feet (6.4 meters) tall which is almost three times the height of an average adult male elephant.
"I am hoping this artwork will break the Guinness World Record for the world's biggest paper mache sculpture," said Arker Kyaw as he was putting the finishing touches to one of the elephants.
Read more https://www.mmtimes.com/news/myanmars-elephants-vanish-artists-bring-them-life-downtown-yangon.html
Source: Myanmar Times | 13 November 2017