Published on 24 November 2015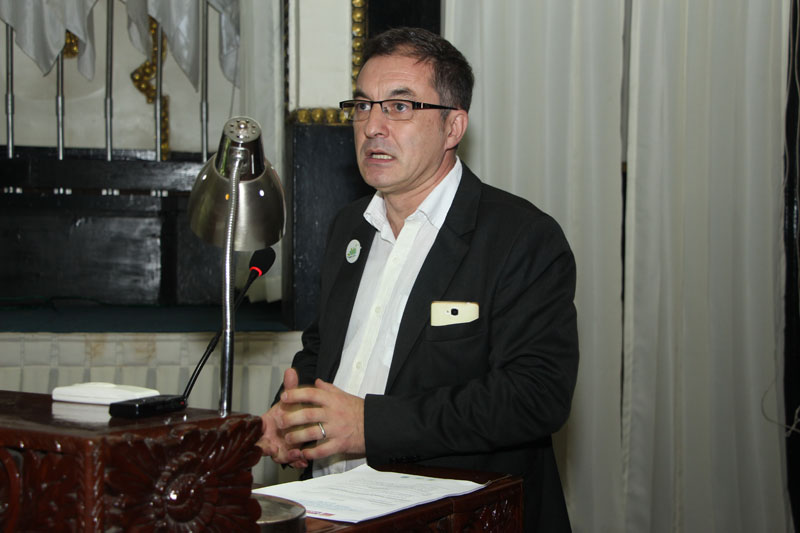 Mr. Jean-Marc Brule, Green Lotus co-founder and Paris region member of Parliament.
The Mayor of Yangon U Hla Myint attended the "1st Green Construction Summit" in Yangon this week which looked at a whole range of construction options that are more "eco-friendly" compared with traditional, typically Western-style building techniques.
The summit was held on November 19 at Yangon City Development Committee City Hall and was organized by Green Lotus Foundation, ALARM/ECODEV and the Yangon City Development Committee.
Participants at the day-long conference discussed everything from how Yangon will feel the effects of climate change to sustainable house, to how to make eco-friendly housing financially viable.
Mr. Jean-Marc Brule, Green Lotus co-founder and Paris region member of Parliament, said: "Myanmar has been ranked by German Watch as the second most heated country in terms of climate change effects from 2006 to 2013, after Honduras. Myanmar has turned to be among the five most endangered countries in the world under climate change. Countries which would be really heated by climate change in the next 50-100 years are mostly in South East Asia. It's a Southeast Asia challenge and also a world challenge."
Myanmar had experienced Cyclone Nargis in 2008. And Myanmar faces flooding in this year 2015, both of which could be due to natural weather cycles or worsened by man-made climate change. "This is only starting" Mr. Brule said. "In the very near future, the Nargis Cyclone will repeat itself every two years and then every year. It's because of a lot of heat. We have to adapt. And also to ask for international support to repair the damage and to protect people."
U Hla Myint, the mayor of Yangon, said: "In today's conference, the building designs which are relevant to the environment will be shown. I would suggest to copycat them. Myanmar should study the eco-friendly building designs and green accessories ahead of time for the future so that next generations can live a better life and will be free from various kinds of diseases. And also let's try to help solve the problems of global warming." He also called for media and various academics to help.
"Academics and various media, please try to introduce relevant green technologies, systems and practices to not only the businessmen, but also to the consumers. To make Yangon City green and sustainable for the long run, we will cooperate with relevant international organizations," the mayor said.
In the presentation "City facing with Climate Change" conducted by Mrs. Linda Yarr, George Washington University, she said: "Sustainability is the balance of environmental resources, social equity and economic prosperity across the globe and across generations. Myanmar should try green growth-planning for a low-carbon future. Ministries should have climate-wise development, mainstreaming awareness of climate change. They should practice inclusive-gender, care for minority groups and try to find regional balance."
Source: Mizzima | 23 November 2015