Published on 31 July 2015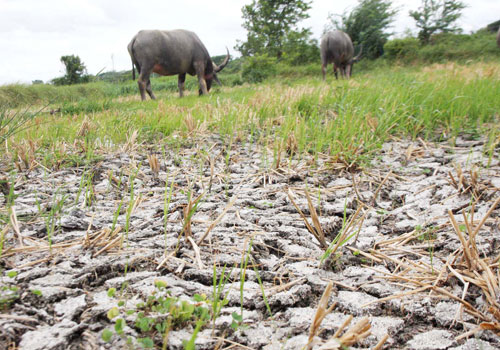 Buffalo graze in parched paddy fields in Min Kin Kon village, in Mandalay's Patheingyi township, on July 23. (Kyaw Ko Ko/The Myanmar Times)
U Tin Win's summer paddy looked perfect. The sight of the serried arrays of green plants brought joy to his heart. But that evening, July 14, was the last time he felt so good. The next day, torrential rains came to his plantation in Kan Thit village, Kin-U township, Sagaing Region. They have barely stopped since.
"The fields were flooded, and so were the houses around. My summer paddy was drowned. I was going to sell the crop to pay off my debts. Now I'll have to get another loan for the rainy-season paddy," he said.
Sagaing Region was particularly badly hit from mid-July onward, with Wuntho Dam overflowing. As other rivers, streams, dams and dykes also burst their banks, houses and fields were inundated, with Kin-U, Kawlin and Wuntho townships particularly hard hit.
The 7.83 inches (198.88 millimeters) of rainfall recorded at Kanbalu in the 24 hours to 9:30am on July 18 was a 20-year record, while surrounding areas recorded similar amounts. State-owned media reported that 2453 acres of summer paddy, 36,689 acres of monsoon paddy and 3147 acres of monsoon seedlings owned by 13,851 farmers in 142 village tracts in the region were underwater.
As if that wasn't bad enough, farmers in next-door Mandalay are suffering from drought.
In recent years Mandalay has seen a dangerous mixture of water shortages and heavy rain.
"A shortage of rain over the past three years has reduced yields," said U Hla Myint Aung, a regional staff officer with Mandalay Region's Ministry of Agriculture and Irrigation.
U Kyaw Lwin Oo, director of the Department of Meteorology and Hydrology, said Mandalay Region's climate had changed significantly from a decade ago, with rainfall slumping from 60.71 inches in 2006 to 24.57 inches last year.
"Since 2011, Mandalay Region has suffered both record-breaking drought and record-breaking rains, in July and August," he said, adding that "neither is good" for farmers.
Myanmar is one of the countries most affected by climate change, exposed as it is to the weather engine of the Bay of Bengal, which brings the early advance or late withdrawal of the monsoon, and more or fewer storms. At the mercy of the whims of the bay, some regions are turned into lakes even as their neighbors' soil cracks and burns under the pitiless sun.
In its 2015 Climate Change and Environmental Risk Atlas, business risk analysis firm Maplecroft placed Myanmar 19th of 32 countries at "extreme risk" to climate change over the next three decades. Dependence on agriculture was a common thread between the 32 countries, with the sector employing an average of 65 percent of their working populations and accounting for 28pc of economic output.
It said that the UN Intergovernmental Panel on Climate Change had estimated declines of up to 50pc for staples such as rice, wheat and maize in some locations over the next 35 years due to the impacts of climate change. While Myanmar was not classified among 11 countries at "extreme risk" of food insecurity, it was considered "high risk".
Myanmar is not likely to see less rainfall; many areas will even receive more rain. However, it will be concentrated into a shorter monsoon, with rainfall outside the monsoon declining, according to Myanmar's National Adaptation Programme of Action (NAPA).
Myanmar's farmers are already feeling the early effects. Figures from 1960 to 2009 cited in the NAPA report show that "shorter rainfall seasons in combination with erratic and intense rainfall resulted in numerous flooding events".
For farmers, the unstable weather of recent years – both floods and droughts – has resulted in lost production and rising indebtedness.
These debts force them to use more insecticides and chemical fertilizer to improve their yield and compensate for earlier losses, driving up the cost of cultivation per acre. Most damaging is lack of access to credit; low-interest loans from the Myanmar Agriculture Development Bank and the Ministry of Cooperatives only cover a portion of the production costs, with the rest sourced at high rates from private creditors.
"It costs at least K200,000 per acre from sowing time to harvest time. But the agriculture bank won't lend more than K100,000 an acre, so farmers have to turn to private lenders. They are trapped in a vicious circle of debt," said farmer U Khin Oo of Patheingyi township, Mandalay Region.
U Kyaw Swar Soe, chair of the Farmer Development Party, said the government should provide a guaranteed market for crops, provide sufficient loans, and ease rules and regulations governing farm finance. These measures would raise farmers' living standards and protect them from natural disasters, he said.
"The government is working for farmers' development, but we've yet to see significant change. While businessmen have finished their buildings and are driving around in their cars, the farmer is still in his farm, and still paying his debt," he said.
"Farmers in upper Myanmar have incurred losses because of climate change. There is not enough water when they need it, and too much when the time comes to harvest. Laws to protect farmers exist only on the books. They do not protect our interests," he said.
In an effort to address some of these concerns, parliamentarians drafted and enacted the Protecting Rights and Enhancing Economic Welfares of Farmers Law in October 2013, which contains measures such as setting minimum prices for crops and the introduction of crop insurance. However, the necessary by-laws have still not been enacted by the Ministry of Agriculture and Irrigation, despite repeated requests by parliament.
Even with such measures, prominent meteorologist U Tun Lwin has a blunt message for farmers: prepare for change.
"Our traditional agricultural methods and philosophy," he said, "will have to change based on the impact of climate change."
Source: Myanmar Times | 29 July 2015