Published on 20 September 2018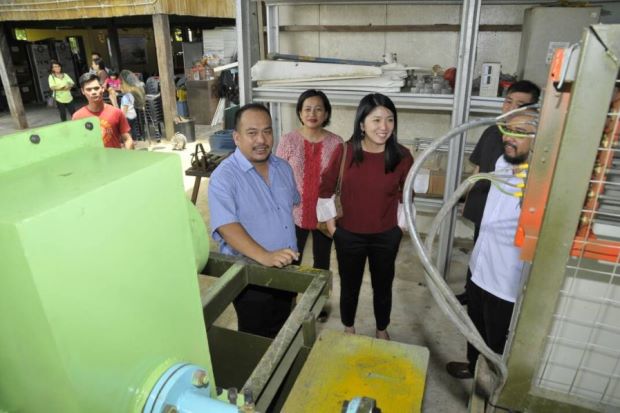 File photo of Energy, Green Technology, Science and Climate Change Minister Yeo Bee Yin (centre) checking out renewable energy generation on July 31 at the NGO Create Borneo near Kota Kinabalu. Next to her are Create officials Adrian and Jenifer Lasimbang.
KOTA KINABALU. Please don't restart the coal power plant project in Sabah, explore renewable energy sources first to solve the state's power supply woes, the World Wide Fund for Nature (WWF) Malaysia urges the Malaysian government.
WWF-Malaysia said in a statement that this proposal to use coal as an energy source had been strongly opposed and turned down during the previous government.
"WWF-Malaysia supports the Malaysian government's commitment to the Paris Agreement of holding temperature increase to below 2°C and to pursue efforts to limit temperature increase to 1.5°C above pre-industrial levels," it said.
This statement was issued in response to Prime Minister Tun Dr. Mahathir Mohammad's call to utilize coal in Sabah during his opening address at the 22nd Conference of the Electric Power Supply Industry (CEPSI) 2018.
"As such, renewable energy and energy efficiency options as an alternative way to generate electricity, as opposed to coal should be the priority for Sabah," the statement said.
WWF-Malaysia was part of the Green SURF (Sabah Unite to Re-Power the Future) coalition in 2009 which successfully stopped the coal power plant project in Sabah.
The topic of renewable energy in Sabah is not new, as a number of studies had been conducted on its feasibility in the state.
WWF-Malaysia said as a responsible government, protection of the environment for the well-being of the people should be top on the list.
"While electricity woes continue to plague Sabah, steps to rectify this issue should not have a negative impact on the environment," it said.
WWF-Malaysia that the Energy, Technology, Science, Climate Change and Environment ministry has acknowledged the inefficiency in electricity generation, transmission, and distribution in Sabah. However, matters concerning climate change must also be considered when it comes to finding ways to solve the problem.
Meanwhile, Sabah Tourism, Culture and Environment minister Christina Liew when asked to comment on Mahathir's coal proposal, said she does not want to say anything yet because "the matter is still in talking stage".
Source: The Star Online | 20 September 2018