Published on 17 January 2018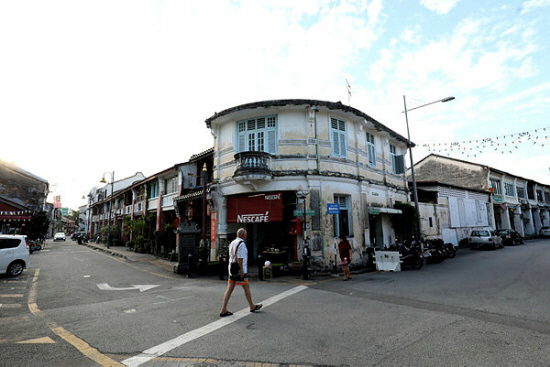 The thriving heritage enclave in George Town. — Sunpix by Masry Che Aini
Penang may soon be inundated with more flooding in its low lying areas in tandem with the rise in sea levels, owing to the global climate change phenomenon which has been shaping the environmental reality of this century.
And among the casualties could be the UNESCO certified World Heritage Site in George Town where a majority of the colonial structures and buildings are within a 109.38 ha area, located in the low lying stretches of the island.
This was among the admissions made and discussed at a just concluded symposium on a sustainable Penang in Komtar here.
Malaysian Nature Society Penang chapter adviser K. Kanda Kumar, who posed this question about sea levels rising, was met with an admission by former Malaysian Meteorological Department director-general Datuk Dr Yap Kok Seng that the sea levels around Penang are indeed elevating.
"Perhaps, there could be a rise of 0.2 meters in the next several years. This will take a toll on the drainage and irrigation systems already in place. We need to be prepared for such eventualities," Yap told the audience.
Also, along with changes to the climate, there will be more weather severity as the country experiences prolonged heat spells, drought and unusual heavy rainfall, said Yap.
Hence, the warnings come now, so the preparations have to take root.
The United States' National Oceanic and Atmospheric Administration, together with the US Environmental Protection Agency, the US Geological Survey and Rutgers University released a report on rising sea levels four years ago.
In the report, Malaysia was listed as one of the 20 countries that would be worst hit the rising seas – with 4% of the population likely to be displaced. Already, stretches of the coast in Kelantan have seen widespread erosion due to the rampant waves off the South China Sea.
On a proposal for the possible introduction of an effective early weather warning system, Yap said that many developed nations have a weather television channel.
Perhaps, Malaysia could look into developing a channel devoted to addressing and highlighting the weather phenomenon, said Yap. Or to alternatively work on an effective information dissemination system through social media networks.
Yap also urged Malaysians to cooperate fully with the authorities in line with the preparations needed to weather the climate changes currently taking place.
Climate change is essentially the gradual warming of the Earth's surface due to the emission of carbon and greenhouse gases into the air, causing the North and South polar ice caps to melt, which in turn leads to a rise in sea levels around the world.
Earlier, social activist Dr Kam Suan Pheng called on for more interstate cooperation to tackle environmental degradation issues, such as the logging in Ulu Muda, Kedah and the depleting of water catchment resources in Perak.
Source: The Sun Daily | 17 January 2018