Published on 02 July 2017
ZIPPING up his wet suit, Dr Affendi Yang Amri dives overboard 24 nautical miles (37 km) southeast of Mersing, Johor, to inspect a section of Pulau Tinggi's coral reefs. His "living" laboratory lies in the depths of the ocean where corals grow in abundance, forming the foundation of many marine ecosystems.
Diving in the open seas is all in a day's work for Affendi, and forms part of his continuing research to understand the effects of climate change in the oceans, such as rising water temperatures and rising levels of acidity on coral reef population.
Coral reefs occupy one-tenth of one per cent of the ocean floor, but they provide habitat for a quarter of the world's fish. With the world so dependent on the oceans for food and natural resources, he wants to understand how coral reefs would adapt to a changing environment.
Discovering the hidden treasures of Tioman, Pahang.Pictures COURTESY OF Dr Affendi Yang Amri.
"What I basically do is to see the effects of the environment to corals. At the moment in Malaysia, we are looking to map out where the corals are, to see what biodiversity they possess and to check on their health status... to see if they are resilient enough to withstand the inevitable climate change," he begins.
"Despite what (Donald) Trump thinks, climate change is very real," he adds wryly. And he's probably right. Recent news on the effects of climate change on coral reefs have been alarming.
Unesco's World Heritage Centre in Paris has reported recently on June 23 that without dramatic reductions in greenhouse emissions, the world's coral reefs will cease to host functioning coral reef ecosystems by the end of the century.
A UNIQUE RELATIONSHIP
It's an incongruous setting to meet up with the coral reef ecologist who's attached to the Institute of Ocean and Earth Sciences, University of Malaya. We're not aboard a boat or anywhere near the ocean. It's downtown Sentul and he leads me to his favourite haunt near his apartment, where we chat over tea while the latest Tamil hits play in the background.
Never mind the lack of ambience, his laid-back beachy vibes and easy laughter point to a man who spends most of his days out in the oceanfront.
But beneath the calm surface and easy-going demeanour lies a serious scientist whose passion revolves around "the most unique organism in the world," according to Affendi. And he's more than keen to tell you why.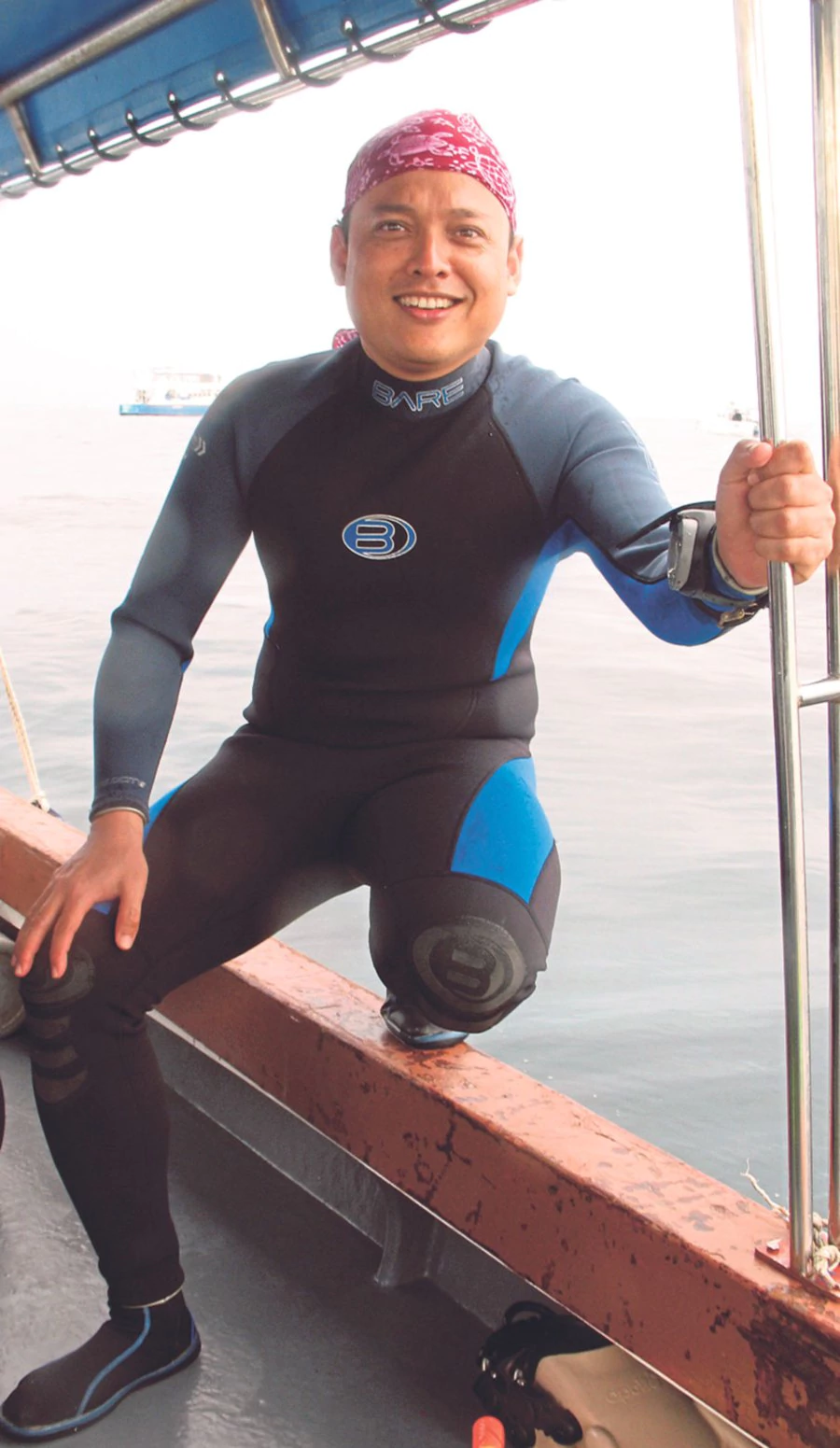 Dr Affendi Yang Amri feels saving corals is about losing our food security along with the reefs and not many people understand that.
"I often ask my students to guess if coral reefs are really animals, plants or rocks," he tells me with a grin.
"Can you?" he asks.
"Plant?" I venture a guess.
"No, animal!" he replies triumphantly.
I fail in coral trivia in the very first round. "Most of my students get it wrong the first time," he consoles me but the amusement in his eyes tells me a different story.
Coral reefs, he informs me, are built by colonies of millions of tiny coral polyps, animals that harbour algae-like organisms called zooxanthellae within their tissue. Coral polyps tucked in their skeleton cups and their zooxanthellae are mutually dependent.
The coral provides a protective haven for the algae; the zooxanthellae provide essential nutrients to the coral. "It showcases the best symbiotic relationship," he declares.
CORAL LOVE FEST
"Any other fun fact?" I ask.
"Mass synchronised coral spawning phenomenon," he replies promptly. Huh? It's an annual love fest for coral reef colonies, he informs me with a grin as he sees my incredulous face.
Once a year, on cue from the lunar cycle and water temperature, entire colonies of coral reefs simultaneously release their tiny eggs and sperm called gametes into the ocean on a single day. "It's an amazing phenomenon to behold," he tells me. "It looks like a reverse snowfall with billions of colourful flakes cascading up in white, yellow, red and orange."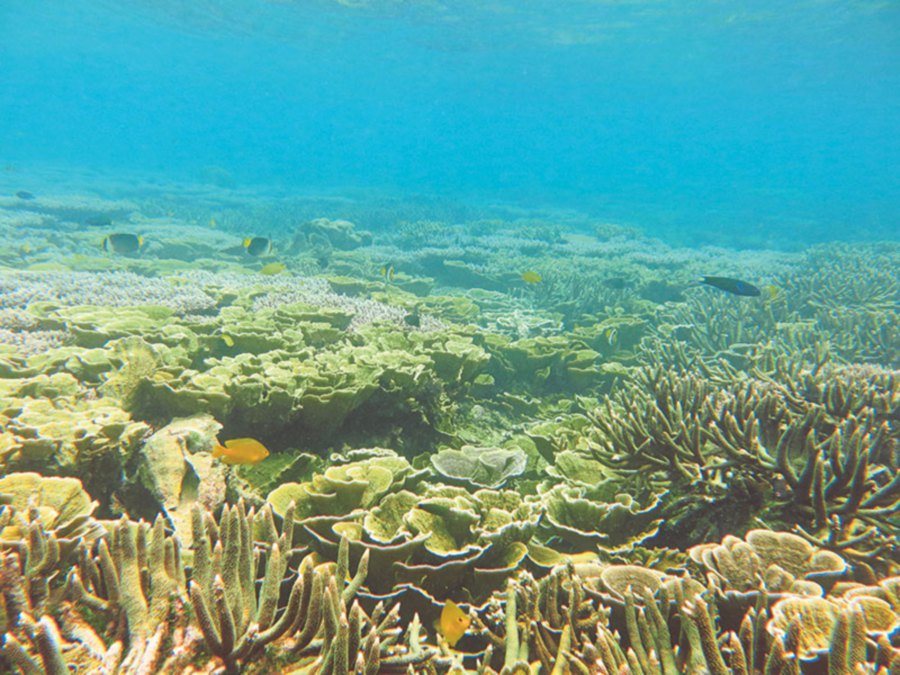 Coral reefs at PCoral reefs at Pemanggil Island, Johoemanggil Island, Johor.
According to the United States National Oceanic and Atmospheric Administration, this synchrony is crucial, because the gametes of most coral species are viable for only a few hours. The "snowfall" makes it more likely that fertilisation will occur.
He divulges that the coral spawning phenomenon has also been discovered in Tioman in 2015. "Mass coral spawning occurs there in April during the full moon," he says with a smile.
EARLY START
Whipping out cool random facts about his field of study like a consummate poker player with a winning streak of cards, he's got me fascinated with corals already. His fascination with marine life started young. "My favourite documentary series when I was young featured Jacque Cousteau and his adventures aboard his ship, Calypso. That series got me absolutely fascinated with the marine world," he recalls.
He's referring to the French naval officer, explorer, conservationist, filmmaker, innovator, scientist, photographer, author and researcher who studied the sea and all forms of life in water. Cousteau co-developed the Aqua-lung, pioneered marine conservation and was a member of the Academie Francaise (the pre-eminent French council for matters pertaining to the French language).
It eventually got him signing up with the Faculty of Sciences at University of Malaya where he first started studying mangrove ecology. "I loved mangroves, but it's tough and really dirty work!" he recalls with a laugh. Although Affendi studied to be a mangrove ecologist, the pull of the ocean was something he was unable to resist.
Sobering up, he tells me seriously: "I also used to sell burgers in Section 17, PJ during my undergrad days." My ears prick at that and I'm waiting for a feel-good rags-to-riches story from him. "You flipped burgers to support your studies?" I ask him sympathetically. "No, to support my holidays!" he deadpans and I choke on my drink. Another hearty laugh ensues from him before he continues:
"I was fascinated with marine life as you know. My burger selling venture was actually to pay for my diving lessons!"
When he took up the position as a Research Assistant at the university subsequently, a world renowned researcher on sea anemones, Daphne Fautin arrived seeking an assistant to help her with her research on the coral bleaching phenomenon. "My diving lessons paid off," he says with a grin before adding soberly: "She opened my eyes to coral reefs. It was then that I decided to focus on corals."
The rest, as they say, is history.
THE CORAL STRUGGLE
I ask him on his thoughts about the doomsday prophecy about the fate of coral reefs as reported by Unesco.
"I'm inclined to agree," he says slowly after a pause. "If we reach 450 parts per million or ppm (this measurement is the mass of a chemical or contaminate per unit volume of water) of carbon dioxide (CO2), the seawater temperature will be so high that most coral reefs will start dying."
Currently, he tells me, the world's CO2 level is at about 410 ppm, and continues to rise steadily about 4 to 5 ppm per year. "The International Panel of Climate Change predicts that if we don't take steps now to lower the greenhouse gasses, we might reach that level soon," he says. "It's not about simply losing the reefs," he tells me. "It's about losing our food security along with the reefs and not many people understand that."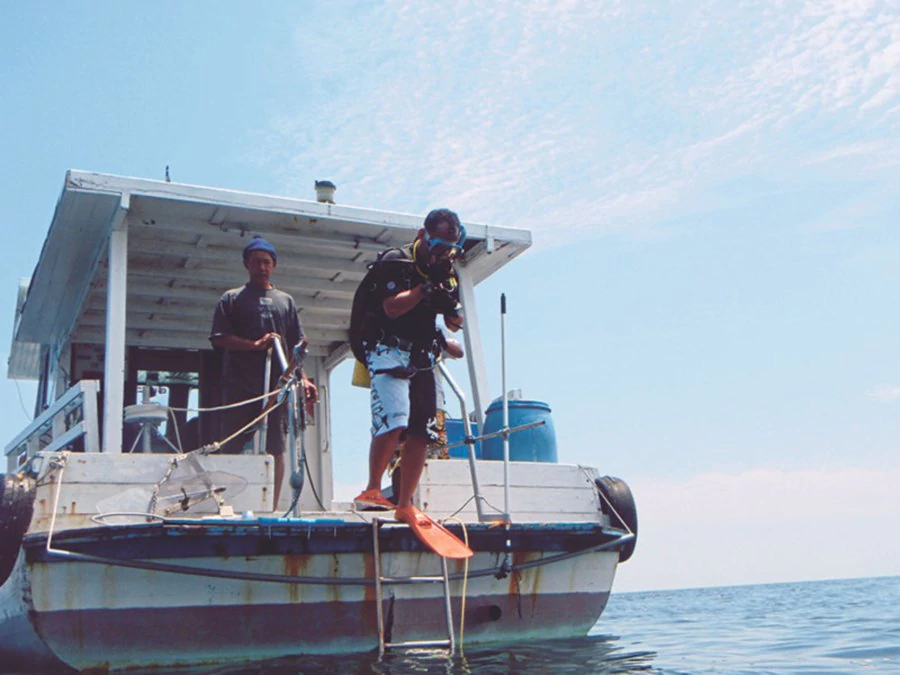 Getting ready to dive into his watery 'laboratory' at Pulau Tinggi, Johor.
Malaysia, he informs me, has one of the highest seafood consumers in the world. "We eat up to about 40 to 50 kilos per person a year!"
If Malaysians want to continue to enjoy their seafood, he says, they would need to start protecting the coral reef, seagrass and mangrove ecosystems now. "I predict that our coral reefs will be losing their fight by 2050 if we continue to do nothing," he says quietly after a pause.
Does he not feel a little disillusioned to be in this line of work, knowing that his subject may not survive in the near future? "Sometimes," he admits. "But every bit of awareness and data collected on this specie helps.
Even if we eventually lose the fight, we would know what we've lost. It's worst when something fades into extinction silently without anyone realising or understanding the impact."
THE ADVENTURE GOES ON
And data is what he collects meticulously and tirelessly. In the course of that, Affendi has had many adventures out in the seas, including a stint aboard the famous Greenpeace boat, the Rainbow Warrior. "They needed a scientist to collect data, and I, of course, volunteered!" he tells me with a grin. "It was an amazing experience. They were fresh from a clash with soldiers and I could still make out the bullet holes on the hull of the ship!"
His encounters with marine life spark many stories from him — from being chased and bitten by trigger fish guarding their nests and a hair-raising encounter with venomous sea snakes to chancing upon sleeping sharks in an underwater cave. "It's an amazing world down there," the 47-year-old scientist tells me. "The world's finest wilderness lies beneath the waves."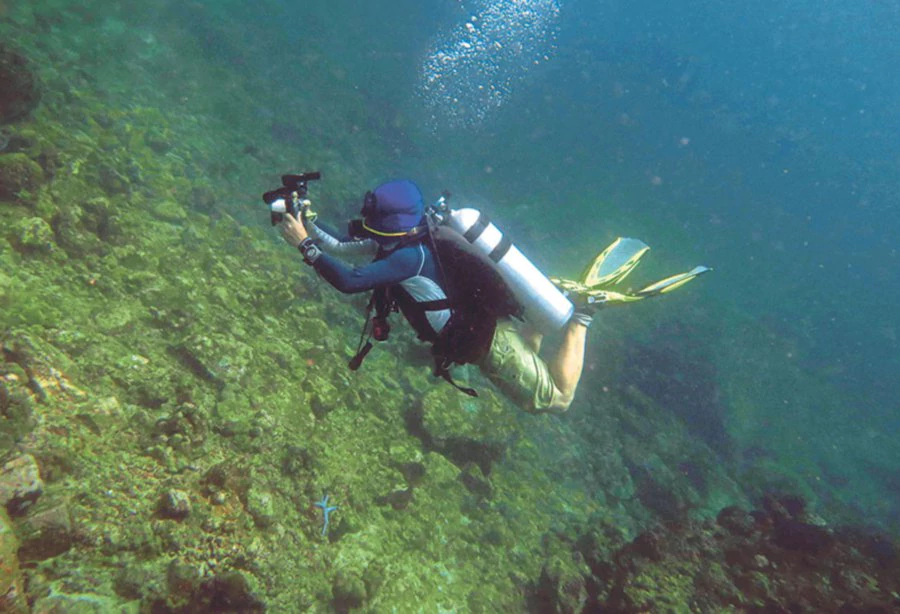 Coral survey at Pulau Weh, Indonesia.
Before we part ways, I'm told he's leaving the next day on yet another seafaring excursion in East Malaysia. "It's going to be a busy season for me," he says but the smile on his face tells me he is looking forward to it.
Because Affendi Yang Amri will be soon back at his element — zipping up his wetsuit and diving into the watery world of his "laboratory" seeking out answers in the depths of the ocean to help understand and protect the one of the most important evolutionary distinct species in the world — our corals reefs.
Source: New Straits Times | 2 July 2017