Published on 12 July 2017
On 2nd of June 2017, the whole world was shocked by the President of the United States of America, Donald Trump's decision to withdraw his country from the Paris Agreement.
This unprecendented move means the USA as the first major superpower in the world to pull out from the agreement, joining only Syria and Nicaragua as the countries in the United Nations not acceding to the Paris Agreement.
With the USA pulling out of the Paris Agreement, it sparked a whole debate again on whether climate change is real, and is it an issue that we should be wary of.
Because if even the leader of the free world doesn't seem to believe in climate change, then is it something that we should concern ourselves with?
Even the Malaysian Climate Change Group has spoken out against President Trump's decision, calling it "unethical and immoral".
Meanwhile in Malaysia, perhaps due to our year round hot and humid weather, many of us seem not to really care about global warming, especially in the grassroots level. Maybe it is because in Malaysia, the effect of global warming is not so apparent as other countries.
But still, although it might not be an immediate concern right now, it is still imperative that Malaysians are educated about the dangers of climate change and global warming, and start taking action.
So, what can we do to raise awareness and action against climate change in Malaysia? To understand more about this topic Malaysian Digest decided to speak to a few experts in the field of climate change, so that they can share their thoughts.
"There Is A Big Gap In The Political Will To Get Things Done Against Climate Change, And The Execution"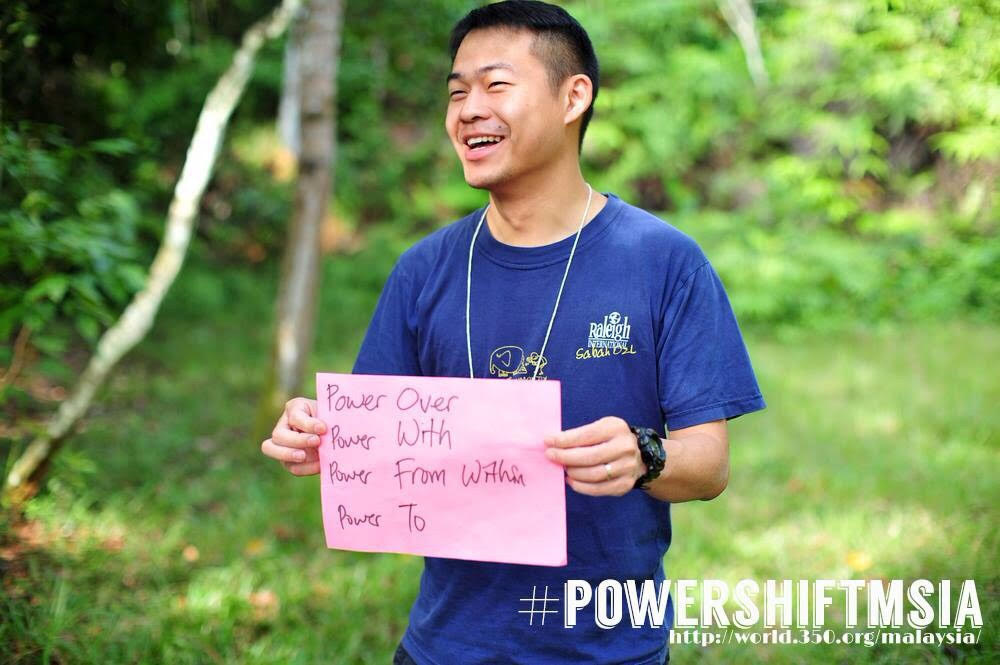 Adrian Yeo
The first person we spoke to was Adrian Yeo, who is an author at #PowerShiftMsia.
According to Adrian, #PowerShiftMsia is a climate change movement initiated by youths, for youths. Part of their activities includes engaging with various movements to generate momentum towards clean renewable energy sources and a safe climate future for our youths.
Adrian offered his thoughts on the Paris Agreement debacle involving President Trump.
"The good thing that came from President Trump's actions is that it helped the Paris Agreement garner a lot of support, as even YB Dato Sri Dr. Haji Wan Junaidi bin Tuanku Jaafar, our Natural Resource and Environment Minister has come out with a statement on this," said Adrian.
Although some people might think that there is a lack of awareness regarding climate change among Malaysians, Adrian disagrees. Adrian said that the level of awareness regarding climate change and global warming issues among Malaysians are at a very high level.
But the problem is, according to Adrian, the lack of action on the ground and the ownership of the issue.
"There is a big gap in the political will to get things done against climate change, and the execution," explained Adrian.
Adrian also believes that although Malaysians might not feel the full brunt of climate change due to its hot and humid weather, but the truth is Malaysians are feeling the effects of climate change, it's just a matter of them realizing it or not.
"Yes, we are hot and humid. And yes, we do see the impacts happening in front of our own eyes. Incidents such as huge flash floods.
" We also experienced prolonged drought and heatwave season, and also prolonged rainy season. Coral bleaching, crop failures, all of these are the effects of climate change and global warming," said Adrian.
Adrian pointed to the great flood in Kelantan back in 2014 for an example.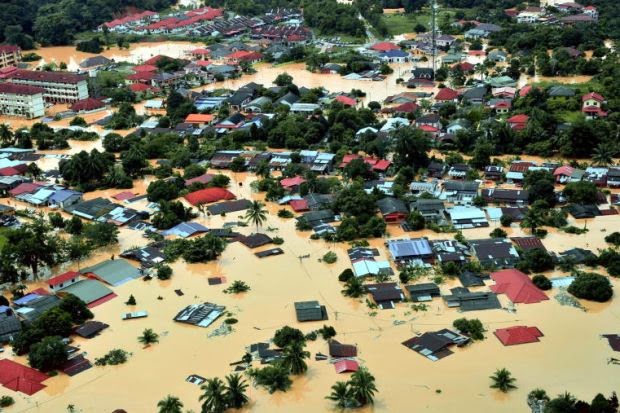 "In Kelantan, the average rainfall in one year is 2600mm, but over the period of 7 days, they managed to record 1600mm of rain," said Adrian.
"The Media And Scientists Are Not Addressing The Issue From The Correct Angle"
In his opinion, the media and the scientists are partly to blame for Malaysians not seeing the effects of global warming, as they addressed the issues not in the correct ways.
"The chain reaction that leads to climate change is there, but in science, it is tough to link them all to climate change as there is no one single paper or study to be quoted and studied.
"The difference I see is that media and scientists are not addressing the issue from the correct angle. We are still stuck in recycling. Locally, most of the reports regarding climate change stops at the surface level," said Adrian.
Although Adrian admits that there is a lack of on the ground action and execution, he also believes that the government deserves praise for their efforts to combat climate change.
"Credits where credits are due, our Ministry of Natural Resources and Environment (NRE) and Ministry of Energy, Green Technology and Water (KeTTHA) are doing amazing work behind the scene," the Author opined.
Adrian cited some of the government's efforts in combating climate change, such as explaining that Malaysia is the only country in the region with a Renewable Energy Bill and Feed-in Tariff (FiT) program to encourage the adoption of Renewable Energy production.
He also added that recently, KeTTHA also launched a Green Technology blueprint designed to propel the country forward when it comes to green technology.
Even the National Water Services Commission has also shown their intent in helping the efforts to combat climate change, by ensuring that the water supply in the country is secure and safe.
Other than the federal government, Adrian also heaped praise for some states who take their forest conversation very seriously, like Sabah and Selangor.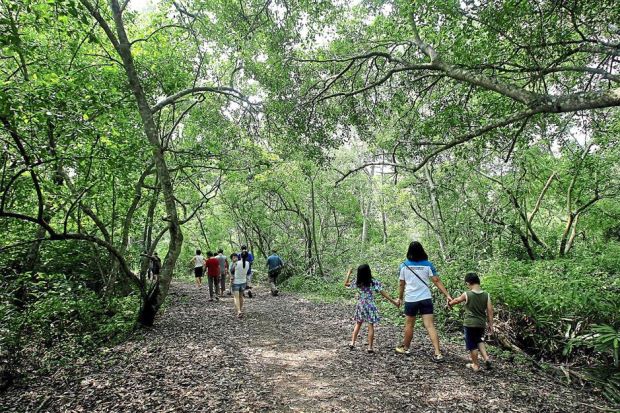 Kuala Selangor Nature Park
But this creates another problem, said Adrian as sometimes the State government versus the Federal government responsibility dilemma might hinder the progress of actions against climate change.
"Take the protection of forests for an example. Protection and management of the forest is entirely in the hands of the State Government, but it is a matter of national importance, which will force the Federal government to intervene sometimes," said Adrian.
In hopes of improving ground level action against climate change, Adrian shared with us some of the things he believes all Malaysians should do to aid the effort.
" One of the most important things for Malaysians to do is hold your local council and Ahli Dewan Undangan Negeri (ADUNs) accountable.
"In local communities, the local councils holds the key in an effort to strive for sustainable and climate friendly practices, as we are going into a more urban populace.
"80% of our daily dealings with the government is through our local council, so make your voice heard.
"From waste management, green spaces, management of factory pollution and even the hygiene levels of food hawkers, all these should be communicated to our local council," said Adrian.
Adrian also calls upon everyone to take part in the local council's call for engagement in designing local plans, as these are the key to ensuring that our green spaces are protected.
"We should demand more actions by the local council in green efforts. They are supposed to be serving the people, but if we don't demand, we will never get what we want," concluded Adrian.
"Educating The Public Should Be The Number One Goal Of The Government"
After speaking to Adrian, Malaysian Digest spoke with Kamarul Mohammad, a climate change activist who has joined several climate change talks and rallies before.
Kamarul echoes Adrian's opinion in public awareness, saying that awareness is high among Malaysians regarding climate change, but he quickly added that even though the knowledge about it is there, the concern from Malaysians are still somewhat lacking.
"Yes Malaysians know about climate change, but I have to say that their concern is still somewhat lacking. They know about it, but they don't take any action to help combat it," said Kamarul.
Kamarul said that in order to fix this, education is necessary.
"The government should look into ways they can educate the general public about not only about climate change, but about the effects of climate change and why they should care,"
Kamarul said that he believes that most Malaysians does not seem to care about the effects of climate change because they do not see the connection between climate change and the natural disasters happening to them.
"Effects of climate change like floods, drought, rainy seasons, although they are devastating, I believe that are still lacking impact on Malaysians as most of them as they don't think that it happens because of climate change.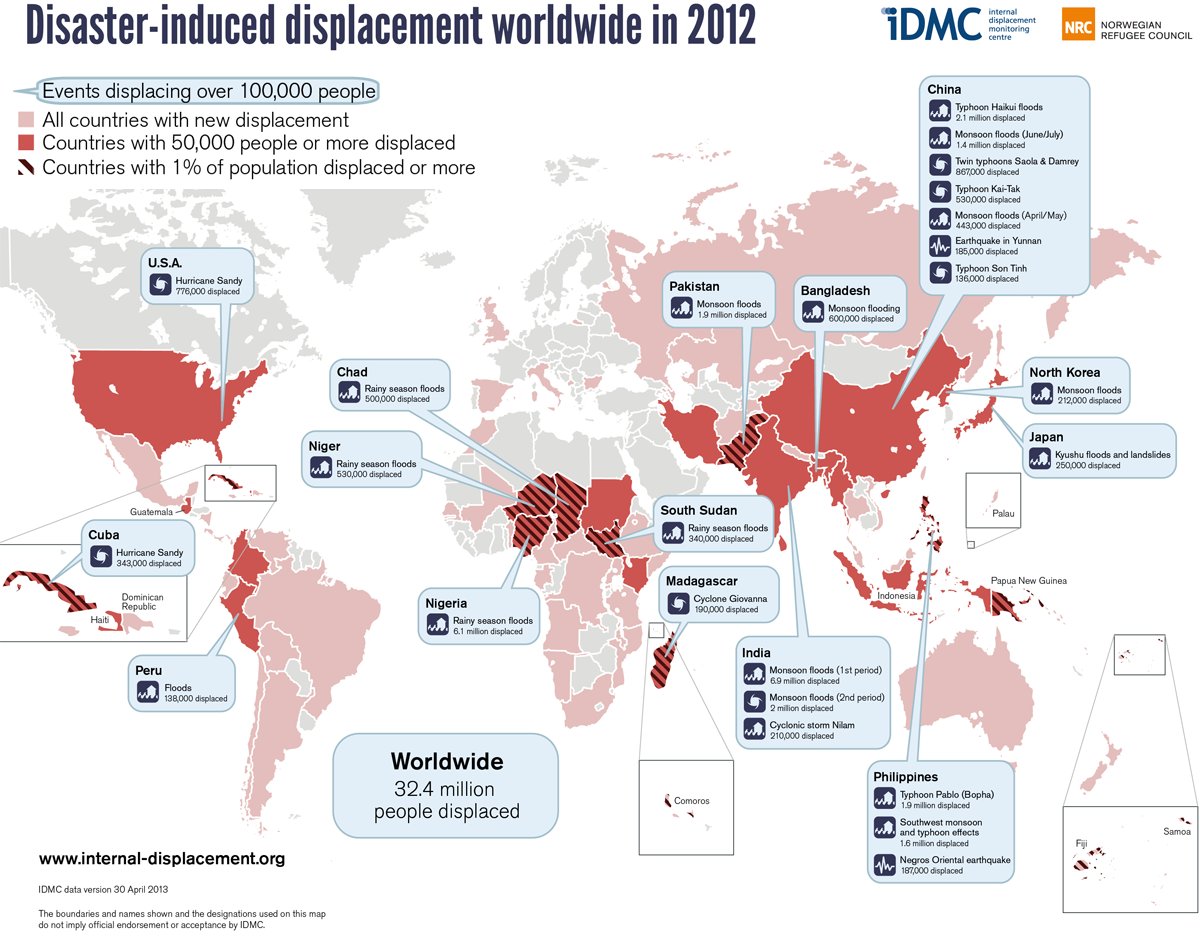 Hundreds of millions of people will be forced to move by 2050 due to climate change. Chart: Business Insider
"This is why I believe that educating the public should be the number one goal of the government right now.
Kamarul also agreed that the Donald Trump's action has led several climate change deniers to rise up, but he still believes that they are still under control.
"For climate change deniers, there's not much that we can do. The science is there, the statistics are there, if they still choose to be blind then there's not much we can do,"
Which is why Kamarul reiterates his focus on educating the general public.
"This is just another reason why we should focus more on educating the general public, so that they won't be swayed by these people," said Kamarul.
Kamarul also agreed with Adrian that the government is doing an admirable job in combating climate change.
" The government is doing their best to combat climate change with all their plans and policies. I believe that Malaysia is one of the forerunners when it comes to green technology and climate change initiatives in the ASEAN region," said the 28-year-old.
Kamarul said that it is now time for the corporate sectors to follow the government's lead, and help in aiding the cause.
"Companies should do more to help combat climate change, but right now I don't really see a concerted effort from them. Maybe with the government's initiative, we will see more progress in the future.
Ministry Reveals The Alarming Statistics On Climate Change In Malaysia
After speaking to Kamarul, Malaysian Digest decided to contact the Ministry of Natural Resource and Environment (NRE) to get their thoughts on the issue.
According to the Environmental Management and Climate Change Division (EMCCD), Merdeka Center has done a survey on the general public, and the results has shown that climate change is an issue that Malaysians are aware of.
The study also shows that Malaysians are aware of the effects of climate change, and they are willing to take action in helping against climate change.
But in order to get a more widespread audience when dealing with climate change issues, the EMCCD also shared some of their initiatives to educate the general public in the effects of climate change.
"The Ministry has organised several workshops and seminars to raise awareness and understanding of this phenomenon among other ministries, civil servants, federal government agencies, state government, local councils, and also public and private higher learning institutions.
"At the same time, the Ministry is also working on developing an environment syllabus in schools so that they can be taught about environmental issues such as climate change in primary and secondary schools, and also in universities," said the EMCCD.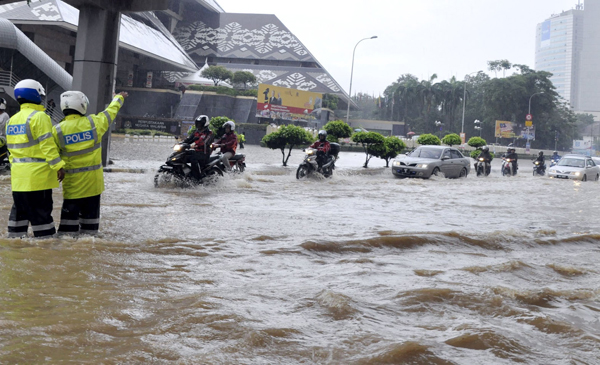 In order to make us understand more about the effects of climate change locally, the EMCCD also shared with Malaysian Digest the effects of climate change in Malaysia through some statistics.
Some of the statistics that jumps out of the page includes;
Malaysia has recorded an average surface temperature for the whole country of 26°C to 28°C. Malaysia records a 0.6°C to 1.2°C increase in temperature every 50 years.
An increased intensity of rain recorded during the period of 2000-2007 compared to the period of 1971- 1980.
The sea levels are rising at an alarming speed, at 1.8mm per year.
In order to combat climate change, the EMCCD has shared some of the initiatives by the government to help prevent, and at the same time deal with the effects of climate change.
"The NRE is now working with other ministries and and agencies to pioneer adaptation measures (Adaptation and protection from the negative effects of climate change), and mitigation measures (Steps taken to lower greenhouse gas emission)," said the EMCCD.
Some of the adaptation steps taken includes flood mitigation projects, early flood warning system, constructions of check dams and tube wells to help with floods, and the development of drought proof crops.
Meanwhile, the mitigation steps includes increasing renewable energy usage, providing incentives for Energy Efficient Vehicles (EEV), and promoting a accreditation system for energy efficient buildings and the preservation of forests as a Carbon Sink.
Perhaps, the most worrying revelation in all this is the fact that global warming and climate change can no longer be stopped. But it can only be mitigated and slowed down. Which is why we all should pull our weight in combating climate change.
Under the 10th Malaysia Plan, Malaysia has spent RM51 billion to enhance resilience against climate change that includes addressing flood risks, water security, food security, protecting coastlines and health, Prime Minister Datuk Seri Najib Tun Razak points out in his blog posting in November 2015.
In fact the government's commitment to mitigate the effects of climate change is also included in the 11th Malaysia Plan (2016-2020) saw policies to promote green growth, adoption of sustainable consumption and production, conserving natural resources and strengthening resilience against climate change and natural disasters.
Our government's efforts to reduce our carbon footprint is also on track, with the prime minister announcing last year that we have achieved 33 percent (carbon emission intensity) between 2005 until 2015 and re-pledging to achieve 45% CO2 reduction by 2030.
In conclusion, even though most Malaysians don't see the effects of climate change, the fact of the matter is still that climate change is real, and it is now inevitable. All we can do is slow it down.
We can all do our part to help prevent and slow down average global temperatures from rising above 2 degrees Celsius in order for our future generations to inherit a green earth.
After all, as the saying goes,
"We do not inherit the earth from our fathers, we borrow it from our children."
Source: Malaysia Digest | 12 July 2017