Published on 16 June 2017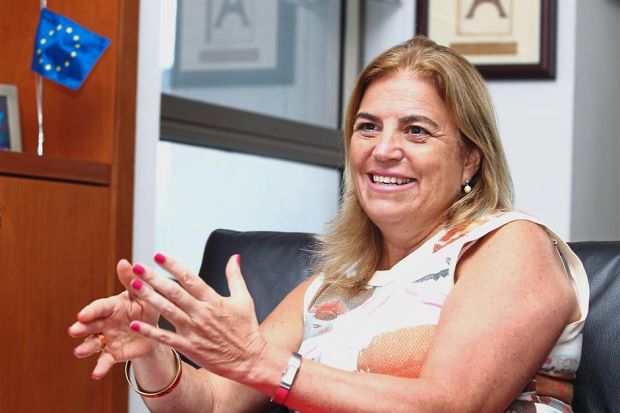 KUALA LUMPUR - What Maria Castillo Fernandez (in the picture) wants to see on the streets of Kuala Lumpur is the presence of more cyclists.
The Ambassador and Head of the European Union Delegation to Malaysia believes that the key to combating global warming and climate change lies not only with governments around the world, but with individuals as well.
"Individually, everyone counts. Individually, what each of us do counts," she said in an interview.
This is where cycling played a part for Castillo Fernandez.
It is a way for her to be more environmentally friendly.
"I am a big user of bicycles, even in Kuala Lumpur, and especially on the weekends," she said, adding that apart from cycling, she would also bring her own bags when shopping to lessen her dependency on plastic bags.
For individuals to play their part in being environmentally friendly, she said there must be awareness instilled from a young age.
"It is very important to make the public, especially the younger generation, aware of the impact of climate change and how we can all contribute," she said.
To raise awareness on climate change among Malaysians, she said the delegation will be holding the "Connecting the Dots: Fighting Climate Change" event on Monday in collaboration with Taylor's University Malaysia.
"We thought it would be good to reach out to the students.
"We will have a panel discussion, where there will be representatives from the Government, the university and private sectors."
"We will also go biking!" she added.
Castillo Fernandez praised the Malaysian Government's efforts to cut greenhouse gas emissions and its plans to combat climate change.
"Malaysia's efforts are very good."
She said that the EU was working together with Malaysia on environmental matters, such as on projects geared to reducing Malaysia's greenhouse gas emissions.
"If Malaysia wants to reach higher income status, environmental dimension needs to be taken into account.
"Developed countries are now moving into more low-carbon economies, into clean energy economies," she added.
Source: The Star Online | 16 June 2017