Published on 14 March 2017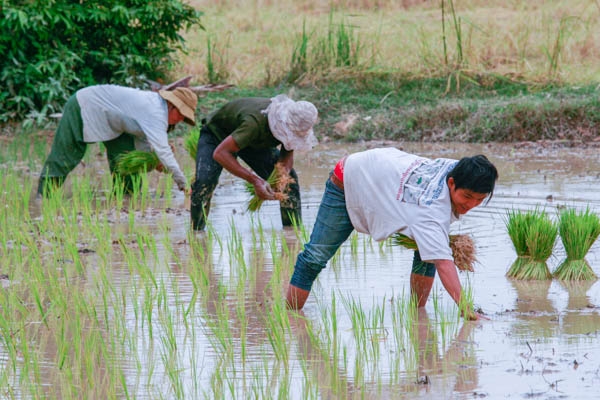 The Philippines-based International Rice Research Institute (IRRI) has agreed to help Cambodia plant new high-yielding rice varieties that are also able to survive extreme climatic events.
Cambodia asked for cooperation with IRRI on rice planting and new climate-resilient varieties that are suitable to withstand conditions in Cambodia, said Hean Vanhan, director-general of the Agriculture Ministry's general directorate of agriculture.
"We asked IRRI to conduct research on rice-seed varieties that suit climate patterns here in Cambodia and to meet current market demand," Mr. Vanhan said.
"We asked them for more assistance by sending experts to conduct studies on conditions in Cambodia."
Mr. Vanhan said the new rice-seed varieties would not be first planted in the fields, but would be bred with local varieties so that the genetic material from the IRRI line-breeds could be transferred, making the new varieties more resilient to climate change.
"Our local varieties are poor to adapt to climate change," he said.
In 1985, the Ministry of Agriculture requested IRRI to assist in developing Cambodia's rice research system.
An IRRI mission to Cambodia in January 1986 identified potential areas of cooperation and aid. A memorandum of understanding for collaboration was signed between the two partners in July of the same year. Progress in research and institutional development was soon established to improve the potential for a rice-based farming system in Cambodia.
In 2016, Cambodia and IRRI marked their 30th year of partnership.
During a visit to the Philippines last year, Cambodian agriculture officials met local agriculture officials and exchanged ideas about the development of new seed varieties and knowledge of rice farming.
Mr. Vanhan said Cambodia wanted to learn about rice-seed varieties after the two countries reached a memorandum of understanding on the sector.
Despite the MoU, Cambodia did not join a bid last August to supply milled rice to the Philippines as it planned to import an additional 750,000 tons of rice to secure the country's supplies through 2017.
The Philippines is one of the world's top rice buyers and stockpiles rice – taking advantage of low global prices – to prepare for shortfalls caused by natural disasters like floods and typhoons.
Hun Lak, vice-president of CRF, said Cambodia did not join the bid to supply the Philippines with the staple grain because the country's current rice production was riddled with problems ranging from falling exports, high transportation and production costs, to the lack of warehouses to store paddy rice to be milled.
"We are happy to see IRRI help Cambodia with more rice-seed varieties which provide high yield and are resilient to climate change," Mr. Lak said.
But he said Cambodia should focus on making new rice-seed varieties which are unique, of high quality, climate resilient and easy to plant, rather than distributing cheap seeds to farmers.
Philippines Agriculture Secretary Emmanuel Manny Pinol intends to visit Cambodia in September to explore agriculture joint ventures and to learn more about Cambodian rice farming technologies, Mr. Vanhan said.
The Philippines is one of the major destinations of rice import countries but Cambodia has to ship milled rice to the archipelago country.
Source: Khmer Times | 2 March 2017