Published on 19 October 2016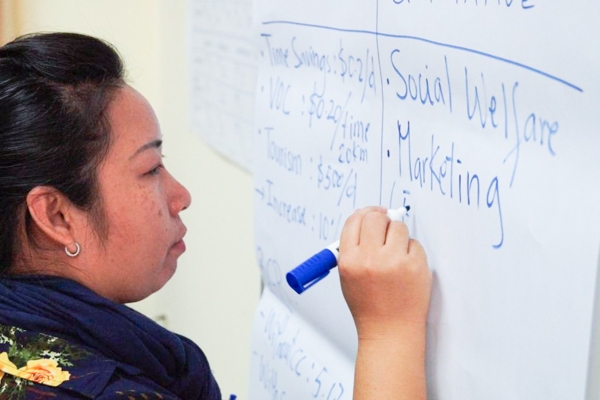 As Cambodia continues its battle against raging thunderstorms and stifling droughts, officials from a variety of ministries attended a three-day workshop last week on how to incorporate the wide-ranging effects of climate change into the national and provincial budgeting process.
The workshop was run by the United Nations Institute for Training & Research (UNITAR) and the training arm of the Ministry of Economy and Finance as well as the United Nations Development Programme (UNDP) and the Cambodia Climate Change Alliance (CCCA).

It aims to provide government officials with the tools to estimate and justify additional spending on potential investments that will work to reduce the potentially devastating impacts of climate change.

Twenty-six officials from the Ministry of Agriculture, Forestry and Fisheries (MAFF), Ministry of Public Works and Transport (MPWT), Ministry of Economics and Finance, Economics and Finance Institute and the General Secretariat for Sustainable Development attended the series of workshops.

"The focus was not on relief, such as dealing with the consequences of the current drought, but more on preparedness and the long term investments that need to be made to reduce Cambodia's vulnerability to climate change," said Julien Chevillard, Cambodia Climate Change Alliance and development finance specialist for UNDP.

In the past six years, the government has made more of an effort to include climate change in its budgeting process, both for dealing with the immediate effects of droughts and storms as well as long term strategies to prepare for and mitigate the repercussions of changing weather patterns. According to research by the UN and Cambodian government, the number of extreme weather events and resulting problems will only increase as time passes.

"[Cambodia] remains highly vulnerable to the impacts of climate change due to its high dependency on climate-sensitive sectors such as agriculture, water resources, forestry, fisheries, tourism etc, which form the critical foundation of its economic growth and support the livelihoods of a great majority of its population," Prime Minister Hun Sen wrote in the Kingdom's Climate Change Strategic Plan for 2014-2023.

"Integration of climate change into national and sub-national level planning, and the development of climate change strategies, action plans and financing frameworks are among the priority actions undertaken as defined in the National Strategic Development Plan Update 2009 – 2013."

UNITAR and UNDP have collaborated to help ministries work climate change into their budgets and have a better understanding of its effects through a series of workshops.

Angus Mackay, manager for the Green Development and Climate Change Programme at UNITAR, said the workshop was less about specific actions or investments and more of a "process of policy analysis which different ministries can follow to come up with their own investment decisions that would better address climate change."

"The training was on how to use tools such as Cost Benefit Analysis in this context and to try to create a space for such tools to be applied in a very specific way to actual investment proposals linked to the 2017 budget cycle," he said.
In the workshop, they were able to use both face-to-face lessons and internet-based instruction to teach a variety of topics, including policy appraisal techniques to inform planning and decision-making. An interactive, Khmer-language e-tutorial developed by UNITAR was used to explain climate-responsive budgeting.

The UNDP has urged Cambodia to be more proactive in preparing for the inevitable effects of climate change because of its status as one of the countries most likely to struggle facing the brunt of devastating changes to the world's weather patterns.

"The Climate Change Financing Framework estimates that without investment in adaptation, climate change could cost Cambodia 1 percent of GDP every year by 2030, and that economic growth could be almost entirely offset by climate change impacts by 2050," Mr. Chevillard wrote for UNDP last month.

"The government and its development partners need to put in place mechanisms to ensure that programs impacted by climate change (or those with an impact on climate change) are identified at an early stage and designed accordingly, so that climate funds can be brought into the mix to co-finance these investments," he added.

He mentions the need for public investments in a variety of infrastructure issues now plaguing the country, including irrigation, roads and energy. He also spoke of the need for better management of the agricultural and natural resources sectors, climate-sensitive diseases, and urban development.

"At this critical juncture in a competitive regional context, Cambodia could seize the opportunity of climate finance by taking high-visibility policy decisions to clearly signal to public and private investors that climate-smart investments will find a favorable environment in the country," he said.