Published on 21 June 2017
A HEALTHY environment facilitates the advancing of economies, enables the social wellbeing of the community, and provides a system which promotes sustainable economic growth and better resource utilisation.
This was highlighted by Dr Haji Abdul Manaf bin Haji Metussin, Permanent Secretary at the Ministry of Primary Resources and Tourism, in his speech during the World Environment Day (WED) celebrations held yesterday at The Collective Makerspace in Batu Bersurat.
The WED celebration was organised by the High Commission of Canada in Brunei Darussalam in collaboration with BruWILD and The Collective Makerspace.
According to Dr Haji Abdul Manaf, the Government of His Majesty Sultan Haji Hassanal Bolkiah Mu'izzaddin Waddaulah ibni Al-Marhum Sultan Haji Omar 'Ali Saifuddien Sa'adul Khairi Waddien, Sultan and Yang Di-Pertuan of Brunei Darussalam prioritises the protection and conservation of the country's natural resources in a bid to increase its contribution to the national economy. He said that the initiatives complement the principles of sustainable development and are in line with the development strategies of Brunei Vision 2035.
"Our national environment initiatives also support the strategies under the Sustainable Development Goals of the United Nations. Specifically, our environment programmes support the majority of the sustainable goals, such as food production, good health and wellbeing, clean water and sanitation, decent work and economic growth, industry innovation, sustainable cities, responsible consumption and production, climate action, life on land and below water, and partnerships," he continued.
He further stated that the government often seeks better management approaches in preserving the country's pristine environment because Brunei Darussalam is also not spared from global environmental problems such as climate change and biodiversity loss.
"The active participation of Brunei Darussalam in international and regional initiatives like the United Nations Framework on Convention on Climate Change (UNFCCC), Convention on Biological Diversity (CBD), the Heart of Borneo (HoB) initiative, and other relevant commitments signify the Government of His Majesty's sincerity in protecting the natural environment within the principles of sustainable development," the permanent secretary pinpointed.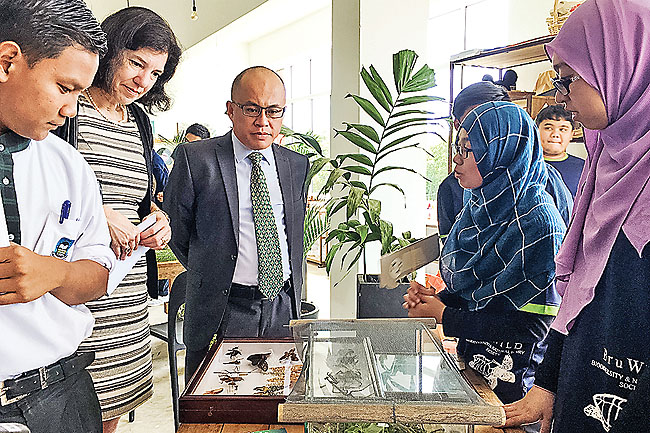 Dr Haji Abdul Manaf bin Haji Metussin, Permanent Secretary at the Ministry of Primary Resources and Tourism, and Marina Laker, High Commissioner of Canada to Brunei Darussalam, tour the exhibition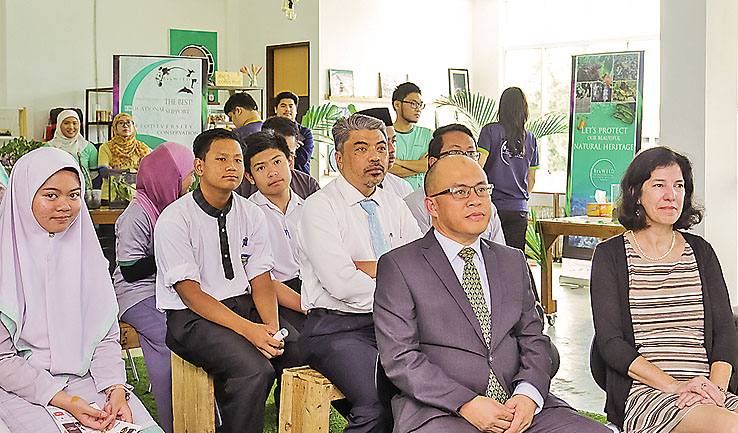 Dr Haji Abdul Manaf and Marina Laker along with guests and students at the event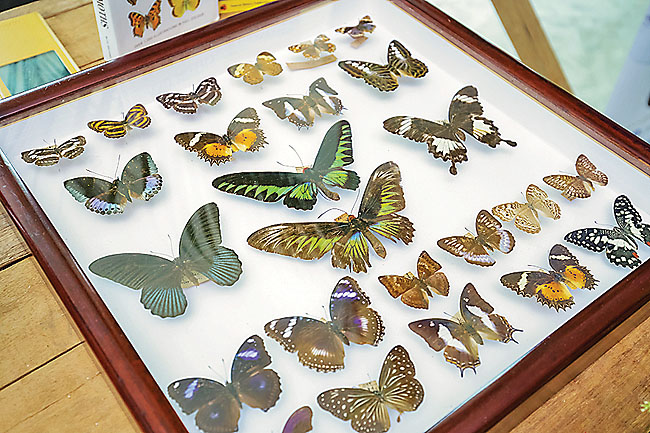 Mounted butterfly collection on display. – PHOTOS: BAHYIAH BAKIR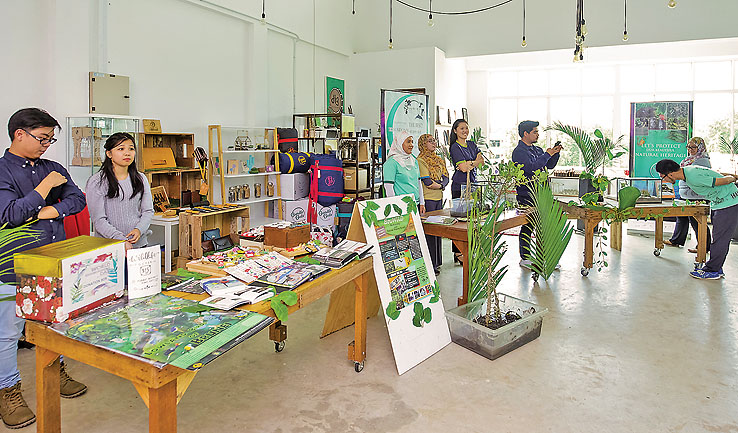 Also speaking at the event was Marina Laker, the High Commissioner of Canada to Brunei Darussalam, who shared that Brunei and Canada have signed the Paris Agreement climate accord as part of a global effort to cut carbon emissions and combat climate change.
"The Paris Agreement was not only a political commitment by leaders; it was also a signal to the market – a $23 trillion clean growth opportunity. Not only are countries around the world acting on climate change, so are businesses," she said.
According to Laker, businesses in Canada and around the world have implemented clean innovation initiatives, encompassing areas from renewable energy and zero-emissions vehicles, to energy-saving technologies.
"We should never take nature's gifts for granted, because today our ecosystems are threatened – by pollution, climate change and over-exploitation," she continued. "We all have a part to play – be it in the form of recycling plastic, metal, glass and paper so that less garbage goes into landfills, or putting pressure on manufacturers and retailers to produce more sustainable and greener products. You do have the ability to make positive changes so that society adopts environmentally-conscious habits."
The event continued with BruWILD delivering an educational talk on wildlife conservation, and animal rehabilitation and rescue in Brunei. The event also saw primary and secondary school students taking part in fun quizzes about animals in different ecosystems and various arts and crafts activities.
Yesterday's WED celebration event was meant to educate the public – particularly the youth – about the benefits of a clean and healthy environment to animals and humans. All wildlife exhibited yesterday were well cared for and released back to their natural habitats upon the event's conclusion.
Canada has been named as the host country for the World Environment Day 2017 celebrations. The High Commission of Canada in Brunei Darussalam is one of a collection of Canadian bodies throughout the world hosting World Environment Day 2017 events, to celebrate our collective love of and reliance on nature and to reaffirm Canada's commitment to environmental protection and sustainability.
Source: Borneo Bulletin | 6 June 2017