Policy Briefs
Published on 01 October 2013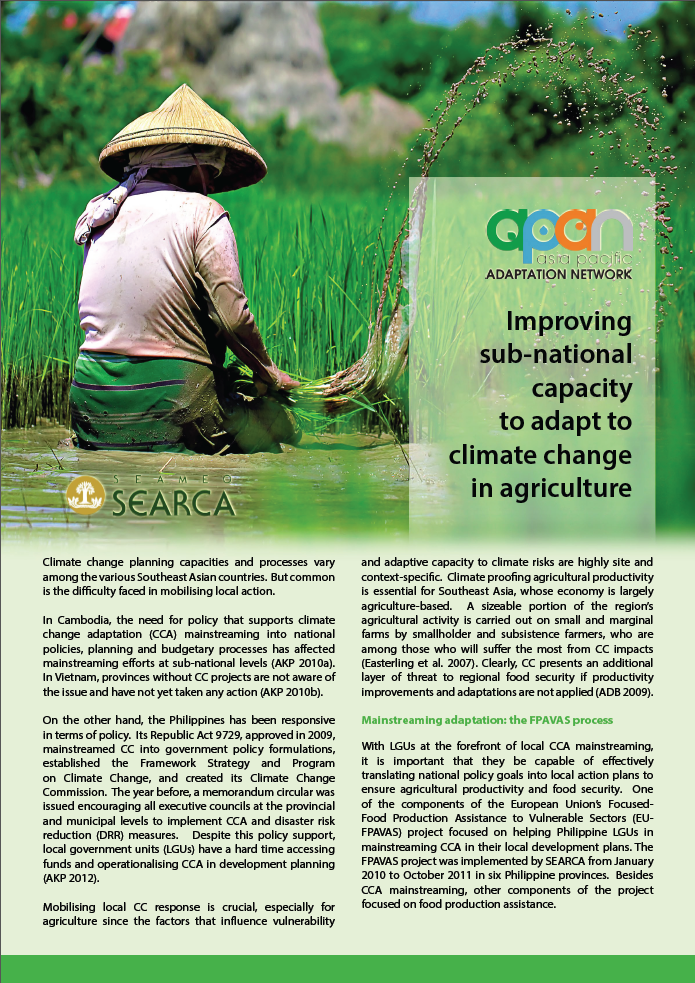 Improving the Sub-national Capacity to Adapt to Climate Change in Agriculture
SEARCA-APAN
Climate change planning capacities and processes vary among the various Southeast Asian countries. But common is the difficulty faced in mobilising local action. In Cambodia, the need for policy that supports climate change adaptation (CCA) mainstreaming into national policies, planning and budgetary processes has affected mainstreaming efforts at sub-national levels (AKP 2010a).
In Vietnam, provinces without CC projects are not aware of the issue and have not yet taken any action (AKP 2010b). On the other hand, the Philippines has been responsive in terms of policy. Its Republic Act 9729, approved in 2009, mainstreamed CC into government policy formulations, established the Framework Strategy and Program on Climate Change, and created its Climate Change Commission. The year before, a memorandum circular was issued encouraging all executive councils at the provincial and municipal levels to implement CCA and disaster risk reduction (DRR) measures. Despite this policy support, local government units (LGUs) have a hard time accessing funds and operationalising CCA in development planning (AKP 2012).
Mobilising local CC response is crucial, especially for agriculture since the factors that influence vulnerability and adaptive capacity to climate risks are highly site and context-specific. Climate proofing agricultural productivity is essential for Southeast Asia, whose economy is largely agriculture-based. A sizeable portion of the region's agricultural activity is carried out on small and marginal farms by smallholder and subsistence farmers, who are among those who will suffer the most from CC impacts (Easterling et al. 2007). Clearly, CC presents an additional layer of threat to regional food security if productivity improvements and adaptations are not applied (ADB 2009).