Policy Briefs
Published on 30 September 2013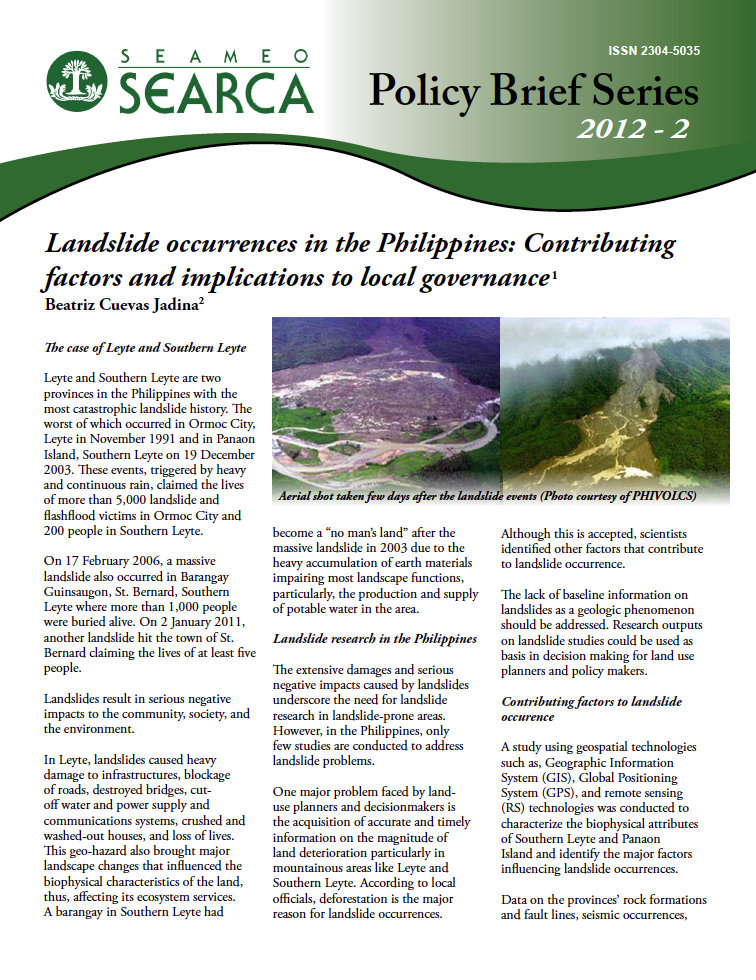 POLICY BRIEF SERIES | 2012-2
By Beatriz Cuevas Jadina
The case of Leyte and Southern Leyte
Leyte and Southern Leyte are two provinces in the Philippines with the most catastrophic landslide history. The worst of which occurred in Ormoc City, Leyte in November 1991 and in Panaon Island, Southern Leyte on 19 December 2003. These events, triggered by heavy and continuous rain, claimed the lives of more than 5,000 landslide and flashflood victims in Ormoc City and 200 people in Southern Leyte.
On 17 February 2006, a massive landslide also occurred in Barangay Guinsaugon, St. Bernard, Southern Leyte where more than 1,000 people were buried alive. On 2 January 2011, another landslide hit the town of St. Bernard claiming the lives of at least five people.
Landslides result in serious negative impacts to the community, society, and the environment.
In Leyte, landslides caused heavy damage to infrastructures, blockage of roads, destroyed bridges, cutoff water and power supply and communications systems, crushed and washed-out houses, and loss of lives. This geo-hazard also brought major landscape changes that influenced the biophysical characteristics of the land, thus, affecting its ecosystem services. A barangay in Southern Leyte had become a "no man's land" after the massive landslide in 2003 due to the heavy accumulation of earth materials impairing most landscape functions, particularly, the production and supply of potable water in the area.