Policy Briefs
Published on 30 September 2013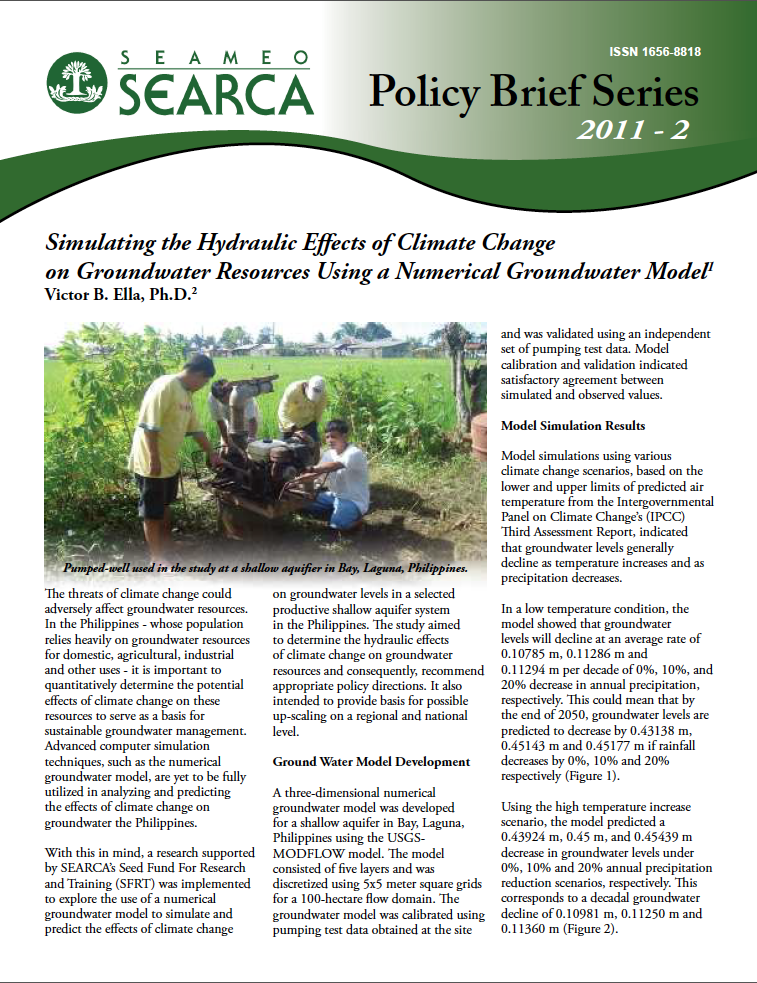 POLICY BRIEF SERIES | 2011-2
By Victor B. Ella, PhD
The threats of climate change could adversely affect groundwater resources. In the Philippines - whose population relies heavily on groundwater resources for domestic, agricultural, industrial and other uses - it is important to quantitatively determine the potential effects of climate change on these resources to serve as a basis for sustainable groundwater management. Advanced computer simulation techniques, such as the numerical groundwater model, are yet to be fully utilized in analyzing and predicting the effects of climate change on groundwater the Philippines.
With this in mind, a research supported by SEARCA's Seed Fund For Research and Training (SFRT) was implemented to explore the use of a numerical groundwater model to simulate and predict the effects of climate change on groundwater levels in a selected productive shallow aquifer system in the Philippines. The study aimed to determine the hydraulic effects of climate change on groundwater resources and consequently, recommend appropriate policy directions. It also intended to provide basis for possible up-scaling on a regional and national level.
Ground Water Model Development
A three-dimensional numerical groundwater model was developed for a shallow aquifer in Bay, Laguna, Philippines using the USGS- MODFLOW model. The model consisted of # ve layers and was discretized using 5x5 meter square grids for a 100-hectare $ ow domain. e groundwater model was calibrated using pumping test data obtained at the site and was validated using an independent set of pumping test data. Model calibration and validation indicated satisfactory agreement between simulated and observed values.