Other Publications
Published on 06 March 2014
Climate Change Adaptation in Watersheds for Water, Food, and Environmental Security in Southeast Asia
Training Report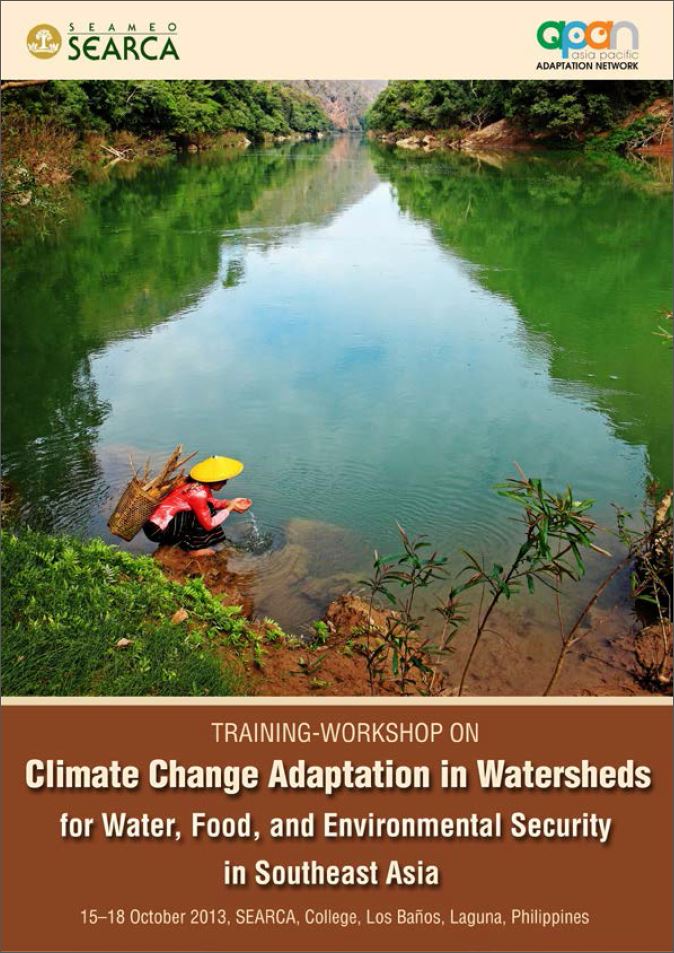 Food production highly depends on the availability of water, a precious and limited resource. It is a key driver to production such that water scarcity or insufficient supply of water can constrain agricultural productivity and adversely impact food security. Accordingly, with a global population that is projected to increase to nine billion in 2050 coupled with economic growth, the demand for irrigation water to meet food production requirements and for household and industrial uses will also increase. As such, watershed management and protection of water resources play a very important role toward the attainment of environmental, water, and food security.
However, degradation of watersheds in Southeast Asia has been observed over the years, driven mainly by anthropogenic influences in watershed degradation. Although some efforts have been exerted to improve watershed management in the region, climate change has further added to the stressed conditions of the watersheds in Southeast Asia. Decision makers are then faced with two sides of the problem in watershed management—the complexity of the drivers of watershed degradation exacerbated by climate change, on one hand, and the complexity of the impacts of watershed degradation on the other.
Organized by the Southeast Asian Regional Center for Graduate Study and Research in Agriculture (SEARCA) and the Asia Pacific Network (APAN), the training-workshop on Climate Change Adaptation in Watersheds for Water, Food, and Environmental Security in Southeast Asia held on 15–18 October 2013 at SEARCA, College, Los Baños, Laguna, Philippines called on twenty-three researchers, technical officers/ experts, and academics from five Southeast Asian countries to understand the intricate interrelationships among climate change and various extractive practices and measures affecting watersheds in order to achieve environmental, food, and water security.
Specifically, the training-workshop aimed to
Understand the issues and challenges in watershed management in a changing climate in relation to water, food, and environmental security;
Analyze gaps toward sustainable watersheds in a changing climate for water food, and environmental security; and
Draw up an agenda for action towards sustainable watersheds for water, food, and environmental security in a changing climate within their work contexts, be it in research, teaching, action programs and practices, and policies.