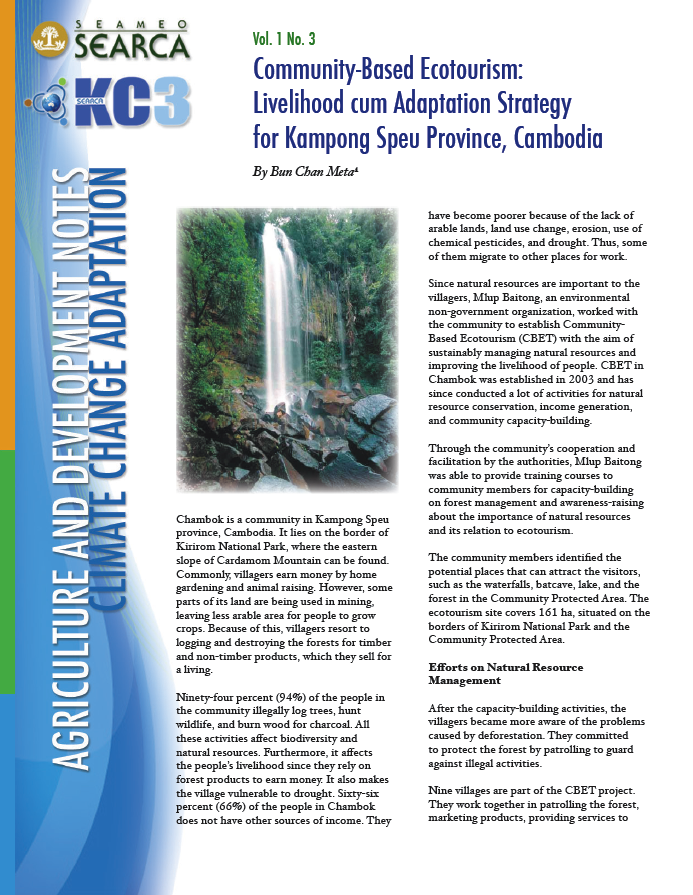 Agriculture and Development Notes on Climate Change Adaptation
Vol 1. No. 3 | By Bun Chan Meta | 2011
Chambok is a community in Kampong Speu province, Cambodia. It lies on the border of Kirirom National Park, where the eastern slope of Cardamom Mountain can be found.
Commonly, villagers earn money by home gardening and animal raising. However, some parts of its land are being used in mining, leaving less arable area for people to grow crops. Because of this, villagers resort to logging and destroying the forests for timber and non-timber products, which they sell for a living.
Ninety-four percent (94%) of the people in the community illegally log trees, hunt wildlife, and burn wood for charcoal. All these activities affect biodiversity and natural resources. Furthermore, it affects the people's livelihood since they rely on forest products to earn money. It also makes the village vulnerable to drought. Sixty-six percent (66%) of the people in Chambok does not have other sources of income. They have become poorer because of the lack of arable lands, land use change, erosion, use of chemical pesticides, and drought. Thus, some of them migrate to other places for work.
Read more: Community-Based Ecotourism: Livelihood cum Adaptation Strategy for Kampong Speu Province, Cambodia