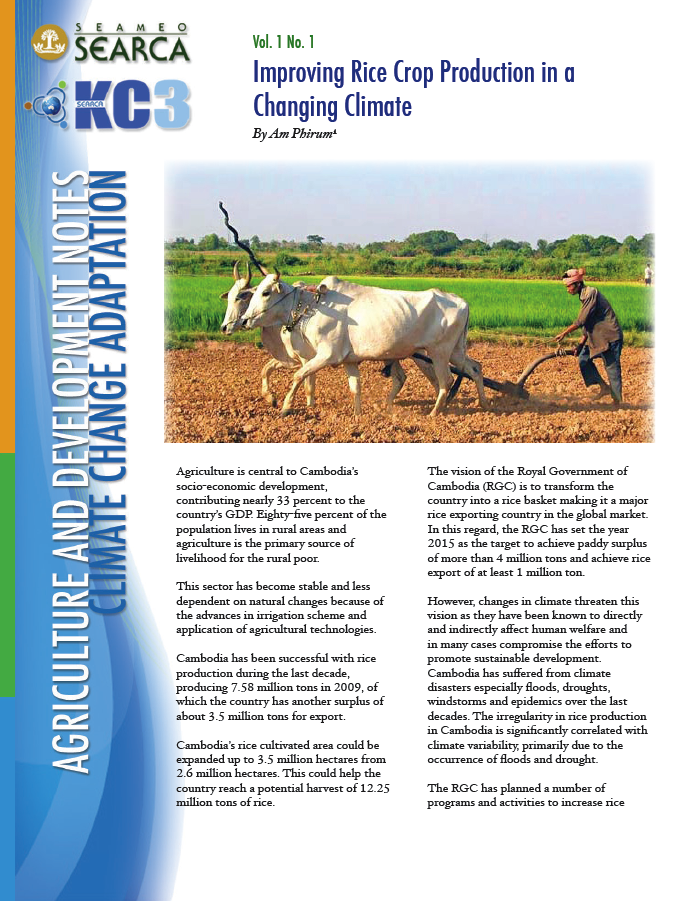 Agriculture and Development Notes on Climate Change Adaptation
Vol 1. No. 1 | By Am Phirum | 2011
Agriculture is central to Cambodia's socio-economic development, contributing nearly 33 percent to the country's GDP. Eighty-five percent of the population lives in rural areas and agriculture is the primary source of livelihood for the rural poor.
This sector has become stable and less dependent on natural changes because of the advances in irrigation scheme and application of agricultural technologies.
Cambodia has been successful with rice production during the last decade, producing 7.58 million tons in 2009, of which the country has another surplus of about 3.5 million tons for export. Cambodia's rice cultivated area could be expanded up to 3.5 million hectares from 2.6 million hectares. This could help the country reach a potential harvest of 12.25 million tons of rice.
The vision of the Royal Government of Cambodia (RGC) is to transform the country into a rice basket making it a major rice exporting country in the global market. In this regard, the RGC has set the year 2015 as the target to achieve paddy surplus of more than 4 million tons and achieve rice export of at least 1 million ton.
Read more: Improving Rice Crop Production in a Changing Climate