Adaptation Notes
Published on 15 April 2011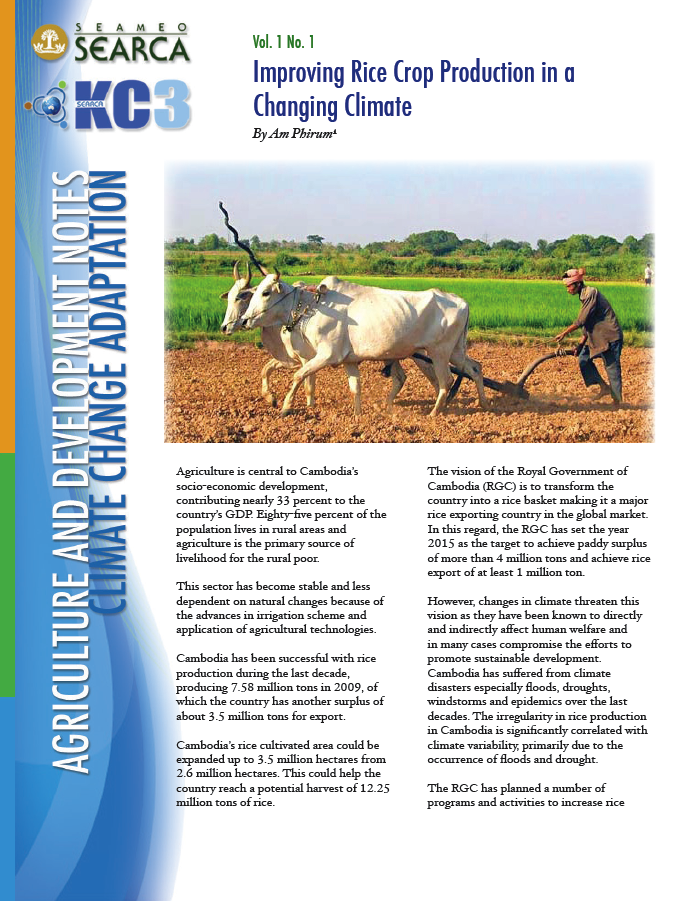 Agriculture and Development Notes on Climate Change Adaptation
Vol 1. No. 1 | By Am Phirum | 2011
Agriculture is central to Cambodia's socio-economic development, contributing nearly 33 percent to the country's GDP. Eighty-five percent of the population lives in rural areas and agriculture is the primary source of livelihood for the rural poor.
This sector has become stable and less dependent on natural changes because of the advances in irrigation scheme and application of agricultural technologies.
Cambodia has been successful with rice production during the last decade, producing 7.58 million tons in 2009, of which the country has another surplus of about 3.5 million tons for export. Cambodia's rice cultivated area could be expanded up to 3.5 million hectares from 2.6 million hectares. This could help the country reach a potential harvest of 12.25 million tons of rice.
The vision of the Royal Government of Cambodia (RGC) is to transform the country into a rice basket making it a major rice exporting country in the global market. In this regard, the RGC has set the year 2015 as the target to achieve paddy surplus of more than 4 million tons and achieve rice export of at least 1 million ton.
However, changes in climate threaten this vision as they have been known to directly and indirectly affect human welfare and in many cases compromise the efforts to promote sustainable development. Cambodia has suffered from climate disasters especially floods, droughts, windstorms and epidemics over the last decades. The irregularity in rice production in Cambodia is significantly correlated with climate variability, primarily due to the occurrence of floods and drought.
The RGC has planned a number of programs and activities to increase rice production to make Cambodia one of the major rice exporting countries in the near future. To address the climate change problem, Cambodia needs to increase its adaptive capacity to climate change and develop more climate resiliency programs.

Adaptation options that are currently being implemented and pursued by the government to increase rice productivity include:
development of new high yielding varieties;
improvement of crop management and cultural practices;
development of irrigation facilities in lowland areas;
increasing planting index in suitable areas; and
diversification of food crops.
Furthermore, capacity to adapt to climate change can be enhanced by:
development of early warning system for extreme climatic events; and
development of maps showing the rice-growing provinces prone to flood and drought.
Communities' Experiences
Local communities have attempted to adapt to the changing patterns of climate.
Prey Veng is one of the few key rice producing provinces in Cambodia but is vulnerable to drought. The increasing frequency and severity of extreme climate events, combined with rising food demand due to rapid population growth, threatens Cambodian rural livelihoods, particularly areas without irrigation.
Villagers have shifted planting dates but were unsuccessful, as there is no forecast of local weather. In some areas, farmers have constructed wells to pump groundwater to irrigate fields. If rain does not come at the beginning of the rice season, farmers pump water from the well in order to grow rice. On the other hand, if rain comes in time, farmers pump water only when shortage happens during the season.
In addition, farmers shifted from the traditional single-cropping to double-cropping annually. Cultivated areas have also been expanded to increase crop production, but without the corresponding extension of irrigation systems.
Through these practices, Cambodian farmers have increased their capacity to adapt to climate change especially in drought to improve rice production.
---
Mr. Am Phirum is the Deputy Director of the Department of Agricultural Land Resource Management, Ministry of Agriculture, Forestry, and Fisheries (MAFF) in Cambodia.
The Agriculture and Development Notes - Climate Change Adaptation (ADN-CCA) Series showcases climate change adaptation efforts and mechanisms in Southeast Asian countries in agriculture and rural development.
ADN CCA aims to highlight research findings, good practices and lessons learned in climate change adaptation focused on the agriculture and natural resources sector; share useful tools, methods, and approaches in CCA for agriculture and rural development; and share research-based and experience-based knowledge on CCA useful for local planners, executives and champions including officials, farmer leaders, extension workers, academicians, students, entrepreneurs, and development practitioners.