Adaptation Notes
Published on 22 August 2014
Agriculture and Development Notes on Climate Change Adaptation1
Vol. 3 No. 6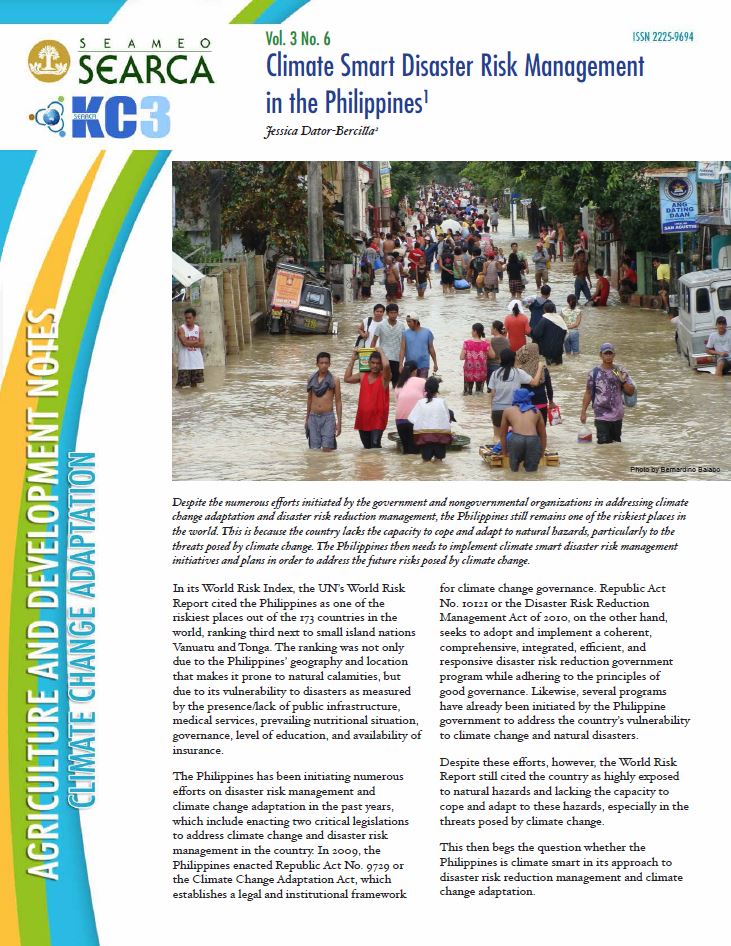 Despite the numerous efforts initiated by the government and nongovernmental organizations in addressing climate change adaptation and disaster risk reduction management, the Philippines still remains one of the riskiest places in the world. This is because the country lacks the capacity to cope and adapt to natural hazards, particularly to the threats posed by climate change. The Philippines then needs to implement climate-smart disaster risk management plans and initiatives in order to address the future risks posed by climate change.
In its World Risk Index, the UN World Risk Report cited the Philippines as one of the riskiest places out of the 173 countries in the world, ranking third next to the small island nations of Vanuatu and Tonga. The ranking was not only due to the Philippines' geography and location that makes it prone to natural calamities, but due to its vulnerability to disasters as measured by the presence/lack of public infrastructure, medical services, prevailing nutritional situation, governance, level of education, and availability of insurance.
The Philippines has initiated numerous efforts on disaster risk management and climate change adaptation, which include enacting two critical legislations to address climate change and disaster risk management in the country. In 2009, the Philippines enacted Republic Act (RA) 9729 or the Climate Change Adaptation Act, now amended as RA 10174 described as "An Act establishing the People's Survival Fund to provide long-term finance streams to enable the government to effectively address the problem of climate change." It establishes a legal and institutional framework for climate change governance.
Republic Act No. 10121 or the Disaster Risk Reduction Management Act of 2010, on the other hand, seeks to adopt and implement a coherent, comprehensive, integrated, efficient, and responsive disaster risk reduction government program while adhering to the principles of good governance. Likewise, several programs have already been initiated by the Philippine government to address the country's vulnerability to climate change and natural disasters.
Despite these efforts, however, the World Risk Report still cited the country as highly exposed to natural hazards and lacking the capacity to cope with and adapt to these hazards, especially in the threats posed by climate change.
Climate-smart Disaster Risk Management
Climate-smart Disaster Risk Management (CSDRM) is a framework that cohesively integrates disaster risk reduction, climate change adaptation, and development. It is developed by the international program Strengthening Climate Resilience, which is supported by the UK Department for International Development and convened by the Institute for Development Studies in the UK, Plan Internatinal, and Christian Aid along with 500 disaster risk practitioners all over the world, in order to enhance the ability of governments and civil society organizations in developing countries to build communities' resilience to disasters and climate change.
The approach outlines three main pillars to help address the root causes of vulnerability.
Tackle changing disaster risk and uncertainties. CSDRM requires the different stakeholders to understand the risks (hazard, exposure, vulnerability, and capacities) to climate change and act on those risks. Thus, there should be collaboration among the different stakeholders to provide a platform for exchanging ideas that will determine the extent by which climate change adaptation, disaster risk management, and development can be integrated across sectors and scales. The affected communities must also be provided with access to scientific knowledge to better understand the hazards caused by climate change. Accordingly, this scientific knowledge should be translated and communicated to the affected communities to enable them to integrate this knowledge in their daily lives, make informed decisions, and adapt to the changing climate.
Enhance adaptive capacity. CSDRM calls for institutions, organizations, and communities involved in tackling the changing disaster risks and climate uncertainties to create and strengthen opportunities that will promote innovation and experimentation. Through innovation and experimentation, communities will be able to learn and be flexible in dealing with disaster risk management. Enhancing adaptive capacity also requires planning for the uncertainties of future climate events. Scientific knowledge can now be accessed to increase understanding of future hazards and potential impacts. This will allow various stakeholders to work towards incremental and transformational modes of adaptation.
Address poverty and vulnerability and their structural causes. CSDRM will only be successful if climate change adaptation and disaster reduction risk management initiatives address poverty and vulnerability and their structural causes. Thus, interventions must challenge injustice and exclusion, and provide equitable access to sustainable livelihood opportunities. Accordingly, networks and alliances must be in place to advocate the rights and entitlements of people to access basic services, productive assets, and common property resources. Communities must also be empowered such that they participate in the decision-making process of developmental initiatives.
CSDRM Attempts of Local Government Units and Other Stakeholders in the Philippines
Although eliminating the threats caused by climate change remains a challenge, the level of exposure and sensitivity to these hazards can be addressed through enhancing peoples' adaptive capacities to climate change. Thus, various local government units (LGUs), nongovernmental organizations (NGOs), and other stakeholders in the Philippines have initiated projects that enable communities to cope and adapt to climate-induced hazards.
Climate forecast application for agriculture in Dumangas, Iloilo. The Climate Forecast Application for Agriculture program, an initiative developed by the local government of Dumangas together with the Philippine Atmospheric, Geophysical, and Astronomical Services Administration (PAGASA); the Asian Disaster Preparedness Center; and Columbia University developed the Agro-Meteorological Station and Climate Field School to inform farmers about climate and weather forecasts that are used in farm planning. The process of learning and action allowed farmers to save crops from destruction due to hazards and secure more productive yields.
Pilot-testing of weather index-based insurance (WII) in the agriculture sector. In a study initiated by the Climate Change Commission, Oxfam, and the Institute for Climate and Sustainable Cities on the use of weather-based insurance as a risk transfer mechanism in agriculture, three approaches were featured: (1) Agusan del Norte's innovative risk transfer mechanism via ILO-CCA's weather index insurance under the MDG-F 1656 Climate Change Adaptation Project; (2) the Natural Catastrophe Insurance for Cooperatives by CLIMBS Life and General Insurance Cooperative; and (3) Micro-Ensure, in partnership with DOST-PAGASA and the Deparment of Agriculture, Drought Index Insurance, Wet and Dry Insurance, and Typhoon Index Insurance. All three provide attempts at protecting assets through climate-smart interventions.
Home-based weather station system. These have been implemented in the upland areas of the Bicol River Basin through the initiative of UP National Institute of Geological Studies in partnership with Manila Observatory, where floodwatch centers in the area monitor certain biophysical indicators; the results of which are transmitted to the scientists via SMS communication for interpretation. Accordingly, appropriate disaster mitigation strategies in the community are applied should the biophysical indicators reach critical level.
Development of climate resilient alternative and additional livelihoods. Value-adding shell-craft, handicraft from screwpines, soil conditioner from shore-swept seagrass and household waste, indigenous and endogenous innovations against heavy rainfall and drought, and mobile gardens for areas threatened by weather and climate-related hazards have been developed in the coastal and agricultural areas in Sorsogon, where Coastal Core works in partnership with Christian Aid and AECID supported IPADE.
Development of flood-resistant crops. Flood-resistant crops have been developed for the flood-prone province of Zamboanga Sibugay, through the partnership between the Social Action Ministry of Ipil Zamboanga Sibugay and the Philippine Rice Research Institute.
Lessons Learned in CSDRM: The Philippine Experience
Despite the numerous efforts of the Philippine government in climate change adaptation and disaster reduction risk management, the country is still highly vulnerable to climate change hazards due to the following factors:
Although disaster risks and uncertainties are now being tackled, the potential risks resulting from climate change have yet to be addressed. Many of the programs in the Philippines are mere reactions to the hazards that have struck the country. Disaster risk reduction management programs are focused on the communities that have suffered from the disasters of the hazards. Programs that address future risks to climate change have yet to be developed and implemented.
There is a need to strengthen adaptive capacities and not merely coping capacities. Numerous projects in the Philippines are being implemented that allow the coping capacities of the affected communities to be developed, such as disaster preparedness programs in agriculture and fisheries. However, the country also needs to prioritize and initiate strategies that aim to plan and enhance the adaptive capacities of ecosystems and ecosystem services and of communities and productive processes contributing to food security—if the objective is to sustain the capacity to provide for future food needs amid the uncertainties resulting from climate change.
Poverty and vulnerability need to be addressed in a manner that contributes to adaptive and mitigation capacities of the communities. At the heart of climate risks are vulnerabilities. For social systems, it may refer to a broad range of entitlements made weaker by poverty. For agriculture, this may refer to susceptibility due to weak assets reform, distribution of land, lack of support to enhance productive capacities, among others. Interventions must also be cognizant of the impact of interventions on global warming and secure that greenhouse gas emissions are reduced via planned initiatives.
Communities need to reclaim the power to experiment and innovate. Natural disasters in the Philippines caused by extreme weather events are becoming more frequent. Although the government, humanitarian organizations, and other NGOs can be tapped to help communities during disasters, these entities cannot be present all the time. Thus, communities must learn anew how to experiment and address the risks as they come. For agriculture, a more transdisciplinary and inclusive way of developing innovations is important so that communities can take ownership of the innovations and develop the confidence to use such innovations and approaches when the need arises.
1This article was written based on the presentation of Ms. Jessica Dator-Bercilla, "Insights from the Climate Smart Disaster Risk Management Approach: Ways Forward for Agriculture" during the Agriculture and Development Seminar Series (ADSS) of the Southeast Asian Regional Center for Graduate Study and Research in Agriculture (SEARCA) on 22 January 2013 at SEARCA, College, Los Baños, Laguna, Philippines. Ms. Bercilla currently serves as the Senior Advocacy and Policy Officer for Asia and the Middle East at Christian Aid; as Senior Fellow at the Ateneo School of Government; and as Science-Policy Research Specialist at the Manila Observatory.
Suggested citation: SEARCA. 2014. "Climate Smart Disaster Risk Management in the Philippines." Agriculture and Development Notes on Climate Change Adaptation, vol. 3, no. 6. Los Baños, Philippines: SEARCA.
Address comments and questions to This email address is being protected from spambots. You need JavaScript enabled to view it..