Climate Change Adaptation and Mitigation for Southeast Asia (CChAMSEA) Framework News
Published on 26 March 2018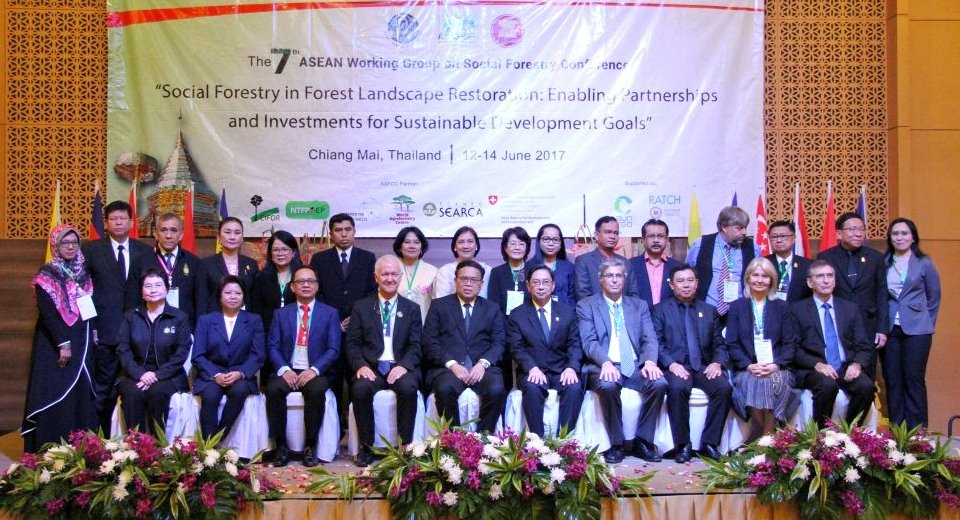 The ASEAN Working Group on Social Forestry Leaders and Focal Points with the ASEAN-Swiss Partnership on Social Forestry and Climate Change representatives (source: AWG-SF website)
The ASEAN Working Group on Social Forestry (AWG-SF) Strategic Response Fund [ASRF], funded by the Swiss Agency for Development and Cooperation (SDC) and managed by the Southeast Asian Regional Center for Graduate Study and Research in Agriculture (SEARCA), has awarded grants to eight projects on Social Forestry in seven ASEAN Member States (AMS), namely, Cambodia, Lao PDR, Malaysia, Myanmar, the Philippines, Thailand, and Vietnam.
ASRF under the ASEAN-Swiss Partnership on Social Forestry and Climate Change (ASFCC) aims to enable the AMS Leaders and Focal Points to quickly respond to emerging issues and challenges and articulate policy recommendations and directions on social forestry as it relates to climate change, food security, and poverty alleviation. It is designed to provide AMS Leaders and Focal Points seed fund to respond to immediate needs or catalyze strategic action to address emerging issues, opportunities or other situations that may not have been anticipated but to which the AMS and AWG-SF's response is critical.
The projects funded for the current phase are on social forestry assessment and its contribution to livelihood (Cambodia); improvement of a training guide on Village Forestry Management Planning (Lao PDR); assessment and sustainable utilization of non-timber forest products (Myanmar and Thailand); a study of existing benefit-sharing mechanisms in community-based forest management (the Philippines); development of a community-based eco-tourism project (Malaysia); and an evaluation of the status of forest allocation policies (Vietnam).
These new grants bring to 27 the number of projects in the ASEAN region supported by SDC through the SEARCA-ASRF program. (Xyrus Godfrey B. Capiña)