Climate Change Adaptation and Mitigation for Southeast Asia (CChAMSEA) Framework News
Published on 16 March 2017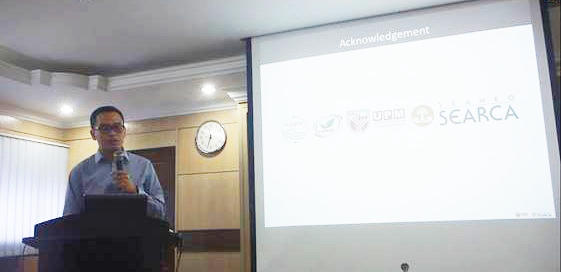 SEARCA Professorial Chair grantee, Dr. Ahmad Zaharin Aris, conducted his lecture on the 'Impact of Climate and Land-Use Changes on Water Quality' at Bilik Sidang Utama, Faculty of Environmental Studies, Universiti Putra Malaysia (UPM) on 21 February 2017.
Dr. Aris discussed the impact of land use and climate change on the quality of groundwater in Northern Kelantan, Malaysia. He analyzed 25 years (1989-2014) of ground water data, as well as long-term hydrogeochemical, meteorological, and land use data to understand the role of human activities on ground water quality, and how land use changes and climate change stress influence coastal aquifers.
Known to be one of the youngest SEARCA Professorial Chair grantees, Dr. Aris is also the youngest PhD recipient at Universiti Malaysia Sabah, where he completed his doctorate degree on Environmental Science (Hydrochemistry) at the age of 25. In the course of his career, he has been involved in 50 research projects and published 270 academic writings related to his field in refereed international journals. Dr. Aris currently serves as Dean at the Department of Environmental Sciences, Faculty of Environmental Studies in UPM.
The SEARCA Regional Professorial Chair, established in 2011, aims to recognize outstanding Southeast Asian academics who have made significant contributions in Inclusive and Sustainable Agricultural and Rural Development (ISARD) in Southeast Asia. The award carries with it a USD 5,000 reward. (Camille Joy V. Enalbes)