Climate Change Adaptation and Mitigation for Southeast Asia (CChAMSEA) Framework News
Published on 19 January 2017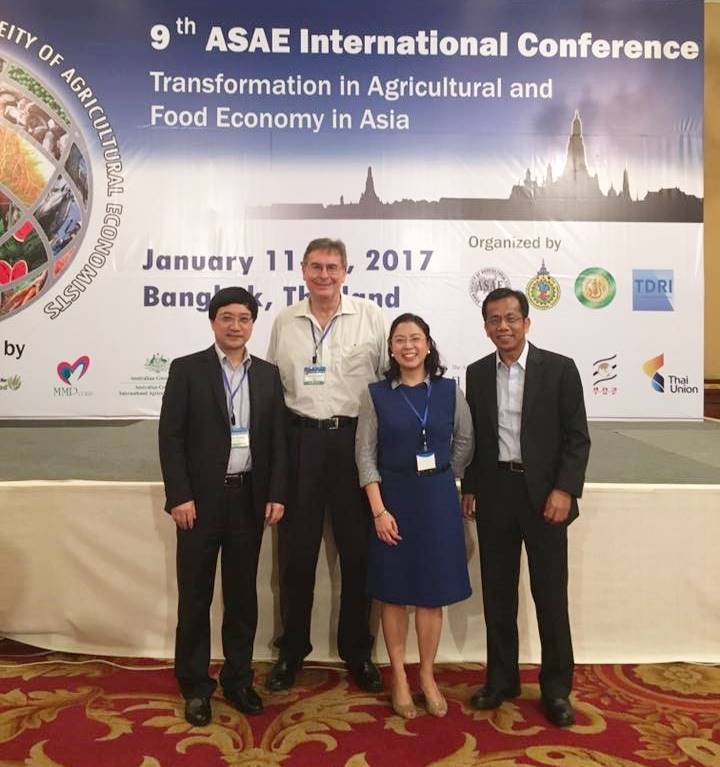 Dr. Ravago with the keynote speakers of the conference. L-R: Dr. Jikun Huang, China; Dr. Mark Rosegrant, IFPRI; Dr. Ravago, UPSE; Dr. Balisacan, Philippine Competition Commission (PCC) Chairman.
The Southeast Asian Regional Center for Graduate Study and Research in Agriculture (SEARCA), recently awarded Dr. Majah-Leah V. Ravago a travel grant to present her paper titled, "Risk Management and Coping Strategies: Climate Change and Agriculture in the Philippines," at the 9th Asian Society of Agricultural Economist (ASAE) International Conference in Bangkok, Thailand on 11-13 January 2017. Her paper, co-authored with Dr. James A. Roumasset and Dr. Karl Robert L. Jandoc, is forthcoming as a chapter in a joint publication of the Philippine National Economic and Development Authority (NEDA) and the International Food Policy Research Institute (IFPRI) titled, The Future of Philippine Agriculture: Scenarios, Policies, and Investments under Climate Change, edited by Dr. Mark W. Rosegrant and Dr. Mercedita A. Sombilla.
ASAE is a recognized association of agricultural economists and other professionals in Asia, and its biennial international conferences effectively promote scientific and technical interactions among agricultural economists, development practitioners, policymakers, academicians, researchers, and students from all over the world.
Dr. Ravago is Assistant Professor at the University of the Philippines School of Economics (UPSE) and is currently the Program Director of the USAID grant – Energy Policy and Development Program (EPDP) at the UPecon Foundation, Inc. Her research interests include resource economics, development economics, energy economics, and economics of natural disaster. She has published papers on resource management and sustainability, climate change, agriculture, and experimental games. In July 2016, she received the National Academy of Science and Technology (NAST) Outstanding Young Scientist (OYS) Award in the field of Economics. Dr. Ravago obtained her BS in Business Economics and MA in Economics from the University of the Philippines, and her PhD in Economics is from the University of Hawaii (UH) under the East-West Center (EWC) Graduate Degree Fellowship Program.
Now on its 10th year, the SEARCA Travel Grants Program continues to reinforce the Center's efforts and resources in the promotion of inclusive and sustainable agricultural and rural development toward food and nutrition security and poverty reduction in the Southeast Asian region.
Applications for the fourth quarter of FY 2016-2017 will be accepted until 7 March 2017. (Majah-Leah Ravago and Henry Custodio)