Climate Change Adaptation and Mitigation for Southeast Asia (CChAMSEA) Framework News
Published on 12 January 2016
A new Agriculture and Development Note on Climate Change Adaption (ADN-CCA) and two Agriculture and Development Notes (ADN) based on papers presented during its Agriculture and Development Seminar Series and the 2nd International Conference on Agriculture and Rural Development in Southeast Asia held on 12-13 November 2014 are now available online and freely downloadable.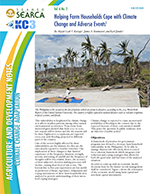 The ADN-CCA was entitled "Helping Farm Households Cope with Climate Change and Adverse Events" based on the presentation of Dr. Majah Leah V. Ravago, Assistant Professor at the University of the Philippines School of Economics and Project Director of the Energy Policy and Development Program of the USAID-UPecon Foundation. This research note focused on the results of a two-period expected utility (or well-being) model developed to integrate risk management and coping strategies into a single decision-making framework and a survey done by the Philippine Center for Economic Development (PCED).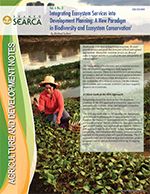 The second learning note discusses the steps on integrating ecosystem services into development planning or the IES approach based on Dr. Berthold Seibert's presentation during one of SEARCA'sAgriculture and Development Seminar Series. Dr. Seibert is the Director of the Biodiversity and Climate Change Project (BCCP) of the ASEAN Centre for Biodiversity (ACB).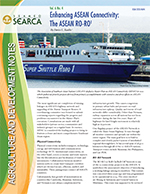 Finally, the third ADN "Enhancing ASEAN Connectivity: The ASEAN RO-RO"tackles various issues regarding the Master Plan on ASEAN Connectivity (MPAC), specifically the roll-on/roll-off (RO-RO) network which is one of the ASEAN connectivity projects. It was based on the presentation of Dr. Enrico L. Basilio, Chief of Party of the USAID Advancing Philippine Competitiveness (COMPETE) Project, during the ARD 2014. (Malaya N. Montesur)